Main Content
Once every four years since 1963, Wake Forest students have traveled to New York City over spring break on a Student Union Art Acquisition Trip to purchase art on behalf of the University. They are asked to choose contemporary artwork that reflects the times.
The six students, after hundreds of hours of research over several months, narrowed their choices. They made appointments at 13 galleries to learn more about the artists and see available pieces.
During the visit to New York, Kai Ryssdal interviewed Wake Forest senior Devon Gilbert on the national radio program "Marketplace" for the segment "Why Wake Forest Gave Six Students $100,000."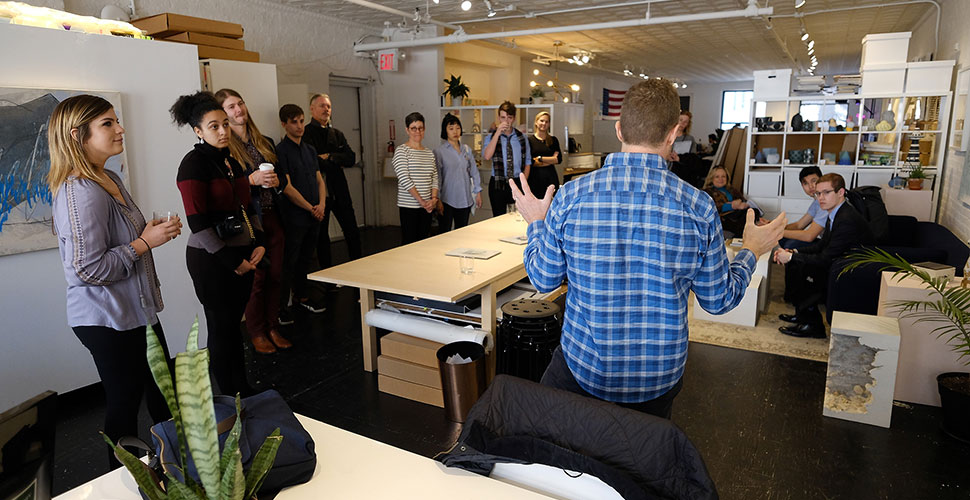 This year, the students selected five works for the collection — all by international artists.
"The works selected by the students this year, not only build on the legacy of the University's contemporary art collection, they are powerful works that beyond a doubt reflect the past four years of social, political and cultural issues facing our world." Leigh Ann Hallberg, Wake Forest art professor and faculty leader for the trip
The Student Union Collection of Contemporary Art is the University's premier and most recognizable collection. One hundred and eighteen artists are represented in over 160 works. Students choose works for this collection independently. They do not require University approval of their selections.
Students and faculty and staff leaders are available for interviews.
Click here to read art acquisition team member and junior Spanish major Will Colburn's reflections about the trip.