Main Content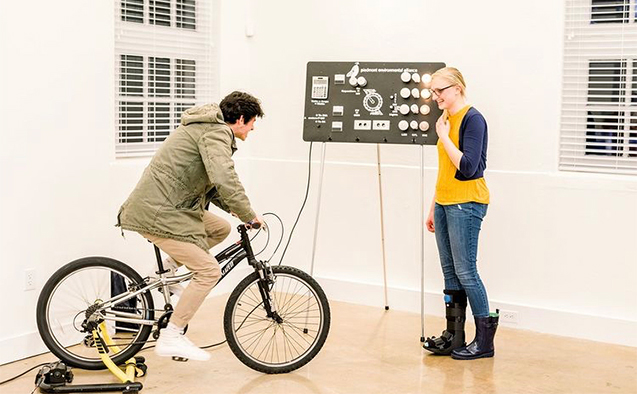 For years, Julia McElhinny thought she wanted to be a marine biologist — until she watched the documentary film "An Inconvenient Truth."
"That's when my entire mindset changed," said McElhinny, a junior biology major from Simpsonville, South Carolina. "It hit me … that I wanted to do something in research or community engagement around the environment."
As environmental education interns in Wake Forest's Office of Sustainability, McElhinny and Carolina Conway are collaborating with Piedmont Environmental Alliance (PEA) to work with their Energy Explorers Program, which teaches environmental issues to seventh graders in Winston-Salem/Forsyth County Schools (WS/FCS.)
"The internship has taught me a lot about collaboration, volunteer work, mobilization, outreach and taking on leadership roles," said Conway, a senior anthropology major from Boone. "It's been fun to learn how to work as part of an internship team through the Office of Sustainability."
This semester, 85 sessions of Energy Explorers will be taught virtually in 24 science classes, said PEA Education Program Coordinator Annie Fullwood.
During Energy Explorers, Wake volunteers ask the seventh graders what they know about energy and discuss renewable energy sources, including solar power, wind, hydroelectricity, radiant energy, geothermal power and nuclear power. They perform demonstrations via video and discuss climate change and how fossil fuels contribute to it. Kids have also been given worksheets so they can canvass their homes searching for "energy vampires," or items like coffee makers and laptops that may be plugged in but not in use.
"We ask the kids a lot of questions to get them to think about what they can do to conserve energy and make a positive impact," Conway said.
A big part of Energy Explorers is a power plant bike, which Fullwood described as super fun.
"Typically when we're in the classroom kids can ride the bike, which powers light bulbs and is a great way to teach them about energy efficient LED bulbs versus incandescent light bulbs," she said. "We've tried to translate that virtually with video demonstrations of the bike, and luckily Forsyth County has great technology so we're able to keep cameras on the kids and see their faces when we interact."
McElhinny said her role of explaining environmental concepts to kids is rewarding. "Just having one student tell me after a presentation that he liked it and is interested in possibly being a scientist in the future makes my day," she said.
Fullwood said she's grateful for McElhinny and Conway. "They help us recruit Wake Forest students as volunteers and help us reach as many students in the classroom as we do," she said. "We've had to go through a lot of changes since we've gone virtual, and they've really risen to the challenge of recruiting volunteers and training them."
David DeLade, director of K-12 Science in WS/FCS, said Energy Explorers began as a pilot program at East Forsyth Middle School about six years ago and teachers and students loved it. This year it's in all but six WS/FCS middle schools, he said.
August Blain, 12, a Paisley Middle School student, enjoys Energy Explorers.
"I think it's a great idea to get people to learn about how to help the environment," August said. "I think it's good to learn that even if you do the little things like turn off the lights when you leave the room or shut down your computer or your laptop after you use it, it can help your family save money and it can help the environment by conserving energy."
August, who likes math, reading, playing soccer and Harry Potter, said the Wake Forest students who teach Energy Explorers classes make it fun and interesting.
Brian Cohen, assistant director for sustainability engagement in Wake Forest's Office of Sustainability, said an abundance of students signed up to volunteer this semester.
"Julia and Carolina deserve so much credit for getting this program to where it is today," Cohen said. "They're great at showing Wake students the benefits of volunteering with this initiative and empowering them to become leaders in their own right. They've been able to take an amazing program developed and organized by PEA to the next level and ensure its future success."
To interview McElhinny or Conway, please contact media@nullwfu.edu.
Categories: Top Stories
Subscribe
Sign up for weekly news highlights.
Subscribe