Main Content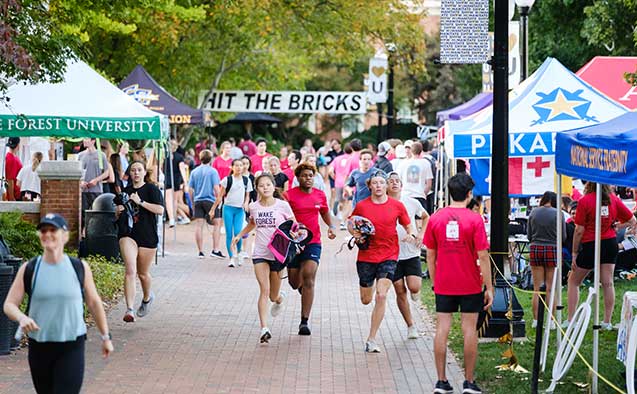 More than 1,700 Wake Forest students, faculty, staff and friends of the University will run laps around Hearn Plaza on Thursday, Oct. 5, for Hit the Bricks. The event will be held from 11 a.m. to 7 p.m.
"Hit The Bricks brings the full campus community together in a shared cause to find a cure for cancer," said Brad Shugoll, director of service and leadership with Wake Forest's Office of Civic and Community Engagement.
The eight-hour relay race raises money for cancer research in honor of Brian Piccolo. The Brian Piccolo Cancer Fund Drive was started by students in 1980 in memory of the Wake Forest All-American football player, who passed away at age 26 from cancer during his career with the Bears.  
Money raised supports the Comprehensive Cancer Center at Atrium Health Wake Forest Baptist.
"It will be a high energy day with music, live performances and speakers to encourage people throughout the day," said senior Abby Draeger from Boston, who is part of the student leadership team and the executive director of the event.
"Participants will wear decorative backpacks filled with sand that they hand off to a teammate or the next person, so it's symbolic in the sense that everyone's working to carry the same weight for a common cause," she added.
Honoring cancer victims and survivors
In her dorm room, Draeger proudly displays the bricks that she has received as trophies for her participation over the years. She has been involved with Hit The Bricks since her freshman year at Wake Forest. 
Draeger served on the same team in 2020 with her classmate Josh Chaiken, this year's student director of corporate sponsorship. Since then, they have seen a united effort to grow the program, which includes increasing the number of alumni teams, corporate sponsors – even getting local high schools involved in the fundraising effort.   
"When Josh and I first began Hit The Bricks, we were at the beginning of the pandemic and it was online, but the feeling that day of knowing that we are making a direct impact on people's lives who have been affected by cancer has never left me." 
"No matter if you walk, run, or just cheer for participants on the sidelines, you feel the gravity of what we are achieving together. " Wake Forest senior Abby Draeger
For Chaiken, a senior communication major from Philadelphia, this year's Hit the Bricks has special meaning.
"In the spring of 2023, my mom was diagnosed with ovarian cancer. So, for myself it became extra motivation to raise as much money as possible. She is the reason I'm hitting the bricks," he said.
Why 'hitting the bricks' matters
At the end of the event, a final remembrance lap for cancer victims and survivors will take place, followed by a luminary ceremony in front of Wait Chapel.
Chaiken will serve as the 2023 speaker and talk to the crowd about his family's personal experience with cancer and why what they are doing means so much.
"I'm very grateful to get to speak about my mom, who is the strongest person I've ever met, and how she's been able to kind of go through this and fight through it. And just like the support system she has, what we are doing that day provides an extension of that for people who are struggling or personally have had a battle with cancer in the past," said Chaiken.
"It's really being as selfless as possible in this community setting where everyone just gets to be together. We also get to have a little fun with a lot of friendly competition," he added. 
The total amount of money raised for cancer research will be announced around 7 p.m. during the closing ceremony. Last year, the student-led event raised over $240,000.
Hit the Bricks has raised over $1 million since it began in 2003.
Wake Forest University students also organize other events during the year to raise money for cancer research at the Comprehensive Cancer Center at Atrium Health Wake Forest Baptist. 
Since 1980, the cumulative total raised for the Brian Piccolo Fund is over $5 million.
Note: Media members are invited to attend Hit the Bricks on Hearn Plaza on October 5 from 11 a.m. – 7 p.m.  For more information, contact Keri Brown, 336-758-4442 or C: 336-971-5402, or media@wfu.edu.
Categories: Top Stories
Wake Forest in the News
Wake Forest regularly appears in media outlets around the world.