Main Content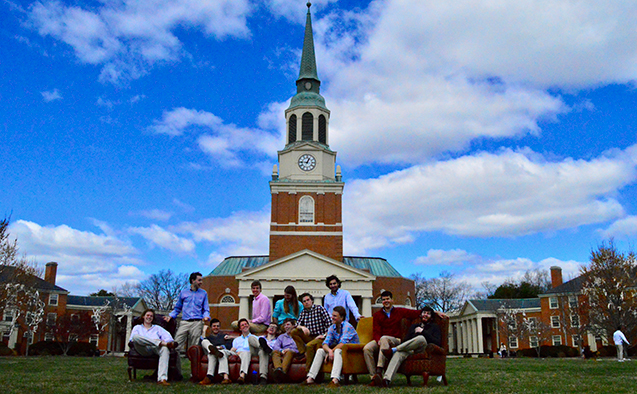 Two faith-based singing groups at Wake Forest University will bring ministry and music to campus April 22. The Wake Forest Gospel Choir and Chi Rho, the all-male Christian a cappella group, will perform in separate concerts.
Both concerts are free and open to the public.
Wake Forest Gospel Choir
The Wake Forest Gospel Choir will celebrate 43-years of song and ministry during its 43rd Anniversary Celebration in Pugh Auditorium on Saturday, April 22 at 3 p.m.
This year's theme is "Unconditional Love" and is based on the scripture John 3:16, said Gospel Choir president Maya Revell ('18). "The Wake Forest Gospel Choir is most excited about offering our praise to God and being able to minister to His people."
Hear the choir in the Winston-Salem Journal's "Elevator Music" series:
Chi Rho
Chi Rho will celebrate its 25th anniversary during the group's Big Concert in Wait Chapel on Saturday, April 22 at 8 p.m.
The concert will also double as an album release party for Chi Rho's 14th studio album, "This Restless Maze." The CD will be on sale for $15 along with several of the group's previous albums. Chi Rho's music can also be heard on Spotify, Apple Music and iTunes.
Chi Rho's first concert was held in Pugh Auditorium in 1992. "Chi Rho has seen a tremendous amount of growth since the group's first year, but the core of our ensemble has remained the same – music, ministry and brotherhood, said music director Clay Hamilton ('18).
Hear a samples of "Who You Are" and "Wayfaring Stranger" from Chi Rho:
Categories: Arts & Culture, Events, Student
Subscribe
Sign up for weekly news highlights.
Subscribe