Main Content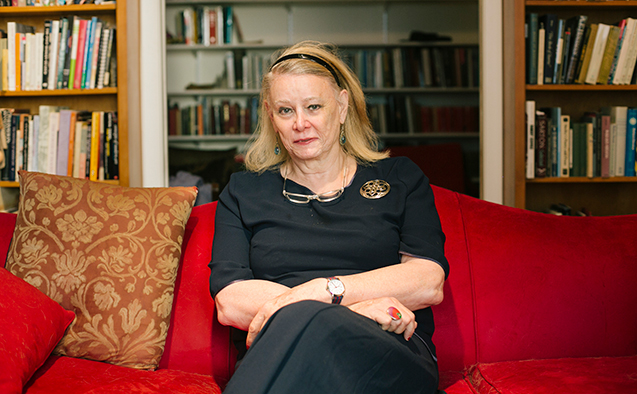 Dierdre McCloskey, Distinguished Professor Emerita of Economics, History, English, and of Communication, University of Illinois at Chicago, will speak in Wake Forest University's Broyhill Auditorium on Thursday, April 20 at 7 p.m.
Her speech, entitled "Eudaimonia is not Measurable Pleasure, But the Fruit of a Liberal Life," will be the keynote address at the Eudaimonia Conference taking place April 20-22. This event is free and open to the public.
McCloskey has written 17 books and approximately 400 scholarly pieces on topics ranging from technical economics and statistical theory to transgender advocacy and the ethics of the bourgeois virtues.
Her economics-based arguments that equality, liberty, and justice have caused the "Great Enrichment" of the world have been featured recently in The New York Times, The Wall Street Journal, The Financial Times, National Review, and Reason, among others. McCloskey's life and accomplishments were the subject of The Chronicle of Higher Education's March 2016 cover story and in June 2016 she authored a Wall Street Journal column discussing her transition from male to female. Most recently, she is the author of Bourgeois Equality: How Ideas, Not Capital or Institutions, Enriched the World.
Eudaimonia (yoo-dye-mo-NEE-uh) is Aristotle's word for "flourishing."
The Eudaimonia Conference aims to promote high-quality interdisciplinary theoretical and empirical research that develops a better understanding of eudaimonia, its determinants, and its institutional implications.
Other speakers include:
Carol Graham, the Leo Pasvolsky Fellow at the Brookings Institution's Global Economy and Development group and College Park Professor at the University of Maryland's School of Public Policy.
Matthew Gonnering, CEO of Widen Enterprises, a provider of digital asset management, who has written widely about the intersection of wellbeing and marketing.
Scholars from University of Arizona, Florida State University, Stanford University, University of Southern California, among others.
The conference is sponsored by Wake Forest University's Eudaimonia Institute, BB&T Center for the Study of Capitalism; Center for Bioethics, Health, and Society; Thrive, the Office of Wellbeing; and
Wake Forest School of Business.
Additional information can be found at eudaimonia.wfu.edu. Registration is required for attendance for sessions other than McCloskey's keynote address.
Categories: Events, School of Business, Speakers
Subscribe
Sign up for weekly news highlights.
Subscribe