Main Content
Highlights
It's so much more than a gym. The Reynolds Gym transformation project reflects Wake Forest's leadership among universities focused on enhancing all aspects of personal wellbeing.
The 180,000 square-foot hub for wellbeing triples the amount of fitness space available on campus and features a new lounge space ideal for conversation, relaxation or studying.
Reynolds Gym now boasts wide open spaces and abundant natural light, a welcome change from the original 1950s design.
Leadership gifts through the Wake Will Lead campaign made the $58 million renewal effort possible.
Two cornerstones now mark the entrance to Wake Forest University's historic W.N. Reynolds Gymnasium. The original – 1954 – shows the year the gym was built. A new one – 2017 – marks its transformation into a dynamic new center for health and wellbeing.
As the fall semester begins, the renovated Reynolds Gym opens its doors to the campus community as a comprehensive center for fitness and wellbeing after more than a year of construction. The 180,000 square-foot building features the types of spaces popular with students today: an open living room with floor-to-ceiling windows, group fitness areas with state-of-the-art fitness equipment, and flexible spaces for informal social gatherings and wellbeing-related activities.
"Our vision for a residential community includes creating spaces that enhance all aspects of students' wellbeing. We have no greater priority than to provide our students and our community with a place in which they can thrive. " President Nathan O. Hatch
Donor support through the Wake Will Lead campaign helped make the $58 million Reynolds Gym transformation project possible.
"Wake Forest is a leader among a growing number of selective universities focused on holistic wellbeing. In my 42-year higher-education career, I've never seen a more significant investment in campus life." Penny Rue, vice president for campus life
The renovated facility triples the amount of fitness space available on campus:
18,000+ square feet of cardio and strength-training space featuring treadmills, incline trainers, ellipticals, climbers, upright bikes, recumbent bikes and rowers
Fitness equipment with interactive data screens that allow personalization and tracking of workouts as well as the ability to access internet content like YouTube videos and social media such as Instagram and Facebook
3,000 square-foot living room lounge space
Group fitness space including a functional training area with equipment such as sleds, kettle bells, medicine balls, battle ropes and stability balls
Two multipurpose activity courts
Bouldering and climbing wall
Locker rooms and showers
It also offers a convenient, central location for the Office of Wellbeing and Student Health Service including:
Portable kitchen for cooking demonstrations and nutrition workshops
Classrooms for training and programming
Massage therapy and wellbeing coaching
"The University needed a facility of this scale to meet the needs of an increasingly active student body and broader campus community." Joe Cassidy, executive director of campus fitness and recreation
The number of students participating in fitness and recreation programs at Wake Forest is greater than many universities with much larger enrollments.
More than 60 percent of undergraduate students report using cardio equipment one or more times a week.
More than half of undergraduate students report lifting weights at least once a week.
Nearly half of the student body participates in at least one intramural sport each year.
Students' level of physical activity when they graduate tends to set the pattern for their adult lives, Cassidy said. "We are committed to increasing their level of physical activity over their time at Wake Forest, so that our graduates maintain healthy lifestyles."
One of four gymnasiums in Wake Forest University's newly-renovated Reynolds Gym. – Spherical Image – RICOH THETA
Building on history
Taking a gym built in the 1950s – when bi-level and tri-level construction was popular – and creating a place with open spaces and an abundance of natural light presented some design and construction challenges.
The comprehensive overhaul began more than a year ago and involved adding steel infrastructure to the building to create more open spaces and change exterior brick walls to glass.
"From a structural standpoint, it is a complicated building," said Will Smelcer, project executive with Frank L. Blum Construction Company. "We had to rebuild the interior structural components to open up larger spaces and bring the building up to current building code requirements. It was helpful having access to the original building drawings in developing our plans for renovation."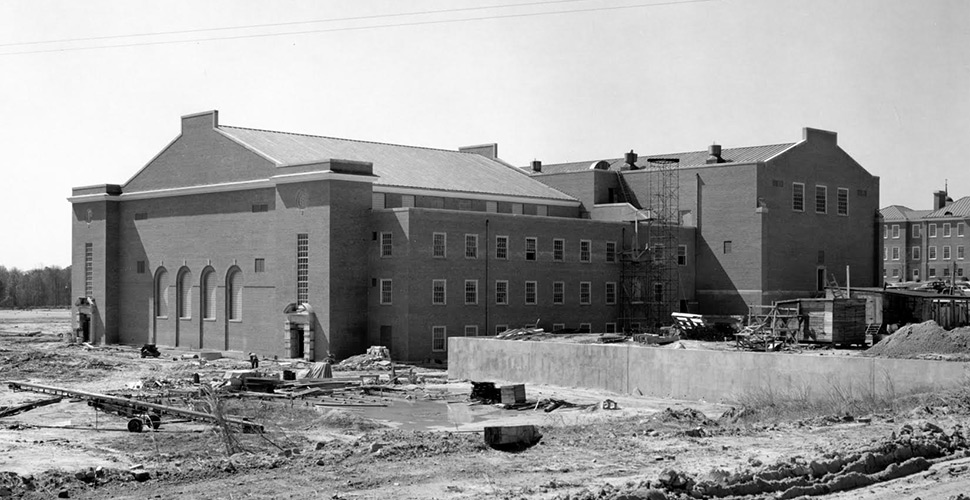 More than a gym
In early planning stages for the renovated facility, Wake Forest students made it clear they wanted Reynolds to be "more than a gym." So, social space – not a significant feature in many campus recreation and wellness centers – was a priority when redesigning the building.
"I am most excited about the opportunity to use the gym as a sort of common area where people can hang out," said Lance Berry, a senior economics major from Charlotte. "The new gym will bring the campus community together by helping us stay active." Berry is a member of the club sports leadership team.
The living room invites students to rest a moment and take time to think or engage in conversation. Bordered by the Office of Wellbeing, the space is intended for the kinds of casual interactions that build community and enhance campus life.
"The intent was to bring in a lot of natural elements and to create space for people to gather and to connect. So, people who may never use the rock-climbing wall or the cardio equipment can still feel like this is a natural place for them to be. " Malika Roman Isler, director of wellbeing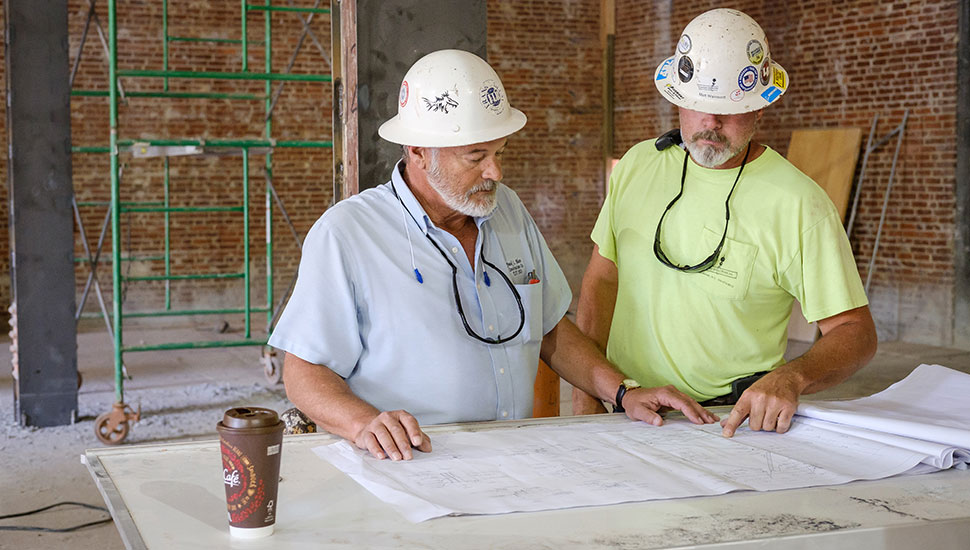 As part of the university-wide Thrive initiative, The Office of Wellbeing focuses on eight areas of wellbeing: emotional, environmental, financial, intellectual, occupational, physical, social and spiritual.
"Gyms can be intimidating," said Marcie Moore, a junior health and exercise science major who works as a facility supervisor in campus recreation. "But, with the more relaxed, comfortable feel of these spaces, I think more people will be encouraged to spend more time here and establish healthier lifestyles."
Other features include: wellbeing coaches to work with individuals on personal goals, a peer educators program and versatile space for seminars and training. Digital screens throughout the building will provide space to promote wellbeing offerings for the campus community.
"A one-stop wellbeing shop with multi-use space provides the best opportunity for community members to thrive," Roman Isler said. "This space represents so much more than a traditional gym."
Sutton Center + Phase III
The Sutton Center, a remarkable two-story addition to the 60-year-old gym named for WFU alumnus and IMG College co-founder Ben Sutton, was completed in 2015. It was the first of three planned phases to turn Reynolds Gym into a hub for campus-wide wellbeing and provides 46,000 square feet of space for fitness programming and campus activities connected to Reynolds Gym by a floor-to-ceiling glass atrium.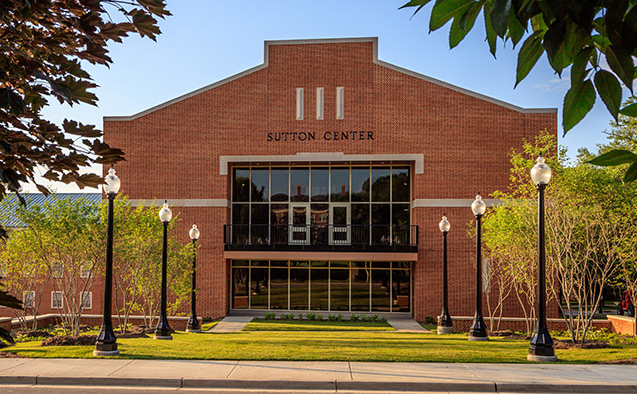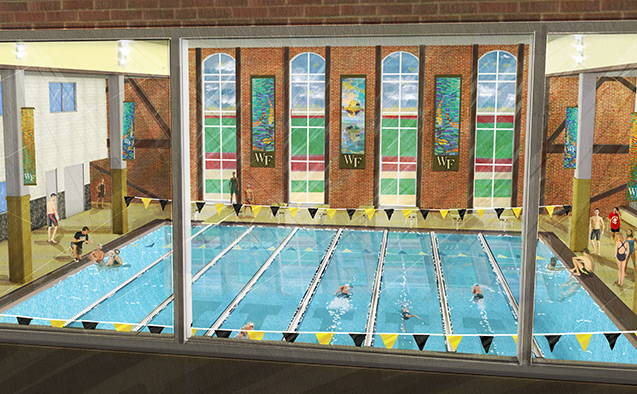 The final phase of the renovation and transformation project – scheduled for completion in spring of 2018 – will add a larger pool, a varsity gymnasium for the volleyball team, group fitness studios, a cycling studio and multipurpose space for intramural and club sports.