Main Content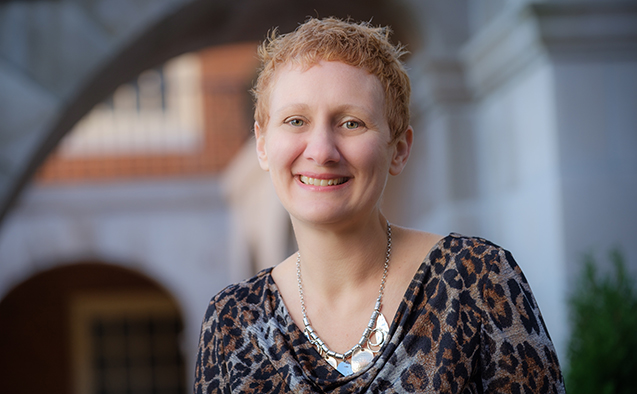 Wake Forest's LGBTQ Center Director receives In Good Company Award
The North Star LGBTQ Center in Winston-Salem presented the In Good Company Award to Angela Mazaris on Nov. 9 at the organization's annual event that honors LGBTQ-friendly organizations, their employees, local volunteers and activists. Mazaris is the founding director of the University's LGBTQ Center. Intended to recognize leaders in creating inclusive and welcoming spaces, the award honored Mazaris for her leadership of the University's LGBTQ Center. Mazaris is also a member of the faculty in the Department of Women's, Gender and Sexuality Studies.
WFU professor receives 2017 Excellence in Teaching Award
The Society for Classical Studies has selected Mary Pendergraft, professor of classical languages, as a recipient of one of its 2017 awards for Excellence in Teaching at the Collegiate Level. Pendergraft, chair of the classical languages department, "has tirelessly and masterfully taught, advised and mentored countless students," according to the award citation. At Wake Forest, she has been the advisor for the University's Eta Sigma Phi chapter for more than two decades and has encouraged many students who have attended and presented at the organization's annual national conference.
WFU assistant professor receives Suzi Bass Award for work on 'Bridges' musical
Kevin Frazier, an assistant professor in the Department of Theatre and Dance, recently received a Suzi Bass Award in the "Outstanding Lighting Design-Musical" category at the 13th Annual Suzi Bass Awards in Atlanta. Frazier's award was for his contributions to a production of "The Bridges of Madison County" at Aurora Theatre. Frazier joined the Wake Forest faculty in 2016.
Wake Forest University receives Outstanding Corporate Member Award from United Way
The United Way of Forsyth County's Women's Leadership Council recognized Wake Forest University with the Outstanding Corporate Member Award. Wake Forest received the award at the Women's Leadership Council's annual celebration at the Millennium Center. The University's WakeUnited campaign is underway, in coordination with the United Way.
Categories: Faculty, Staff, Top Stories
Subscribe
Sign up for weekly news highlights.
Subscribe