Main Content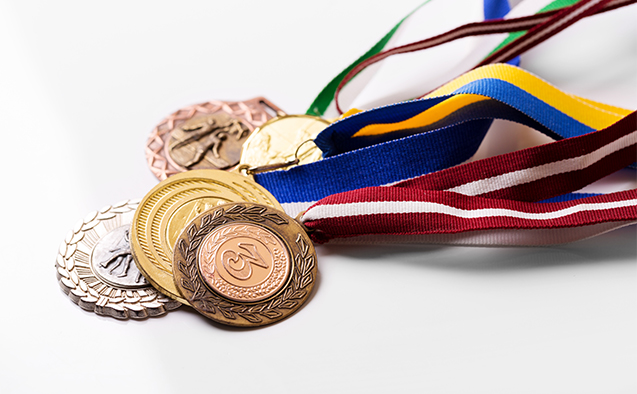 This weekend, nearly 500 Olympians will go for gold at Wake Forest University – but not in hockey, figure skating or curling.
Middle and high school students from across the Piedmont Triad will flex their intellectual muscles in engineering, computer programming and problem-solving at the North Carolina Science Olympiad tournament.
The event will take place at Wake Forest on Saturday, Feb. 24 from 8:30 a.m. until 5 p.m.
Science Olympiad encourages students to pursue STEM-related subjects in a fun and interesting way. The Olympiad rewards students with gold, silver and bronze medals, just like Olympians competing in the PyeongChang 2018 Olympic Winter Games.
Gloria Muday, one of the Science Olympiad regional directors and Wake Forest biology professor, said hosting the event on campus allows visiting students to perform experiments in university laboratories and to get a view of college science classrooms, as well as making it easy for Wake Forest students to volunteer and help lead events. More than 150 students, faculty, and staff will offer their assistance in making all the events happen.
"Science Olympiad is a fun way for students to engage in science, learning how science works and applying this knowledge to design and building, as well as scientific experimentation." Gloria Muday, Wake Forest biology professor
"The highlights of the day include watching students triumph over scientific and engineering challenges and the awards ceremony where outstanding performance is rewarded with medals and the enthusiastic cheers of an audience, as is more frequently seen for athletic victories," Muday said.
Sixteen high school and 15 middle school teams (with up to 16 students each) from Alleghany, Davidson, Davie, Forsyth, Stokes, Surry, Wilkes, and Yadkin counties will compete in 48 different science-related events, including:
Duct Tape Challenge – This event tests a team's ability to design and build a structure primarily from Duct® Tape (Winston Hall room 128, 12:15-1:30 p.m.)
Forensics – Students will perform tests to solve a crime, including identification of unknown powders, fingerprint analysis, and chromatography. (Winston Hall room 012, 12:15-1:30 p.m.).
Helicopters – Students will design, build and test up to two elastic launched helicopters capable of the greatest time aloft (Reynolds A105 Gym, 12:15-3 p.m.)
Mousetrap Vehicle – Teams design, build and test a vehicle using one or two snap mousetraps as its sole means of propulsion to push objects to specified positions (Winston Hall Room 046, 12:15-3 p.m.)
Ping Pong Parachute – teams will design, build, and bring up to two bottle rockets to the tournament to launch a ping pong ball to stay aloft for the greatest amount of time (Reynolds A105 Gym, 8:30-11:15 a.m. and 12:15-3 p.m.).
Roller Coaster – Competitors must design, build and test a vehicle that uses gravitational potential energy as its sole means of propulsion to travel for a target time. (Winston Hall 043, 12:15-3 p.m.)
Wright Stuff – Students will design, build and test up to two elastic powered propeller-driven planes to achieve the greatest time aloft, (Reynolds A105 Gym, 8:30-11).
Wake Forest's Department of Biology and Center for Molecular Signaling are sponsoring the event. Carole Gibson and Susan Tague serve as co-directors along with Muday.
The day culminates with award ceremonies at 4 p.m. in Brendle Recital Hall in Scales Fine Arts Center and Pugh Auditorium in Benson for the high school and middle school teams, respectively.
Please contact the news office to make arrangements for coverage.
Categories: Faculty, Student, Top Stories
Subscribe
Sign up for weekly news highlights.
Subscribe