Main Content
Wake Forest University Vice President for Campus Life Penny Rue has accepted the ultimate honor for someone in her field.
On Tuesday, she became the Board Chair of NASPA, the leading association for student affairs professionals, at the organization's annual meeting in Philadelphia, Pa.
Rue, who has broad responsibility for the education and wellbeing of Wake Forest students outside the classroom, has been a NASPA member and volunteer leader since 1977. She has served on the Board of Directors since 2015.
From Capitol Hill to campuses nationwide, she is among NASPA's volunteer leaders most frequently asked to speak out on matters such as college completion, Pell Grant funding and Title IX issues. Her perspective is regularly sought out by reporters at The Chronicle of Higher Education and Inside Higher Ed on timely issues, such as balancing an inclusive campus community and free expression.
"I am grateful to colleagues across the country who have entrusted me with the tremendous honor and responsibility to lead NASPA." Penny Rue, vice president for campus life
"For the last 40 years, NASPA has helped me keep abreast of best practices in our profession and navigate issues with colleagues who represent a variety of perspectives, which contribute to my own service to students at Wake Forest," said Rue.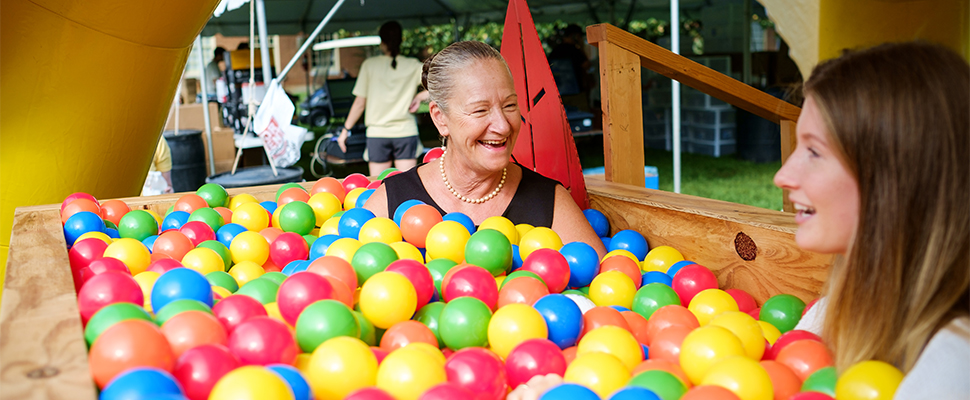 Before coming to Wake Forest in 2013, Rue was already nationally recognized for her creative leadership in strengthening campus communities. Her many accomplishments since then include:
Introducing and overseeing a University-wide commitment to personal wellbeing – Thrive, the university's comprehensive approach to wellbeing, aims to give members of the campus community the skills, knowledge, and perspective to cope with adversity, build rewarding relationships and live with a sense of purpose. Later this month, Wake Forest will celebrate the completion of The Reynolds Gym transformation project, a $58 million investment and renewal effort that serves as a physical reminder of the University's commitment.
Representing Wake Forest and the higher education sector on important public policy matters on Capitol Hill – Rue served as NASPA Public Policy Division Chair from 2015-2017 and appeared regularly before lawmakers to represent colleges and universities nationwide. For example, when it comes to preventing and responding to sexual assault on college campuses, she led a panel discussion before lawmakers on Capitol Hill last year, and in 2015, she testified before the U.S. House of Representatives Subcommittee on Higher Education and the Workforce Training.
Developing and implementing a range of peer education efforts – Through collaborative prevention, educational and awareness programs, WFU P.E.E.R.S. (Peers, Educating, Engaging, Reaching and Supporting) promotes services, tools and resources related to high risk behaviors and student wellbeing. This program makes a difference in the health and wellbeing of the WFU campus community through purposeful educational and advocacy efforts on topics such as alcohol use, healthy relationships, stress management and resilience.
Jim Le ('15) is among hundreds of students Rue has personally mentored throughout her career. Le served as a Wake Forest Fellow in the Division of Campus Life in the year immediately following graduation.
"I can't imagine Wake Forest without Penny Rue," Le said. "She's had such a huge impact on shaping a lot of things our campus needed, including really developing the LQBTQ Center, Intercultural Center and Office of Wellbeing. Her leadership has inspired others in different departments to take on the important role of creating an environment that is nurturing for staff, faculty and students."
He added: "Not only is Penny is an expert in her field, the personal attention Penny has and is able to give to others, even though she has a million things to do, is truly invaluable. It's had a huge impact on me."
"Thanks, Penny, for being such a great mentor and for inspiring other people." Jim Le ('15)
"I once heard a student affairs professional call Penny a 'national treasure' in higher education, and her NASPA appointment affirms his sentiment as well as my own," said Wake Forest President Nathan O. Hatch. "Penny's commitment to NASPA strengthens her tremendous talent and depth of experience to the betterment of the Wake Forest community, as well as to the profession. I am pleased for her recognition and grateful for her service to our students," he said.