Main Content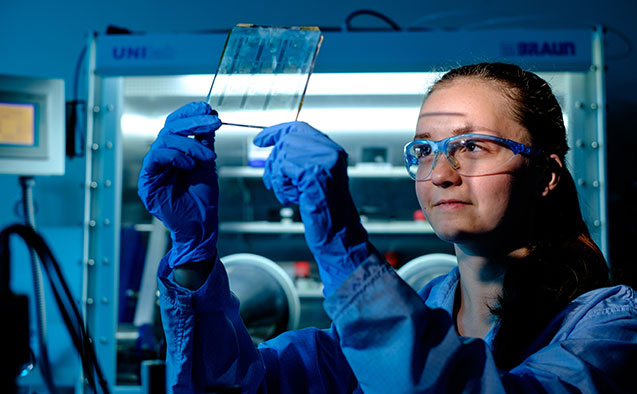 Angela Harper ('17), a physics student already pursuing a master's degree at the University of Cambridge as Wake Forest's first Churchill Scholar, has been selected for the Gates Cambridge Scholarship to earn her Ph.D. at the distinguished British institution.
Harper's current research seeks to develop higher-capacity, longer-lasting commercial batteries. She will continue that work in her doctorate studies.
The Gates Cambridge, created in October 2000, is awarded to students from outside of the United Kingdom based on intellectual ability; leadership potential; a commitment to philanthropy; and academic interests and long-term goals that mesh with the University of Cambridge's postgraduate program offerings. Each year, approximately 95 students, of whom 40 are Americans, are offered full funding for the duration of their degree pursuit.
Harper will become the third Wake Forest student or graduate to accept the Gates Cambridge honor and only the fifth American woman to receive it as a physics Ph.D. candidate.
"Wake Forest allowed me not only to major in physics and gain a baseline knowledge of the fundamental concepts in the field; it also taught me critical skills such as presenting, academic writing, working effectively." Angela Harper ('17)
"I do not believe I would have gained these skills at another institution," Harper said. "Furthermore, Wake Forest's international presence is what allowed me to apply for these scholarships, and the immense support I received from my professors gave me the confidence to pursue my dream of becoming a professor of physics."
Originally from Clifton Park, N.Y., Harper attended Wake Forest with the help of the Stamps Scholarship, a nationally acclaimed program that supports exceptional students of promise and vision who exemplify leadership, perseverance, scholarship, service and innovation. She also earned a Goldwater Scholarship, the premier undergraduate award for mathematics, science and engineering students.
The honor is Harper's second major achievement in the past few months. In October 2017, her work at Wake Forest was recognized with the American Physical Association's LeRoy Apker Award, bestowed annually to one undergraduate in a doctoral institution and one in a non-doctoral institution for excellence in the field.
While at Wake Forest, Harper was mentored by associate professor of physics Oana Jurchescu, with whom she performed experimental work on organic electronics. Harper's most recent award is the second major postgraduate honor for Jurchescu's students announced in the past two weeks. The National Science Foundation recently awarded a graduate fellowship to Katrina Barth ('18) of Raleigh, N.C.
Categories: Admissions, Recognition, Scholars, Student, Top Stories
Wake Forest in the News
Wake Forest regularly appears in media outlets around the world.