Main Content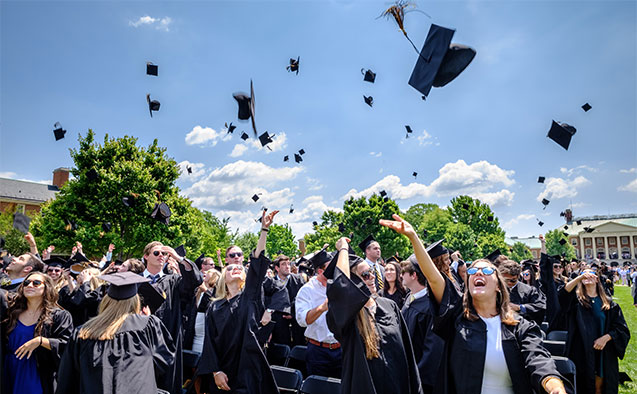 Carla Harris, vice chairman, managing director and senior client advisor at Morgan Stanley, will deliver Wake Forest University's commencement address on Monday, May 21.
During her 30-year career, Harris has had extensive industry experiences in the technology, media, retail, telecommunications, transportation, industrial and healthcare sectors — landing major deals including the initial public offerings of UPS and Martha Stewart Living. She now oversees Morgan Stanley's Multicultural Innovation Lab.
A sought-after public speaker, she has published two books, "Strategize to Win" and "Expect to Win" (Hudson Press), and built a career as an accomplished singer. She has released three gospel CDs and performed five sold-out concerts at Carnegie Hall.
"Our world needs people who embrace diverse opinions and ideas, and who know the value of strong relationships," said Wake Forest University President Nathan Hatch.
"As a leader, Carla Harris takes seriously her responsibility to positively impact the world. She exemplifies servant leadership and uses her talents to empower others. We are honored to have Carla deliver Wake Forest's commencement address." Nathan O. Hatch, Wake Forest president
Harris, who will also deliver the Wake Forest School of Business graduate hooding keynote address, has been named to Fortune Magazine's list of "The 50 Most Powerful Black Executives in Corporate America," Fortune's Most Influential List, and U.S. Bankers Top 25, Most Powerful Women in Finance (2009, 2010, 2011). In 2013, Harris was appointed by President Barack Obama to chair the National Women's Business Council. Last year, she was named to Black Enterprise's Top 75 Most Powerful Women in Business and Top 75 African-Americans on Wall Street and to Essence Magazine's list of "The 50 Women Who are Shaping the World."
Wake Forest's commencement ceremony is a ticketed event reserved for graduates, their families and guests and is not open to the public. The ceremony takes place on Hearn Plaza at 9 a.m.
A livestream webcast of the ceremony will be available at go.wfu.edu/wfu18.
Previous commencement speakers have included Pulitzer Prize-winning author and presidential historian Jon Meacham (2017), comedian Stephen Colbert (2015), The New York Times' former executive editor Jill Abramson (2014), Vice President Joe Biden (2009), professional golfer Arnold Palmer ('51) (2005), Secretary of State Colin Powell (2004), and former First Lady Barbara Bush (2001).
Baccalaureate information
Also joining Wake Forest for the commencement weekend will be Baccalaureate speaker His Eminence Timothy Michael Cardinal Dolan. Dolan was named Archbishop of New York by Pope Benedict XVI on Feb. 23, 2009. Following the resignation of Pope Benedict XVI, Cardinal Dolan participated in the Conclave that elected Pope Francis in March 2013.
"I have long admired Cardinal Dolan as a historian and theologian and for his ability to take on complex issues with fresh approaches," said Hatch, who is a religious historian. "We are deeply honored that he will be with us, and I am certain that our graduates and their families will find meaning and joy in his message, regardless of their religious traditions."
Born Feb. 6, 1950, Cardinal Dolan was the first of five children born to Shirley and Robert Dolan. He has served as chairman of Catholic Relief Services and is a member of the Board of Trustees of The Catholic University of America. He is also a member of the Pontifical Council for Promoting New Evangelization, the Pontifical Council for Social Communications; and, at the Vatican, the Congregation for Eastern Churches, and the Congregation for the Evangelization of Peoples.
Baccalaureate will take place Sunday, May 20, at 9 a.m. in Wait Chapel. Like commencement, baccalaureate is a ticketed event reserved for graduates, their families and guests and is not open to the general public. Cardinal Dolan will offer mass at 4 p.m. on May 20 in the Sutton Center for graduating students, their families and guests. The service is also a ticketed event and is not open to the general public.
A livestream webcast of Baccalaureate will be available at http://go.wfu.edu/bacc18.
Additional information about Wake Forest's commencement weekend is available at commencement.wfu.edu.
Media credentials are required to attend commencement events. Submit requests online here.
Categories: Commencement, Events, Speakers, Top Stories