Main Content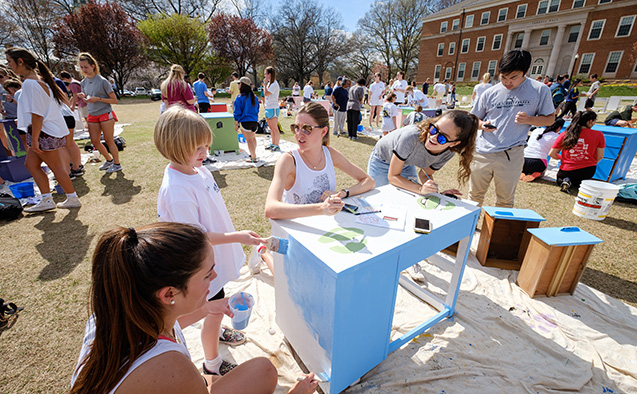 Hundreds of Wake Forest students will gather on Poteat Field on Wednesday, April 10 from 3 to 6 p.m. to decorate desks for children who attend Old Town Elementary School.
Discovering Education through Student Knowledge (D.E.S.K.) is an annual service project launched in 2000 by Tierney Kraft ('04) and Elizabeth Eubank ('04). Kraft and Eubank saw a need for the children they tutored to have a special space in their homes for studying and learning.
In celebration of the 20th annual event since its founding, the event's theme this year will be "Birthday."
Wake Forest students representing more than 50 organizations will help paint the desks. Each group is paired with a child, and together they personalize the desk in accordance with the child's preferences — whether superheroes or soccer balls.
Julia Harvey, Wake Forest junior and 2019 D.E.S.K. co-director, said "the event is all about making a difference in children's lives, bringing them closer to the Wake Forest community, and instilling long-lasting values of strong study skills and appreciation for education."
More information about D.E.S.K. can be found online.
Categories: Student, Top Stories
Subscribe
Sign up for weekly news highlights.
Subscribe