Main Content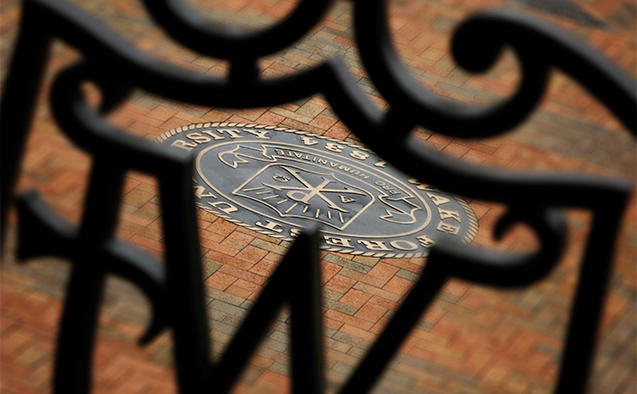 The Andrew W. Mellon Foundation has awarded Wake Forest University an $850,000 grant to expand its community-based partnerships through engaged teaching and research in the humanities. The four-year grant will support "The Humanities Engaged: Generating Learning, Remaking Community" through June 2022.
At a time when many institutions are shifting attention away from the humanities, Wake Forest has stepped up its efforts to reaffirm its distinctive liberal arts mission where faculty and students confront big questions in innovative ways.
"As Wake Forest continues to enhance its considerable strengths in the humanities, we are deeply grateful for the Mellon Foundation's longstanding and exemplary support for path-breaking work in these disciplines," said Dean of the College Michele Gillespie.
"This grant will give us exciting new ways to extend our teaching and scholarship and engage in real-world problem-solving, preserve the rich history of Winston-Salem, and align our research with topics relevant to community partners." Michele Gillespie, dean of the college
The grant will allow Wake Forest to expand its humanities-based programming in the community with seminars, oral history projects, research and community conversations.
"Neighbors, neighborhoods, and community partnerships provide the opportunity to explore together issues such as income inequality, labor, health and housing," said Dean Franco, English professor and director of Wake Forest's Humanities Institute. "Through the lens of history, geography, and politics, faculty and students will explore the concept of the neighborhood as a crossroads of ethical and political relations."
The Mellon funding will also provide support for:
A new interdisciplinary post-doctoral position as well as a tenure-track, cross-disciplinary faculty position;
A humanities faculty member who will help fold the humanities into the engineering curriculum at Wake Downtown;
Curriculum development;
Summer research fellowships for students and faculty; and
Continuing studies and programming in narrative medicine where health care professionals, writers, and artists study how story, writing and art facilitate health and healing.
In the final year of the grant, Wake Forest will host a national conference on "The University and the Neighborhood." Co-organized by the undergraduate college and the Humanities Institute, the conference will promote conversations among educators, researchers, and university and community leaders.
Wake Forest's Humanities Institute, Pro Humanitate Institute, and others across the University will partner to advance these efforts. Developing broad-based support for the humanities also includes planned collaborations with the New Winston Museum and the Reynolda House Museum of American Art.
In 2015, Wake Forest received a $650,000 Mellon grant to expand its interdisciplinary humanities research, teaching practices, and public scholarship. The three-year grant funded, among other things, the creation of a digital humanities design studio in Z. Smith Reynolds Library. The University's humanities renaissance began with a $500,000 National Endowment for the Humanities Challenge Grant in 2010 and continues with support from Wake Will Lead: The Campaign for Wake Forest.
Categories: Faculty, Humanities, Recognition, Top Stories
Wake Forest in the News
Wake Forest regularly appears in media outlets around the world.