Main Content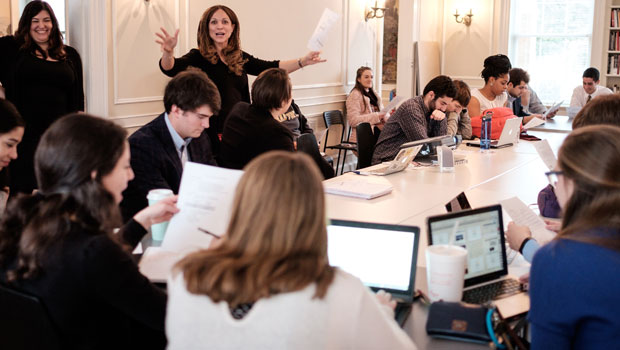 When 22 Wake Forest University students travel to the Iowa caucuses to work with presidential campaigns, they will embark upon a yearlong journey that combines classroom and real-world political experience through a program called Wake the Vote.
From volunteering on the campaigns of presidential candidates to attending classes to planning community forums to organizing non-partisan voter registration efforts, the group will spend 2016 examining issues central to the presidential election.
In Iowa and at other early voting sites including New Hampshire, South Carolina and North Carolina, each student has been randomly assigned to volunteer on the campaign for a presidential candidate.
"Wake the Vote provides students with a chance to engage in the democratic process and practice the skills of citizenship," said Marianne Magjuka, director of democratic engagement and justice programs at Wake Forest, and a leader for the program. "By randomly assigning students to campaigns, we are asking students to think critically about their own beliefs and listen deeply to diverse, even conflicting views."
Their assignments will be reshuffled at each early voting destination.
Sophia Rossell Romo, a junior from Texas who will work for a day with the Jeb Bush campaign in Iowa, likes the idea of gaining a new perspective on the election through working alongside candidates' supporters. She said, "The bipartisan nature of the program is extremely appealing in such a divided political time. I hope to better understand opposing views and encourage political participation and education across party lines."
As part of the program, the students are all enrolled in two courses – one in spring and one in fall — taught by Melissa Harris-Perry, Presidential Endowed Professor in Politics and International Affairs at Wake Forest. In addition to hands on experience on the campaign trail, students gather each week on campus to learn about election issues and share experiences.
"This diverse group of students is entering into an exciting full-year, deep immersion, civic engagement program," said Harris-Perry. "Among the Wake the Voters are Democrats and Republicans, first-year students and graduating seniors. Together these young people represent the possibility of a democracy where we can still talk to one another across lines of difference, where we can still value engagement, where we can disagree, win and lose, and find substantive – not just symbolic – common ground."
Chronicling their experiences is an essential part of the program. Students will post reflections on the Wake the Vote website. They will also post to social media using #WaketheVote and can be found on Twitter @WaketheVote.
On campus, the group will organize two forums on hot-button political issues with community partners. They will also plan other educational programs this fall related to the election. Wake the Vote students will partner with local organizations to engage in non-partisan voter registration and Get out the Vote efforts in North Carolina.
Ryan Wolfe, a sophomore from New Jersey who will work with the Hillary Clinton campaign in Iowa, explained why he applied for the program. "I believe that experiencing this year's election is the first step to building democracy that prepares the country for the future and bridging the partisan gap that currently divides our country."
Katherine Cassidy, a first-year student from Virginia assigned to the Ted Cruz campaign, asked: "How many 18-22 year-olds can say they've worked on campaigns in Iowa, New Hampshire, North Carolina and South Carolina?"
Cassidy enjoys the different perspectives of her Wake the Vote classmates. "Being with a group of like-minded people can be boring, so I really appreciate the diversity of this group in interests and political beliefs. I hope that I will gain new perspectives and strengthen my passion for public policy."
Categories: Faculty, Student, Top Stories, Wake Forest College
Subscribe
Sign up for weekly news highlights.
Subscribe