Main Content
Sen. John McCain impressed a timeless and personal theme upon Wake Forest University's Class of 2002 when he delivered the commencement address: "It is courage that counts."
McCain died at the age of 81 after more than a yearlong battle with brain cancer. The Republican senator from Arizona, two-time presidential candidate and former prisoner of war is being remembered across the country and on campus for his commitment to courage and service.
On May 20, 2002, McCain spoke of both in his address to nearly 1,400 graduates on University Plaza, now named Hearn Plaza, on a brisk and sunny morning. He told them they would be wise to fear the future.
"Be afraid. Speaking from experience, failing stinks," said McCain, who received an honorary Doctor of Laws degree during the ceremony. "Just don't stop there. Don't be undone by it. Move on. Failure is no more a permanent condition than success. 'Defeat is never fatal,' Winston Churchill observed. 'Victory is never final. It's courage that counts.'
"It is courage that counts," added McCain. "And it counts much more when you employ it on behalf of others, for purposes beyond personal advantage. In this country, use your courage, as you should use your liberty, to reaffirm human dignity."
"He challenged each of us to be leaders in our fields – whatever field it was – and to take what we had learned at Wake Forest and carry that into the world," said Mark Jones ('02), who is now an attorney and partner at Bell, Davis & Pitt in Winston-Salem.
What Adrienne Myer Bohannon ('02) remembers most about McCain's presence at commencement was not his speech, but his presence. He was the first commencement speaker at Wake Forest to shake each graduating senior's hand as he or she crossed the stage.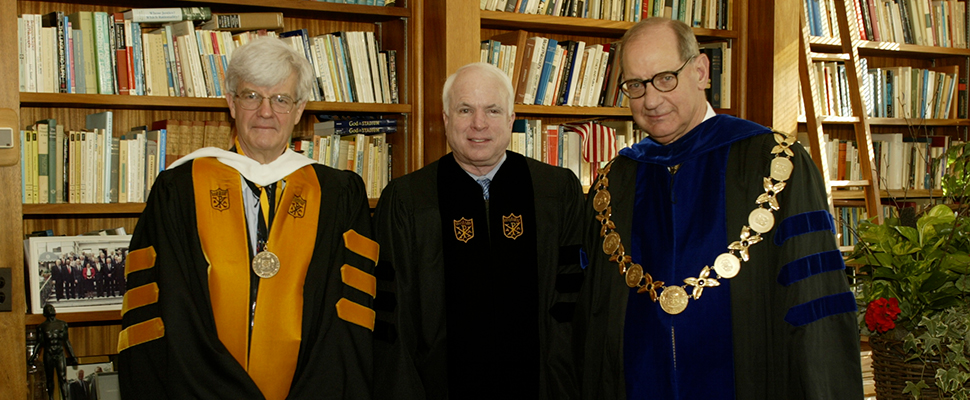 "Given that our senior year at Wake Forest was so greatly impacted by the events of September 11, 2001, it was truly an honor to be congratulated by a man who had heroically served our country and nobly dedicated his life to public service," said Bohannon, a speech pathologist in Seattle, Wash.
When Elliot Berke ('93) served as General Counsel to the House Majority Leader and Counsel to the Speaker, he worked with McCain and his staff on many issues including immigration reform and ethics reform.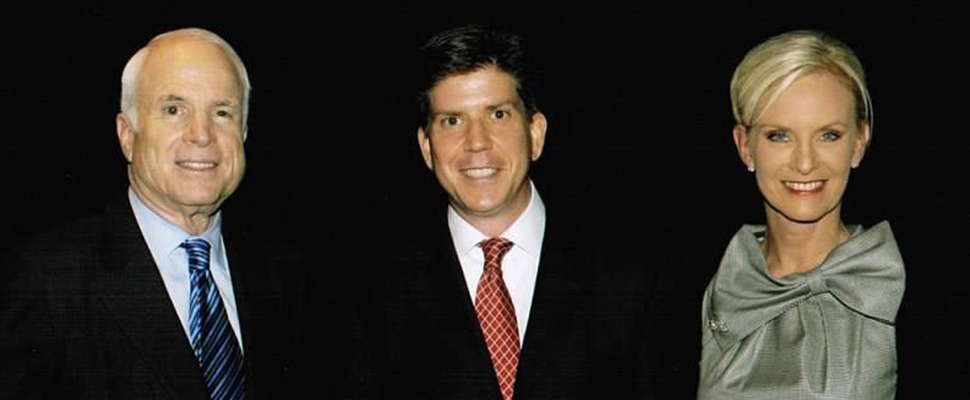 Berke, who is now managing partner of Berke Farah LLP and President of the Republican National Lawyers Association, said McCain was "always a force of nature" who could be both charming and pointed.
"I didn't always agree with him on issues. I felt he sometimes embraced "reform" without fully evaluating the unintended consequences of the legislation (campaign finance being the prime example). I think that was a product of the toll the Keating Five scandal took on him. But I never doubted for a moment that he always acted with what he believed was the best interest of the country first."
Berke continued, "I helped run his election day war room in 2008, and I recall watching his concession speech from the basement of the RNC. I remember feeling so moved at how one could lose with honor and encourage the country to come together as one. It might sound like a paradox to say this about a man with such a unique American life, but I think we need more John McCains these days."