Main Content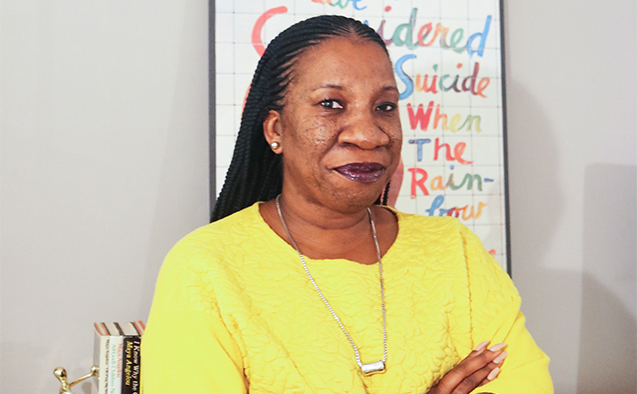 Tarana Burke, founder of the 'me too.' Movement and social justice activist, will speak at Wake Forest University on Tuesday, Sept. 25 at 6 p.m. in Wait Chapel.
The event is free and open to the public, but attendees must register at metoo-wfu.eventbrite.com. Doors will open at 5:15 p.m. and tickets will be scanned at the door.
Burke recently appeared on the cover of TIME Magazine for its "100 Most Influential People" issue, but the 'me too.' Movement is far from an overnight sensation.
For more than 25 years, Tarana Burke has dedicated her life to advocating for social justice and laying the groundwork for a movement that was initially created to help young women of color who survived sexual abuse and assault," said Paige Meltzer, Director of Wake Forest's Women's Center, which is co-sponsoring the event.
"We are grateful that she has chosen Wake Forest University as a place to inspire solidarity, amplify the voices of thousands of victims of sexual misconduct, and put the focus back on survivors at such a pivotal time in our society." Paige Meltzer, Director of Wake Forest's Women's Center
The simple yet courageous #MeToo hashtag campaign has emerged as a rallying cry for people everywhere who have survived sexual assault and sexual harassment. Burke's powerful story as creator of what is now an international movement that supports survivors will move and inspire.
A sexual assault survivor herself, Burke is now working under the banner of the 'me too.' Movement to assist other survivors and those who work to end sexual violence. Burke is also senior director of programs at Brooklyn-based Girls for Gender Equity. In her upcoming book, Where the Light Enters, Burke discusses the importance of the 'me too.' Movement as well as her personal journey from "victim to survivor to thriver."
The event is co-sponsored by the Wake Forest Women's Center, Department of Communication, Department of Women's, Gender & Sexuality Studies, Intercultural Center, Office of the Dean of the College, Program in Leadership & Character, Safe Office, School of Business, School of Law and Student Union.
Media guidelines: Burke will have brief media availability in a group setting at 5 p.m. Broadcast recordings and still photography are limited to the first 10 minutes of Burke's talk. Please contact the news office to make arrangements.
Categories: Events, Speakers, Top Stories, Valuing Diversity