Main Content
Walk into the microscopy lab in Wake Forest University's biology department, and you won't see students jockeying for a turn to see a classmate's cool discovery magnified hundreds of times under the lens.
That's because the new lab connects the microscopes not only to iPads at each lab table but also to classroom monitors, so students and instructors can share instantly any little thing they see.
It's part of an effort to create a lab environment that combines lectures and hands-on learning for active teaching, said Glen Marrs, microscopy facility director at Wake Forest. It also gives undergraduates an opportunity they rarely receive – time with research-quality microscopes.
"This is typically something you would get into if you had a research rotation, but now you can do it as a student in the classroom," Marrs said.
"Instead of looking at images from a lecture or online, students are holding the sample in their hand and putting it under the microscope – and there's a whole new level of excitement and understanding." Glen Marrs, microscopy facility director
When Marrs was designing the new microscopy lab, he called colleagues at universities all over the country, but couldn't find what he envisioned: a specially designed room with new equipment and fluorescence microscopy, an important capability for biomedical research. The closest he found, he said, was a lab that had a few unmatched microscopes cast off from the school's research facilities.
"Our faculty will have to design new, higher-reaching labs that use fluorescent proteins as instructive tools, capabilities we haven't had before," Marrs said. "It will prepare many of our students for what they'll experience in medical research or graduate school."
Noah Bressman, a Ph.D. candidate from Chappaqua, N.Y., said the new lab has helped him as a researcher and as an instructor. He studies terrestrial fish, and high-resolution microscopy has made it possible to develop new ways for quantifying the slime-producing cells that might aid some fish in moving on land.
As for augmenting his role as mentor to undergraduate students, he said: "I'm able to teach microscopy skills that will help further undergraduate research at Wake Forest."
The new lab includes four lab tables that accommodate four students each. Every student pair has both a stereomicroscope and a compound microscope with LED fluorescence. Those microscopes have digital cameras with a wireless connection to an iPad so students can save images to their Google Drive. The microscopes also can connect to the students' laptops as well as a teaching monitor.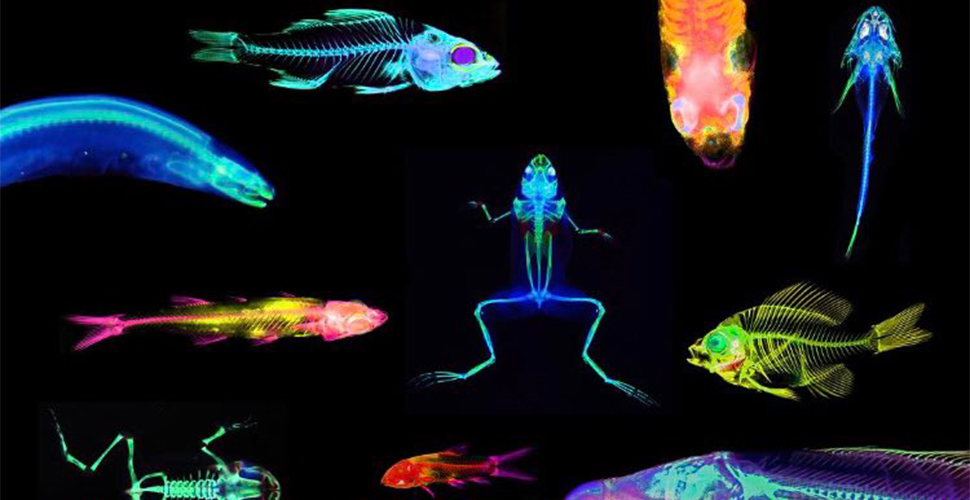 "This allows instructors to view students operating in real time, so they can teach in a more interactive and dynamic way," Marrs explained. "And students can quickly share what they're doing with the entire class by displaying images on all monitors."
An undergraduate parasitology class is one of the first to use the new lab. Students are using the equipment to capture images and annotate them in a digital notebook that is reviewed by the professor. The goal is for the microscopy lab to be used broadly for any laboratory class benefitting from advanced microscopic instruction, including courses in other departments such as physics and chemistry.
The new microscopy teaching classroom in Winston Hall on the Reynolda Campus is the University's most recent effort to enhance undergraduate science study with graduate-level opportunities. The microscopy facility at the Wake Downtown campus gave undergraduate research students access to cutting-edge microscopes, including a new confocal fluorescent microscope, when it opened in 2017.