Main Content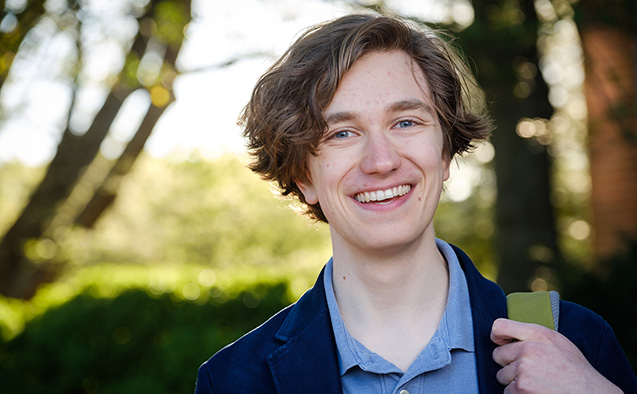 WFU junior wins Beinecke Scholarship
David Mulder, a Wake Forest junior from Winston-Salem, N.C., has been awarded the 2019 Beinecke Scholarship for funding towards his graduate studies in ancient Middle Eastern languages. Mulder is an Interdisciplinary Studies major focusing on art, religion, history and language. Approximately 15 Beinecke Scholarships are awarded annually from 135 approved institutions nationwide. Participating institutions are allowed to nominate one junior student each year with outstanding promise in the arts, humanities and social sciences.
April 23: Steven Pinker to speak at WFU's Second Annual Noesis Lecture
Steven Pinker, a renowned psychologist who has taught at Stanford, MIT and Harvard, will be the guest speaker at Wake Forest University's Second Annual Noesis Lecture. The event will take place in Wait Chapel on Tuesday, April 23, from 7 p.m. to 8:30 p.m. Pinker is a two-time Pulitzer Prize finalist, a Humanist of the Year, and an elected member of the National Academy of Sciences. In February 2018, Pinker published his tenth book, "Enlightenment Now: The Cause for Reason, Science, Humanism, and Progress."
WFU communication professor receives Engaged Faculty Award
The North Carolina Campus Compact has presented Associate Professor of Communication Alessandra Von Burg with the 2019 Engaged Faculty Award. Von Burg also chairs the Department of East Asian Languages and Culture. The compact is a network of 39 colleges and universities committed to civic and community engagement. The award recognizes an outstanding faculty member in the NC Campus Compact network who demonstrates excellence in community-based teaching, research and scholarship; leadership of campus-wide efforts; and development of strong partnerships with the community.
Categories: Top Stories
Subscribe
Sign up for weekly news highlights.
Subscribe