Main Content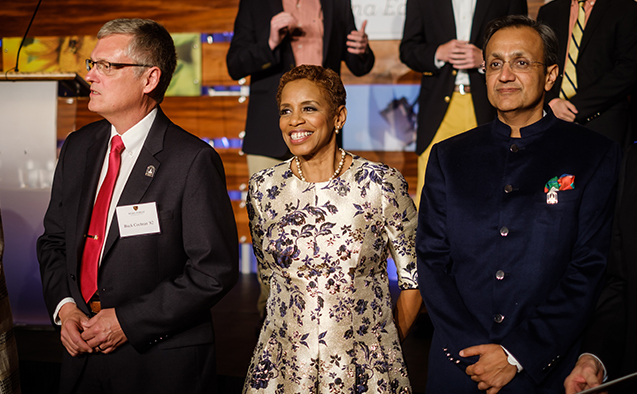 The WFU Awards and Recognitions briefs celebrate milestones of faculty, staff and students at Wake Forest.
WFU Distinguished Alumni Awards Recipients Honored
Wake Forest presented its 2019 Distinguished Alumni Awards to Buck Cochran ('82), Former U.S. Rep. Donna F. Edwards ('80) and Anil Rai Gupta (MBA '92, LL.D. '17). Selected by the Alumni Council, the recipients were honored for their service to the University and their commitment to Pro Humanitate.
Cochran is executive director of Peacehaven Community Farm, a nonprofit in Whitsett, N.C. with a mission to connect people with intellectual and developmental disabilities to the larger community through shared living and the work of a sustainable farm. It regularly draws Wake Foresters (and residents from nearby cities) to volunteer and spend time working alongside adults with special needs.
Edwards became the first African-American woman to represent Maryland in Congress, after a special election in June 2008. She won four full terms, leaving in 2017. Among her many legislative priorities were school meals, after-school programs in low-income areas, reducing opioid deaths and giving prisoners and former prisoners access to education. She currently serves on Wake Forest's Board of Trustees.
Gupta is chairman and managing director of Havells India Limited, one of India's largest electrical equipment companies, which has grown from a $5 million to a $5 billion company in the last 25 years. In 2005, Havells began offering students in Alwar district a midday meal to alleviate hunger; now the project feeds more than 60,000 students a day. The company also has built toilets for girls in more than 300 schools, contributed to natural disaster relief and helped restore historical monuments to boost tourism and create urban jobs, among its many initiatives.
Categories: Alumni, Faculty, Recognition, Top Stories
Subscribe
Sign up for weekly news highlights.
Subscribe