Main Content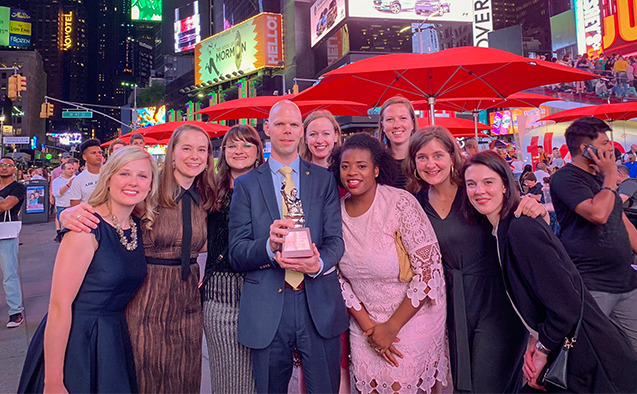 WFU receives Silver Anvil award from the Public Relations Society of America
The nation's leading professional organization serving the communications community presented Wake Forest with a Silver Anvil Award at a ceremony in New York City on June 6. Wake Forest won the award in recognition of its Call to Conversation program, which began in 2017 and has become an international movement to spark more meaningful conversations. Participants in the program gather in small groups to share a meal, discuss a single timely topic, and form relationships based on empathy and mutual respect. The award was in the category of internal communications. Other Silver Anvil recipients included some of the best-known companies in the world, whose communication projects were managed by top international public relations and design agencies.
WFU names Clifford assistant vice president, dean
Matthew Clifford has been named assistant vice president for campus life and dean of residence life and housing. He will oversee the programs and operations of residence life, housing and operations, and physical security technology. As a member of the vice president for campus life's executive leadership team, he will assist in the evaluation and planning for division and University-wide facilities. Clifford previously served as associate dean of students for student conduct before an appointment to interim dean of residence life and housing in March.
Wake Forest names new director of Women's Center
Steph Trilling has been named director of Wake Forest's Women's Center. Trilling joined Wake Forest in fall 2017 as assistant director of the Safe Office. The Women's Center was founded in 2013 to enhance the University's efforts toward creating a diverse and inclusive community. Prior to arriving at Wake Forest, Trilling served in several capacities in the Boston Area Rape Crisis Center, including as director of community awareness and prevention.
School of Divinity names vice dean
Jill Y. Crainshaw has been appointed vice dean for faculty development and academic initiatives at Wake Forest University School of Divinity. As vice dean, Crainshaw will develop and implement faculty mentoring strategies and provide leadership for research and teaching initiatives. She will aid faculty in meeting the needs of an evolving student population by cultivating teaching strategies for multiple learning styles.
Categories: Faculty, Recognition, Staff, Top Stories
Subscribe
Sign up for weekly news highlights.
Subscribe