Main Content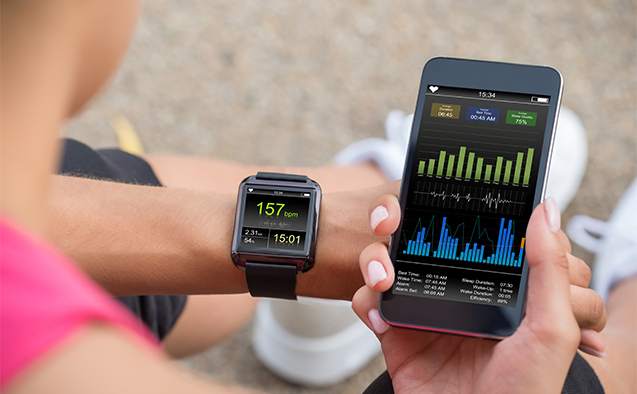 Wake Forest University has announced that digital health researcher Jason Fanning is its newest Wells Fargo Faculty Scholar, an honor that includes $120,000 in funding annually for three years.
Wells Fargo established the $2.5 million endowment in 2011 to help recruit research faculty whose work could lead to intellectual property or business concepts that boost economic renewal in the Piedmont Triad. Candidates for the Wells Fargo Faculty Scholar come from both the Reynolda campus and the School of Medicine.
"We are pleased to support Dr. Fanning and Wake Forest University," said Juan Austin, senior vice president of the Wells Fargo Foundation.
"His innovative research demonstrates the attributes and promise of the Wells Fargo Faculty Scholar Endowment, through which we demonstrate our strong commitment to our role in sustaining economic vitality in this region and this state." Juan Austin, senior vice president of the Wells Fargo Foundation
Fanning studies the psychology of health behaviors and develops programs to help older adults stay active and healthy, often with the support of mobile apps.
"Funding to support immediate projects is a really useful thing, especially early on in my career, and I'm grateful," Fanning said.
"Wake Forest also encourages bringing students into the research, which is very valuable since interest in digital health is on the rise right now." Jason Fanning, digital health researcher
Fanning joined Wake Forest in 2016 as a postdoctoral fellow, working with Jack Rejeski in the Department of Health & Exercise Science and Barbara Nicklas in the Department of Gerontology and Geriatric Medicine at the School of Medicine. He teaches graduate and undergraduate courses in statistics and health psychology.
Mobile health monitoring and behavior change tools are the focus of Fanning's work on a clinical trial called Empowered With Movement to Prevent Obesity and Weight Regain (EMPOWER), funded by the National Institutes of Health (NIH). This project looks at how diet, exercise and sitting less can help seniors keep weight off after a successful weight-loss program. Fanning's app encourages participants to be more active and break up long periods of sedentary behavior.
Fanning's other core project also is funded by the NIH. The Mobile intervention to Reduce Pain and improve Health (MORPH) study looks at how sitting less and moving more can help obese seniors with chronic pain. Here, Fanning's app nudges participants to move often throughout the day and find support for getting and staying healthy via the app.
"The hope is that people find a social connection, and a reason to start moving and keep moving," he said. "Instead of sitting and watching your television program, if you find ways to get up and move, you get a health boost."
Fanning said he will use the Wells Fargo Faculty Scholar funding to improve the apps and "build programs that help people stay connected in a positive way and modify behaviors in a positive way."
Fanning is the third Wells Fargo Faculty Scholar at Wake Forest. Previous awards went to King Chuen Peter Li and Dawen Zhao of Wake Forest Baptist Medical Center.
Categories: Faculty, Research, Top Stories
Wake Forest in the News
Wake Forest regularly appears in media outlets around the world.