Main Content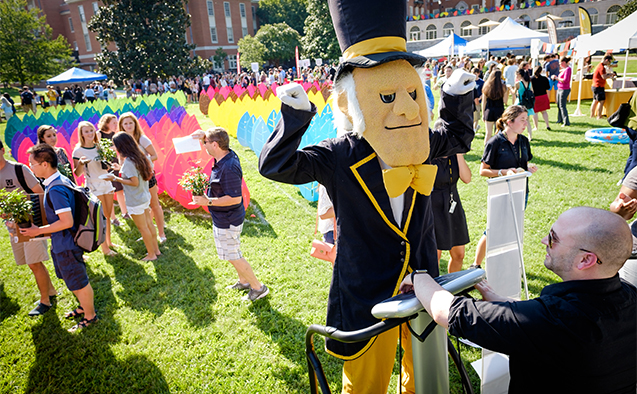 Wake Forest students, faculty and staff will come together Sept. 4 on Manchester Plaza to celebrate the 5-year anniversary of Thrive, a comprehensive wellbeing initiative that covers everything from financial to physical to emotional health and has become a model for other college campuses.
The event is not open to the public, but media are invited to attend.
In 2014, Wake Forest joined a growing number of selective universities focused on holistic wellbeing and set a course to create a campus community dedicated to wellbeing by launching Thrive. The goal: helping students, faculty and staff develop the skills, knowledge and perspective required to maintain a healthy, balanced life. The University received national attention for these efforts.
The celebration, which runs from 4 to 6 p.m., will include a photo booth, caricature artists, massage area, dunk tank and more.
"A lot of institutional and work investment has gone into Thrive," said Wake Forest Director of Wellbeing Malika Roman Isler.
"Universities across the U.S. are beginning to prioritize wellbeing, but the difference here at Wake Forest is that our wellbeing initiative is for all three constituencies – faculty, staff and students." Malika Roman Isler, director of wellbeing
"Most schools do it separately. We were given the opportunity to create and innovate as we developed the scope of programs and services," said Roman Isler.
Wake Forest's Thrive Initiative addresses eight dimensions: emotional, environmental, financial, intellectual, occupational, physical, social and spiritual. The goal is for students, faculty and staff to achieve holistic wellbeing, she said.
"This really is a celebration for the entire Wake Forest community. We've seen significant culture changes and wellbeing become a part of the everyday fabric and mindset at Wake Forest."
Contact the news team for event schedule and details.
Categories: Faculty, Staff, Student, Thrive / Wellbeing, Top Stories
Subscribe
Sign up for weekly news highlights.
Subscribe