Main Content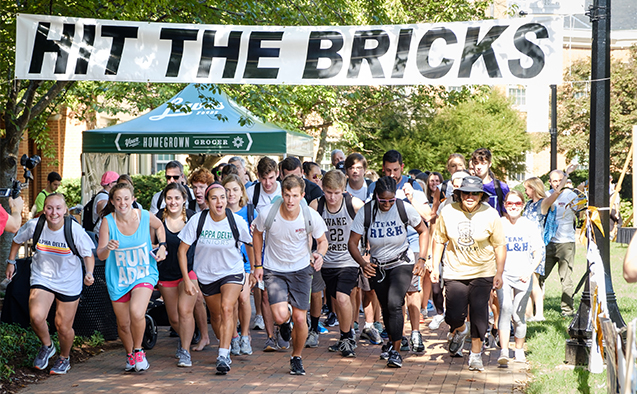 The annual 'Hit the Bricks' cancer research fundraiser in honor of Brian Piccolo will be held on Thursday, Sept. 26 from 11 a.m. to 7 p.m. along the brick pathway of Hearn Plaza.
The eight-hour relay, which brings the Wake Forest community together for a cause that has long been important to the University, includes a final remembrance lap for cancer victims and survivors and culminates with a luminary ceremony in front of Wait Chapel.
Over the course of the event, Wake Forest students, staff and faculty, as well as friends of the University, will compete to determine who runs the most laps around Hearn Plaza and raises the most money.
In 2003, the inaugural 'Hit the Bricks' raised nearly $4,000 with 17 teams. Last year, Hit the Bricks registered more than 84 teams comprised of 914 participants, who ran a total of 20,296 laps and raised just over $60,100. This year, students have vowed to register a minimum of 120 teams and to raise more than $61,000.
Funds raised from 'Hit the Bricks' support the Comprehensive Cancer Center at Wake Forest Baptist Medical Center. Since 1980, Hit the Bricks and other student-led initiatives have raised more than $3 million for the Brian Piccolo Cancer Research Fund.
Brian Piccolo was an All-American football player who attended Wake Forest in the 1960s and went on to become a running back for the Chicago Bears. Piccolo died of embryonal cell carcinoma at age 26 in 1970.
For more information about 'Hit the Bricks' and the Brian Piccolo Cancer Research Fund, please visit http://wfuhitthebricks.com. Members of the media are invited to cover the event. Students will be available for on-site interviews.
Categories: Community, Events, Philanthropy, Pro Humanitate, Top Stories
Subscribe
Sign up for weekly news highlights.
Subscribe