Main Content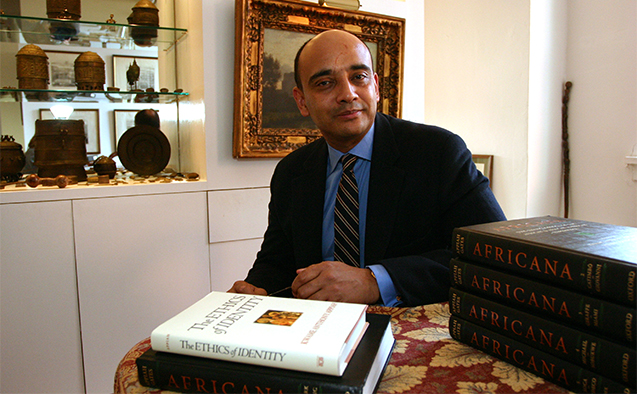 Anthony Appiah, an internationally renowned philosopher and novelist, will speak at Wake Forest through the Eudaimonia Institute's third Noesis Lecture Series. Appiah's lecture is sponsored in conjunction with the President's Office as part of the University's Voices of Our Time series.
The event will be held on Thursday, Oct. 17, at 5 p.m. in Wait Chapel and is free and open to the public.
Appiah, who asks and answers probing questions on morality, ethnicity and religion as "The Ethicist" for The New York Times Magazine, is well known for challenging people to look beyond real and imagined boundaries that divide and to celebrate their common humanity. His newest book, "The Lies That Bind: Rethinking Identity," was named one of the 50 Notable Works of the Year by The Washington Post in 2018.
Appiah was named one of Foreign Policy's "Top 100 Public Intellectuals" and one of the Carnegie Corporation's "Great Immigrants." He was awarded a National Humanities Medal by the White House under President Barack Obama.
He currently teaches at New York University and has taught previously at Princeton, Harvard, Yale, Cornell and Duke universities, as well as at the University of Ghana. From 2009 to 2012, he served as President of the PEN American Center, the world's oldest human rights organization. Appiah is chair of The Man Booker Prize, a literary prize awarded each year for the best original novel written in English and published in the UK.
Appiah was born in London to a Ghanaian father and a white mother. He was raised in Ghana and educated in England, at Cambridge University, where he received a Ph.D. in philosophy. As a scholar of African and African American studies, he established himself as an intellectual with a broad reach. His book, "In My Father's House," and his collaborations with Henry Louis "Skip" Gates Jr. – including "The Dictionary of Global Culture and Africana" – are major works of African struggles for self-determination.
Media are invited to attend the event; however, no recording of Appiah's lecture or Q&A will be permitted and it is requested that flash photography is limited.
Categories: Community in Progress, Events, Speakers, Top Stories
Wake Forest in the News
Wake Forest regularly appears in media outlets around the world.