Main Content
A $1.5 million gift from Arnold Palmer's Trust establishing the Winifred W. Palmer Professorship in Literature at Wake Forest, moved the University's Wake Will Lead campaign beyond the $1 billion milestone. The campaign is scheduled to conclude June 30, 2020.
"This historic moment for Wake Forest is only the beginning of what a community united behind a common mission can accomplish." Nathan O. Hatch, Wake Forest president
"Milestones like this invite higher expectations, and we embrace our role and responsibility to create, educate and inspire tomorrow's leaders," Hatch said.
Nearly 60,000 donors have contributed more than 500,000 individual gifts and commitments to Wake Forest University's capital campaign so far. More than 70% of the gifts to this campaign have been less than $1,000.
The Palmer professorship, awarded to Dean Franco, who has taught in the Wake Forest English Department since 2001, is one of 52 endowed faculty positions established during the campaign. Nearly one third of the funds raised support faculty and academic programming, and provide support for academic centers and institutes. The Humanities Institute, led by Franco, fosters new scholarship, creative work and cross-disciplinary collaboration.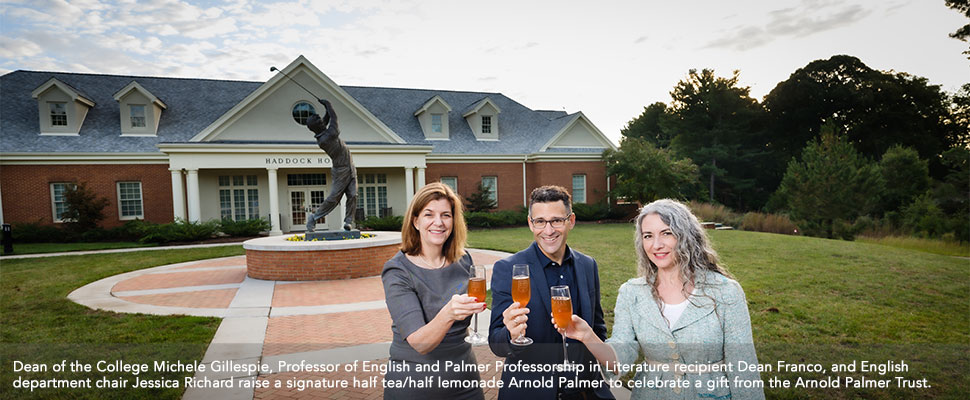 More than one third of the funds raised support student scholarships and financial aid, making Wake Forest better able to recruit, enroll and support high-achieving students regardless of their family's financial circumstances. Thanks to the generosity of donors, one in five students now receive some form of financial aid, and student debt has been reduced by 30%.
One group of students who have directly benefited are the Magnolia Scholars. Established in 2009, the program has provided financial support and mentoring to more than 300 first-generation Wake Forest students. Wake Will Lead gifts made it possible for Magnolia Scholars like Mohammad Malik and Jocelyn Segura to pursue their goals.
Malik, a senior biochemistry and molecular biology major from Trinity, N.C., came to Wake Forest in 2016 with the support of the Magnolia Scholars program. He plans to attend medical school and work in underserved rural communities in North Carolina.
With support from the scholars program, Malik connected with a local organization focused on health inequities. "Through clinical and lecture-based experiences, we learn about the inequities in health care, and we volunteer at community healthcare fairs put on by students at the Wake Forest School of Medicine. A big portion of my philosophy and my future goals as a physician have been shaped by this experience," Malik said.
Segura, a senior politics and international affairs and communications double major, spent a semester at Wake Washington and interned with a counter-terrorism think tank in D.C. and plans a career in public policy.
"The Magnolia Scholars program has given me the tools, the resources and the support system to be successful not only at Wake Forest, but after graduation," she said.
Through the Wake Will Lead campaign, more than 200 scholarship funds – including the Byrum Scholarships, the Stamps Scholarships, Wake Forest Scholars and Magnolia Scholars – have provided support for students.
"One of the most significant acts we can undertake is opening doors of opportunity to young people." Nathan O. Hatch, Wake Forest president
The University is marking this campaign milestone on the 68th anniversary of the day in 1951 when President Harry Truman helped Wake Forest College break ground on a new campus in Winston-Salem. The extraordinary philanthropic support of the Reynolds family made that historic move from Wake Forest, N.C., and the construction of a new campus possible.
Nearly seven decades later, philanthropy through Wake Will Lead has provided for more than one million square feet of newly built or renovated space to enhance teaching, learning and athletic competitiveness.
Two cornerstones now mark the entrance to Wake Forest University's historic W.N. Reynolds Gymnasium. The original – 1954 – shows the year the gym was built. A new one – 2017 – marks its transformation into the dynamic Wake Forest Wellbeing Center. Leadership gifts through the Wake Will Lead campaign helped make the $60 million Reynolds Gym transformation project possible and support wellbeing initiatives across campus. Other completed capital projects supported by campaign donors over the past several years include the new Sutton Sports Performance Center and Shah Basketball Complex, Farrell Hall, the Worrell Law Commons, Davis Chapel, and McCreary Field House.
The creation of Wake Downtown, home to the University's undergraduate engineering and biomedical science programs, and the launch of the Wake Washington Center to house study away programs in D.C. have expanded the opportunities for students and faculty beyond the Reynolda campus.
Wake Will Lead has helped put Wake Forest at the forefront of transforming the traditional concept of career services into a holistic, four-year approach to personal and career development, resulting in 98% of graduates employed or accepted into graduate school within six months of graduation – and prepared for a lifetime of career changes.
The Wake Will campaign launched publicly in 2013, surpassed its original $600 million goal in 2016 and set a new goal of achieving $1 billion in new philanthropic resources.
"In each gift, we see the great care of alumni, parents and friends for this special place,"said Mark Petersen, vice president for University Advancement who is leading the campaign.  "We will never take their personal investment for granted."
"We are grateful for the generosity of so many in transforming Wake Forest." Mark Petersen, vice president for University Advancement