Main Content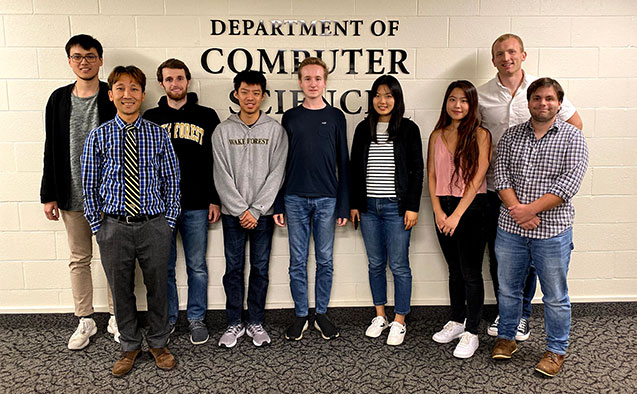 The WFU Awards and Recognitions briefs celebrate milestones of faculty, staff and students at Wake Forest.
Computer science students selected for prestigious competition
A team of Wake Forest computer science students is one of only 16 teams worldwide chosen to compete in the Student Cluster Competition of the SC19 International Conference for High Performance Computing, Networking, Storage, and Analysis, Nov. 17-22 in Denver.
The six students on the team will build a supercomputer that must run a series of applications to win. They will work around the clock for four days straight. The team, which is one of only four U.S.-based teams to compete this year, is sponsored by Cisco and NVIDIA; travel expenses for the trip are covered by an alumni donation.
This will the second year for Wake Forest to compete, and they were the only first-time competing team from last year to be invited back. Faculty adviser Samuel Cho, associate professor of physics and computer science, said the lessons in supercomputing, a highly prized job skill, has been invaluable for students.
Team member Mitch Eisenstat, who is competing for the second time this year, agreed.
"I found my experience to be invaluable during my summer internship," he said. "Pretty much everything we learned during the competition has come in useful at some point already."
Author of award-winning "Heavy" to speak at Wake Forest
Wake Forest is hosting Kiese Laymon, the author of "Heavy: An American Memoir," on Wed. Oct. 30 at 6 p.m. in Porter Byrum Welcome Center. Laymon will discuss the complexities of Southern black culture, violent familial relationships, education as an escape from poverty and obesity. A black writer from Mississippi, Laymon was awarded the 2019 Andrew Carnegie Medal for Excellence in Nonfiction. The event is free and open to the public. Registration is requested at events.wfu.edu.
Categories: Events, Faculty, Student, Top Stories
Subscribe
Sign up for weekly news highlights.
Subscribe