Main Content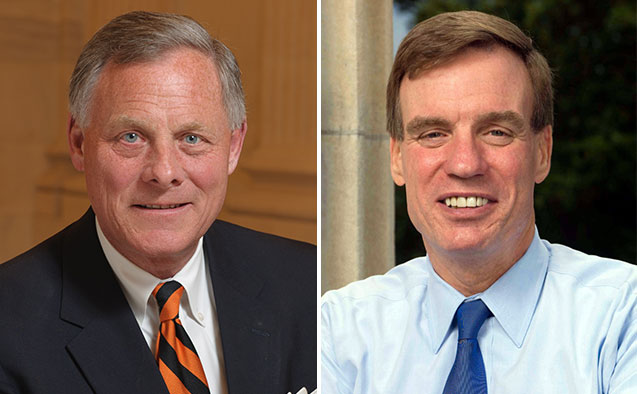 Sen. Richard Burr (R-NC) and Sen. Mark Warner (D-VA) will have a conversation at Wake Forest University on Monday, Nov. 11, in Farrell Hall's Broyhill Auditorium at 7 p.m.
Kami Chavis, Professor of Law and Director of the Criminal Justice Program at Wake Forest University School of Law, will moderate the discussion.
The event is free and open to the public. Media are welcome to attend.
From investigating Russian election interference to highlighting ongoing cyber threats, Burr and Warner have collaborated on some of the most contentious issues facing the U.S. When disagreements arise, Burr said they are settled by "picking up the phone or getting together and talking things through." The discussion will highlight how two leaders from opposite sides of the aisle are able to work together on issues of national importance.
First elected to the U.S. House of Representatives in 1994, Burr served five terms in the House and is currently serving North Carolina in his third term in the U.S. Senate as Chairman of the U.S. Senate Select Committee on Intelligence. He also sits on the Health, Education, Labor, and Pensions Committee and the Finance Committee. The son of a minister, Burr and his family moved to Winston-Salem when he was a child. After graduating from Wake Forest University in 1978, he began his career in business with Carswell Distributing, a wholesale commercial products company.
Warner was elected to the U.S. Senate in November 2008 and reelected to a second term in November 2014. He serves as Vice Chairman of the U.S. Senate Select Committee on Intelligence. He also sits on the Senate Finance, Banking, Budget, and Rules Committees. From 2002 to 2006, he served as Governor of Virginia. The first in his family to graduate from college, Mark Warner spent 20 years as a successful technology and business leader in Virginia before entering public office.
In 2018, Burr ('78) announced that he will donate his Congressional papers to Wake Forest University. The papers will be curated by the Special Collections & Archives department at the Z. Smith Reynolds Library. The collection includes photographs, sound and video recordings, manuscripts, letters, speeches, handwritten notes and other documents from more than two decades of Burr's service in the U.S. House of Representatives and the U.S. Senate. This is the inaugural event presented by the Richard Burr Center for Legislative Studies.
Categories: Alumni, Events, Speakers, Top Stories
Subscribe
Sign up for weekly news highlights.
Subscribe