Main Content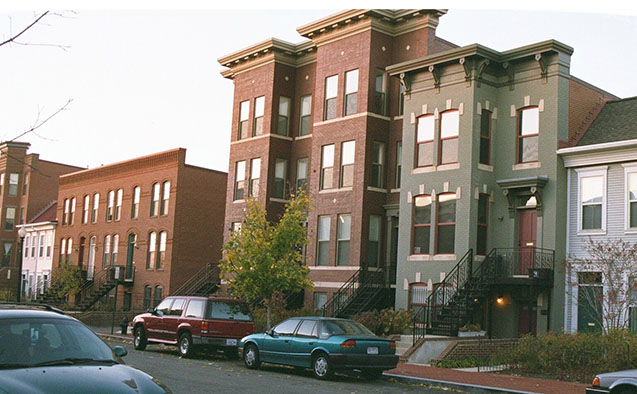 Highlights
New America will release the national findings in "Displaced in America" via webinar at noon ET today, Sept. 9.
The Environmental Law and Policy Clinic at Wake Forest Law and the Department of Anthropology were key contributors to the project.
An online panel discussion on housing loss in Forsyth County will be held on Sept. 17.
Nearly 5 million Americans lose their homes through eviction and foreclosure each year, and the numbers this year are expected to be higher as tens of millions lose jobs due to COVID-19 and the economic downturn. 
The Future of Property Rights Program at New America, in partnership with Wake Forest University, Wake Forest University School of Law, and Winston-Salem State University, has been conducting research to understand where housing loss is most acute across the nation, with a spotlight on Forsyth County to determine who is most impacted and why. 
The Forsyth County work is part of the larger report, "Displaced in America, published today that examines national housing loss.
"It's the first study of its kind. It's an extraordinary data set that helps us pinpoint the root causes of housing instability." Emily Benfer, WFU law professor and eviction expert
The Environmental Law and Policy Clinic at Wake Forest Law and the Department of Anthropology were key contributors to the project. Law professor Emily Benfer, a nationally recognized eviction expert, is one of the panelists for the Sept. 9 national release.
"The data set helps us pinpoint the root causes of housing instability, the housing crisis and housing affordability around the country," says Benfer. "If we could get the eviction moratorium and rental assistance in place to put a pause in that cycle, this is the type of data and research that enable us to think about how we address the root causes."
Focus on Forsyth County
As part of the report, research teams generated eviction, foreclosure and combined housing loss rates for every census tract in Forsyth County, averaging the 5 years between 2014 and 2018. Findings included:
12,276 households were evicted in Forsyth County, a 4.4% eviction rate. 

Census tracts with predominantly non-white households and residents living below the poverty line had higher rates of eviction, foreclosure and overall housing loss. In particular, census tracts with predominantly Black residents had substantially higher rates of mortgage foreclosure.
For years, studies have shown that Forsyth County has one of the highest rates of concentrated poverty, and one of the lowest rates of economic mobility for low-income residents, in the country. Census tracts with the highest housing loss rates align with areas historically associated with segregation and redlining, as well as with tracts with high concentrations of poverty.
Research Contributions
The project began in the Environmental Law and Policy Clinic at Wake Forest Law. "When we think of environmental law, we may think more about sustainability and how the environment around us affects people. In the urban environment, housing is very much a part of our health and the environment in which we live," says Clinic Director and Professor of Practice Scott Schang.
Anthropology professor Sherri Lawson Clark, whose expertise focuses on housing instability and the intersections of housing policy with health and welfare policies, worked with senior Jack Portman, an anthropology and political science double major,  to gather information that could tell the stories behind the data of who is being affected by eviction and foreclosures and why.
"Numbers don't make an emotional impact but lived personal experiences do. That's where anthropology's value in policy discussions shines. " Senior Jack Portman, anthropology and political science double major
Schang worked with two law students in the clinic to define the research plan, determine interviews, and gather the data. Alex Cattermole (JD '21) and Portman conducted interviews in the field with legal experts, activists and community members dealing with housing loss, and then when the pandemic hit, by phone or video chat. Cattermole also co-authored an essay about preliminary findings. He says he views the study's results through an economic lens.
"It comes down to money," says Cattermole. "Historically we have prevented Black people from accumulating wealth and having higher incomes."
Lawson Clark says Portman's interviews with stakeholders who experienced housing loss were absolutely crucial to the project.
"Reading about a person's experience losing their income and having their housing jeopardized is a stronger call to action than reading a political science article on eviction. Anthropology teases lived experiences out of the data," Portman says.
"We want informed policy decisions," says Lawson Clark. "There is not a one-size-fits-all policy. I absolutely believe you need to know your context and in order to know it you have to get on the ground. You have to get dirty. I see the New America project as a mixed-methods approach to the study of housing loss and foreclosures. I don't think this is the end. This is the beginning of more research to be done."
Cattermole says he came away from the project with some optimism. "There are people in Forsyth County who care, even developers who are building affordable housing at lower profit margins than if they focused on more white-collar markets."
An overview of the findings and discussions on poverty, economic mobility and housing loss in Forsyth County will be held during an online panel discussion on Sept. 17 from 12 to 1:15 p.m. Wake Forest University participants include Steve Virgil, professor and executive director of experiential education in the law school and anthropology professor and housing expert Sherri Lawson Clark. More information and registration are available on the New America website here. 
Categories: Faculty, Mentoring, Research, School of Law, Student, Top Stories, Wake Forest College