Main Content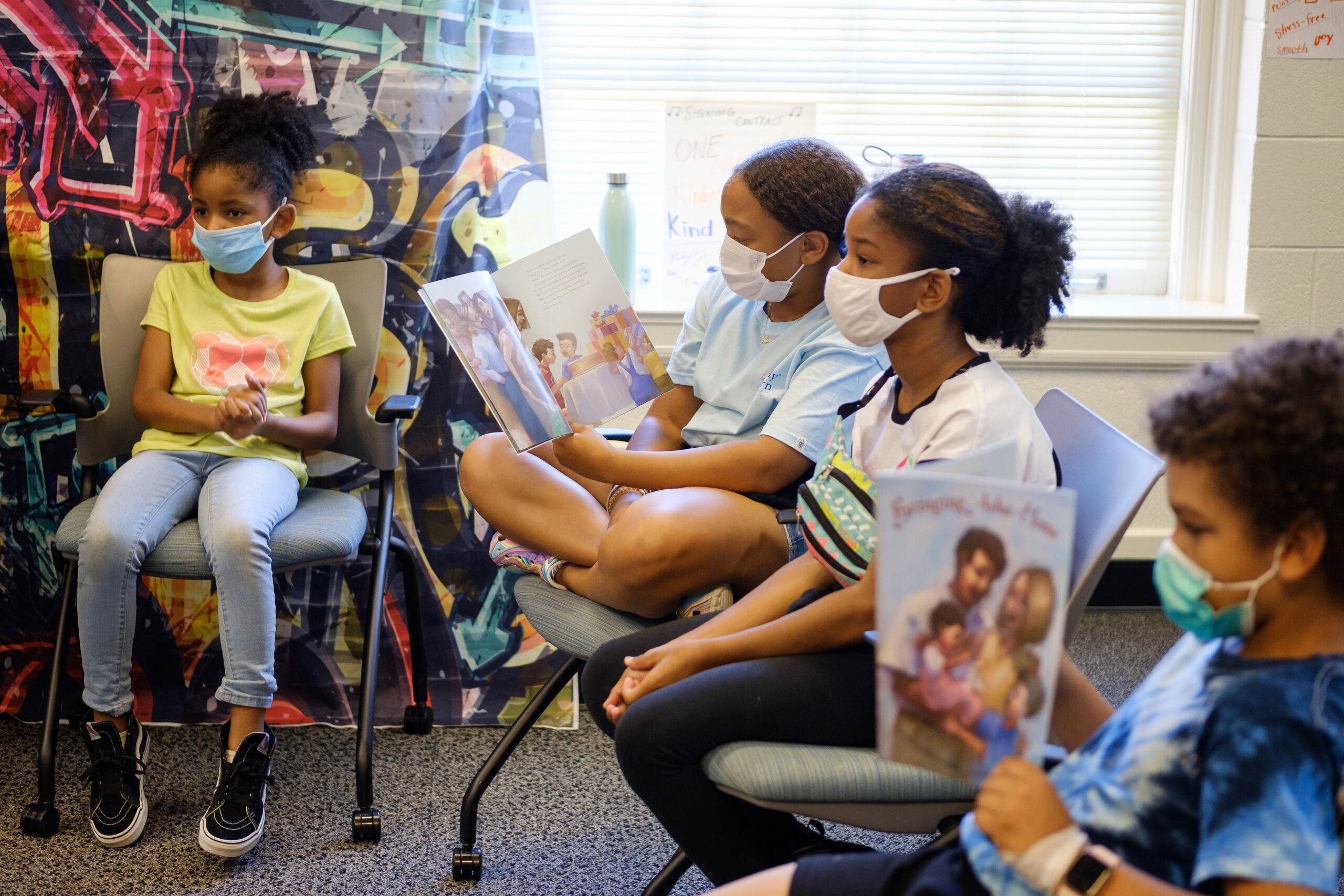 After seeing a flyer about Wake Forest University's Freedom School, Jackson Gibson showed it to his father, Reggie Gibson, and they agreed the program would be good for Jackson.  
Turns out they were spot-on.
Jackson is among 65 Winston-Salem kids attending the free, six-week, literacy-based summer program for rising third through eighth-graders. By using a culturally diverse curriculum, Freedom School encourages a love of reading and learning. With a theme of "I Can Make A Difference," the Integrated Reading Curriculum affirms the children — called scholars — with engaging literature and community exposure. Scholars are taught by students from Wake Forest, Winston-Salem State, Bennett College, N.C. A&T, N.C. State and UNC Chapel Hill. They also attend weekly field trips. 
"I expected to learn a lot, and so far I have," said Jackson, 10, a rising fifth grader at Cook Elementary School. "I've learned a lot about reading, math and sometimes science. I like to socialize a lot and I like to make friends and talk to people, and I'm getting to do that at Freedom School. My favorite part is Harambee because I like all of the songs."
During Harambee, the children sing songs, encourage each other and have a guest reader. Dr. Brenda Latham-Sadler, a Wake Forest Medical School graduate and local physician specializing in family medicine and primary care, was the guest on June 30 inside Carswell Hall Auditorium.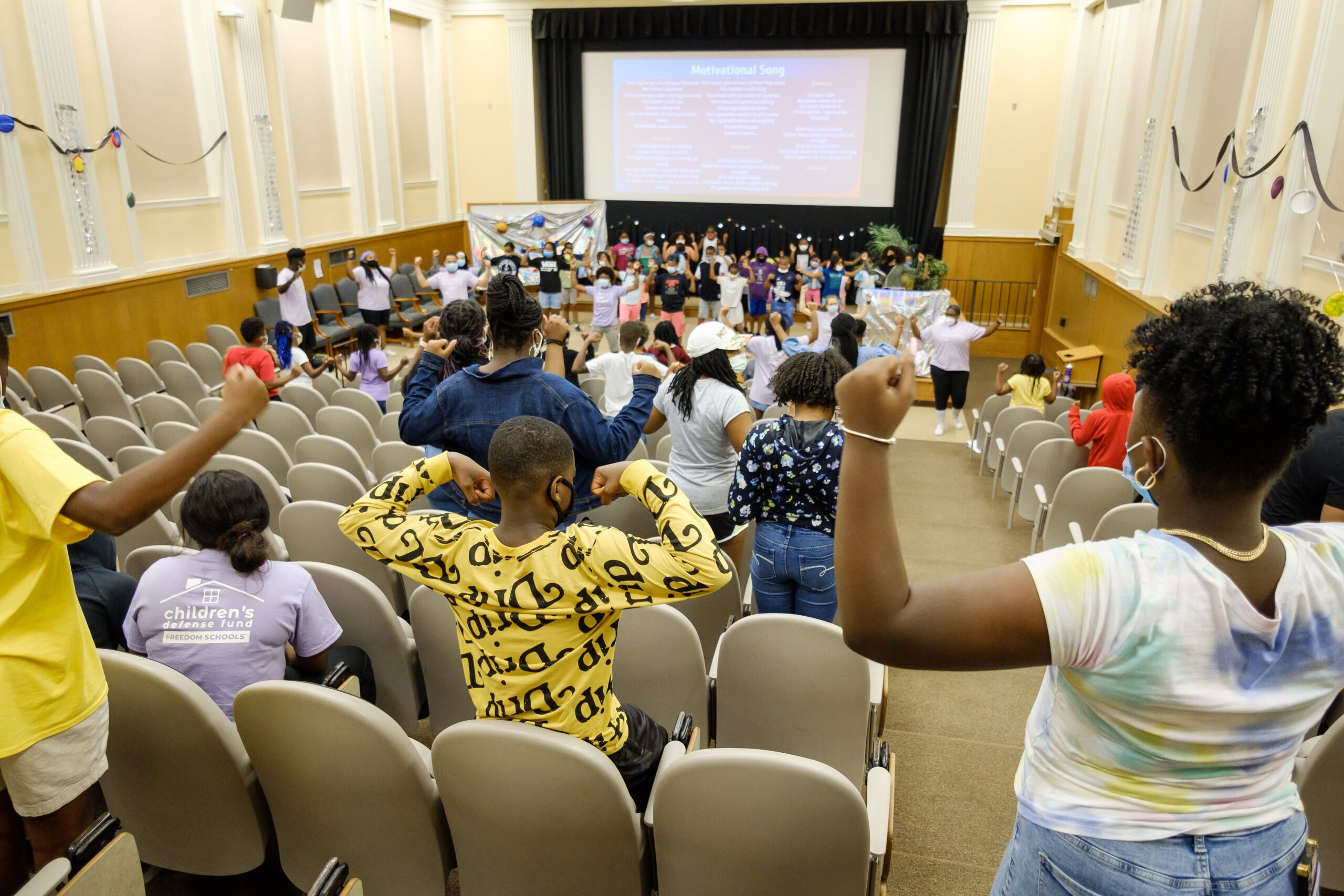 "I thank you for the honor to read to you today, and I will try to read without crying because my heart is full," said Latham-Sadler, an associate dean for student inclusion and diversity in the School of Medicine. "One of my mentors, Dr. Maya Angelou, told me one day that I was the dream of slaves and I get to do things that my foreparents didn't get to do. You're going to do things that even I didn't get to do, and I praise you in advance because I know you're going to be great."
She read "The Great Realization" by Tomos Roberts, a bedtime story that depicts the impact of the COVID-19 pandemic and envisions how it will shape a new, bright and compassionate world. After reading, Latham-Sadler asked who remembered 2020, and the children raised their hands. She asked whether they had to stay at home and they said "YES" in unison before nodding in agreement when she asked whether they were happy to be outside again. 
Then the children saluted her with a song while rising Wake Forest senior Sierra DeVeaux, a sociology major and Freedom School teacher, played African drums. Latham-Sadler danced to the music before answering a few questions, including whether she has children. 
"I have two boys. One is a writer and the other one … went to dental school and works on reconstructing people's faces and does great work. I am so proud of both of them. They're so smart just like you."
Ayauna Visonwomack, 10, a rising fifth grader at Kimmel Farm Elementary School, enjoys Freedom School. Her cousin, Jordyn Roberson, also attends.
"You can make friends here and you can do a lot of fun activities," said Ayauna. "You can draw and you get to read. The teachers are good because they help me get through things I don't understand. I know they believe in me because they help me in class."
Those words are music to the ears of Mackenzie Jackson, a sopohmore English and politics major from Charlotte and a Freedom School teacher. 
"It brings me genuine joy to see scholars not only enthusiastic about reading the books, but comprehending the material and learning as well," Jackson  said. "I can't tell you how many scholars have told me they want to go to college because Freedom School is fun."
Neicy Myers earned her bachelor's degree in sociology, with minors in journalism and women's gender and sexuality studies, from Wake Forest in 2020. She earned her master's degree in management from the University in May and has participated in Freedom School since her undergraduate days.
"Freedom School continues to be a beacon of hope and light for our scholars, families and community." Neicy Myers ('20), Freedom School site coordinator
"I've truly enjoyed coming back to Freedom School year after year, watching our scholars grow with the program and within themselves. Their reading levels, confidence levels and belief in themselves grow exponentially throughout the summer," Myers said.  "We serve the kids and families right in our backyard, so bridging our Winston-Salem and Wake Forest communities has been a really integral piece to modeling Pro Humanitate in a special way."
Camry Wilborn, assistant director of community partnerships in the Office of Civic & Community Engagement (OCCE), is project director of Freedom School. Danielle Parker Moore, an assistant professor of education, is the executive director. 
"Being part of Freedom School is very gratifying because we're instilling the importance and power of reading in these children," Wilborn said. "We're also exposing them to different community leaders while motivating and uplifting them so they will embrace their beauty and their potential."
Marvin Blue, Sr. of Winston-Salem sat in on Harambee on June 30 and said his son, Marvin Jr., thoroughly enjoys Freedom School. "It's been great for him, and I totally support and appreciate these Wake Forest students for working with our children," he said. 
Wake Forest's Freedom School is hosted by the Department of Education and is made possible with the help of collaborators including OCCE, the Office of the President and the Office of the Provost. 
To interview Myers, Jackson, DeVeaux or Wilborn or to visit a Harambee session of Freedom School, please contact media@nullwfu.edu.  
Categories: Campus Life, Community, Community in Progress, Top Stories
Subscribe
Sign up for weekly news highlights.
Subscribe