Main Content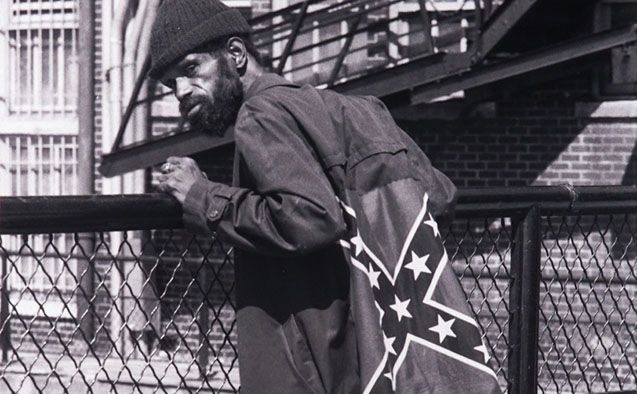 In January 2020, 16 students in art history professor Jay Curley's seminar class started researching and studying Black contemporary art for the spring semester. The research included viewing and discussing works in a collection belonging to Wes and Missy Cochran, a LaGrange, Georgia, couple who has amassed more than 700 works. 
Eager to see these works shine a light on Black life and culture, the Cochrans invited students to select works from their collection for an exhibition in Wake Forest's Hanes Gallery.
"The week before the quarantine, our group had an idea of which works we wanted. In April, we selected our final choices – spending several hours a week on Zoom calls going through slides and looking at each work," said senior art history major Jackie Dishner.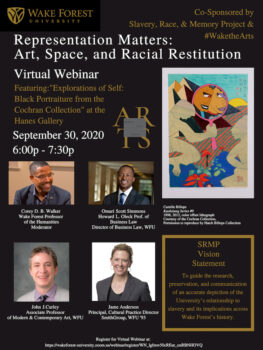 The 41 works selected are on exhibit in Wake Forest University's Hanes Gallery through March 28. Due to pandemic-related restricted access to campus, viewing "Explorations of Self: Black Portraiture from the Cochran Collection" in-person is limited to Wake Forest University students, faculty and staff.
"Representation Matters: Art, Space and Racial Restitution," a webinar co-sponsored by Hanes Gallery, Wake Forest University's Slavery, Race and Memory Project and Wake the Arts, will be held Wednesday, Sept. 30 from 6 to 7:30 p.m. The panel will be moderated by humanities professor Corey D. B. Walker and feature conversations around the works.
The event is free and open to the public. Registration is required.
Panel experts include Wake Forest law professor Omari Scott Simmons, former co-owner of an art gallery with an extensive collection of Black art, Jane Anderson, a Wake Forest alumna and architect whose work with cultural institutions confronts the challenges of race, history and memory, and Curley, whose students curated the works on exhibit.
"The exhibition underscores how our students are confronting complex issues through African American art. The Cochran Collection offers our students a unique opportunity to critically examine the politics and practices of African American self-representation," Walker said.
Dishner says that while virtual platforms are easily accessed, they cannot replace the experience of walking into the gallery and being immersed in Black art, specifically Black portraiture.
"I hope that people will be able to connect our incredible exhibition and the powerful messages that many of our works convey about the present political and social times," Dishner said.
"Explorations of Self" includes works by Emma Amos, Lorna Simpson, Willie Cole, Jack Whitten, Adrian Piper, Alma Thomas, Beverly Buchanan, Juan Logan, Howardena Pindell, Jim Alexander, Charles White, Elizabeth Catlett, Camille Billops, Romare Bearden and Jacob Lawrence.
Nearly half of the artists represented are women.
Categories: Arts & Culture, Community in Progress, Events, Humanities, Top Stories