Main Content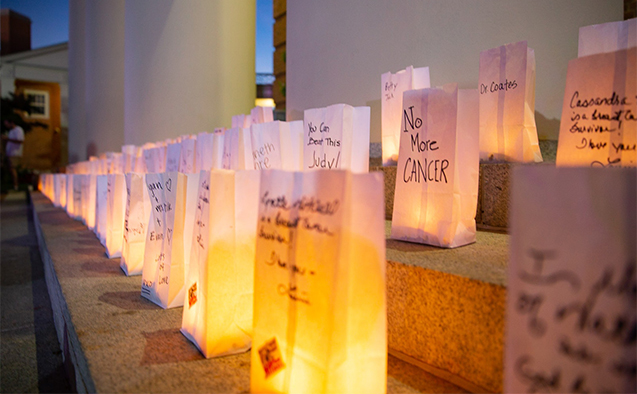 No matter who you are or where you live, chances are good cancer has touched your life in some way. Today through Oct. 1, Wake Forest University will hold its annual 'Hit the Bricks' cancer research fundraiser in honor of Brian Piccolo.
What's normally a daylong relay race is being stretched over four days to include both on-campus and virtual activities. Participants will track their miles as they run laps on their own and organizers will use an app to determine how many miles they logged.
Despite having to make some changes, organizers say they're just as excited about this year's 'Hit the Bricks' campaign as they've been in the past and have set an $80,000 fundraising goal.
"We've been planning 'Hit the Bricks' 2020 since January before COVID got serious in the U.S.," said Hannah Cook, a senior finance major from Raleigh and event director. "We've had to dramatically change our plans to account for campus safety guidelines, but although the pandemic has changed a lot of things, cancer is still prevalent so we're just as excited to raise money for the Brian Piccolo Cancer Research Fund this year as we've ever been."
One of Wake Forest's biggest traditions, 'Hit the Bricks' started in 2003 and raised nearly $4,000 with 17 relay teams. Last year, 'Hit the Bricks' registered 109 teams comprised of 1,200 participants, who ran a total of 23,014 laps and raised $83,247.
Funds raised from 'Hit the Bricks' support the Comprehensive Cancer Center at Wake Forest Baptist Medical Center. Since 1980, 'Hit the Bricks' and other student-led initiatives have raised $4,475,542 for the Brian Piccolo Cancer Research Fund.
Brian Piccolo was an All-American football player who attended Wake Forest in the 1960s and went on to become a running back for the Chicago Bears. Piccolo died of embryonal cell carcinoma at age 26 in 1970. A year later, ABC featured a movie, "Brian's Song," about Piccolo's life and friendship with fellow Bears player Gale Sayers, who died on Sept. 23.
Information about this year's 'Hit the Bricks' event can be found online. Also included on the website is information on how to purchase luminaries — for $5 each — in honor of cancer survivors or fighters, Cook said.
She, Brad Shugoll, associate director of service and leadership in the Office of Civic and Community Engagement (OCCE) and other organizers had to get creative with this year's event because of the coronavirus. Among planned virtual activities are a "Find the Bricks" daily scavenger hunt via social media and a "Quiz the Bricks" nightly trivia challenge offering cash prizes.
Closing ceremonies for 'Hit the Bricks' are at 6:30 p.m.on Oct. 1 on the Quad and will include the traditional silent commemorative lap to honor those who fought but lost their battle to cancer. The lap will end at the steps of Wait Chapel, where luminaries will honor loved ones and Wake Forest President Nathan O. Hatch will speak, Chaplain Tim Auman will share a personal family experience with cancer and Cook will name the winners of the 'Hit the Bricks' relay challenge.
The closing ceremony is not open to the public because of COVID-19 safety protocols. The 25 people in attendance are required to wear masks, and social distance spaces of six-feet will be marked on the ground, Cook said.
"Even though it will be different this year, we're still happy about holding the annual 'Hit the Bricks' fundraiser," Cook said. "In fact, we've already raised more money than we usually have in advance of the event, and we're getting more participation than normal from first-year students and alumni. I'm confident 'Hit the Bricks' 2020 is going to be very successful."
To interview Cook or Shugoll, please contact media@nullwfu.edu.
VIDEO: Hit the Bricks 2020
Categories: Events, Pro Humanitate, Top Stories