Main Content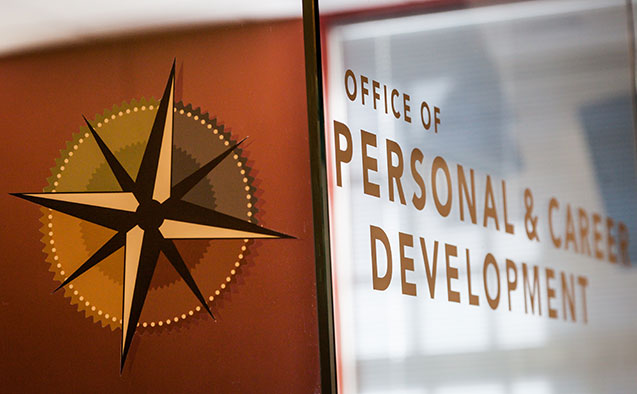 In March 2020, as plans were upended and priorities changed, the career development team at Wake Forest wrote messages of care and concern to students and soon-to-be 2020 grads. The job search took a back seat to self-care and the sudden, unexpected shift from one of the best economies in the U.S. to one of the most unpredictable.
Every industry has had to rethink and restructure their businesses due to the pandemic, said Vice President of Innovation and Career Development Andy Chan. While some industries and organizations have successfully pivoted, others are still adapting.
"Our 2020 grads are successfully landing jobs and those graduating in 2021 will as well, though perhaps not their first-choice jobs," Chan said.
"For our juniors and sophomores, there are surprisingly more internships available now than there were last year when the economy was hot." Andy Chan, vice president of innovation and career development
Organizations want access to top talent early.
"Employer recruiting is often heavy in the fall but not usually as intensive as it has been this year. In addition, students are more likely to receive job offers from organizations where they hold internships this summer."
Virtual recruiting
Virtual career fairs are attracting a record number of student participants at Wake Forest. While organizations are not participating in as many virtual multi-company events as in-person events last year, employers are participating remotely when there is significant student interest. 
"The pre-registration process gives students time to look up which companies are coming. Unlike in an in-person career fair where students can drop by any company's table, there is an added layer of commitment, which both students and employers find beneficial," Chan said.
During a recent career networking event, breakout sessions were scheduled where small groups of students could learn more about their top-choice employers. The breakout room feature did not work as planned, so instead each presenter was given a limited amount of time to talk and address questions from the attendees. "An unexpected upside was that students heard from smaller, lesser-known companies, rather than self-selecting high-profile, larger employers," said Chan. "These smaller companies typically receive less student interest and applicants. It's a better experience for the companies and the students."
Building a diverse workforce
This fall, employers of all industries, locations and sizes are stepping up efforts to build more diverse workplaces and tapping into talent earlier in the recruitment timeline. 
"We received numerous requests and questions this year from employers who have new and expanded diversity hiring initiatives or are just beginning to develop their initiative and connected with us for advice," said employer relations events manager Dana Hutchens. 
Knowing Wake Forest campus partners are at the ground level as trusted advisors and advocates, the employer relations team developed and hosted a webinar to address employer questions. Experts in the Women's Center, LGBTQ Center, Learning Assistance Center and Disability Services and the Office of Diversity and Inclusion participated as panelists to share the kinds of questions that students are asking as they look for employers who value diversity and inclusion in the workplace. 
"Hiring diverse talent is not a one and done where employers check off a box." Mercy Eyadiel, associate vice president, corporate engagement
More than 135 registrants representing 61 organizations signed up.
Key questions that students and campus partners are asking employers include:
How does your leadership support the professional development of employees from underrepresented groups?

What steps does your organization take to address implicit bias related to gender, race, class, disability, age and sexual orientation?

Does your organization support disability initiatives and is leadership committed to a culture of inclusion?
"Hiring diverse talent is a top priority for our employers and through our partnerships across campus, we're able to facilitate meaningful connections with students one-on-one and via signature events," said Mercy Eyadiel, associate vice president, career development and corporate engagement.
The National Association of Colleges and Employers recognized the Office of Personal and Career Development with the "2019 Diversity and Inclusion Excellence Award."
"Career Treks" and networking
Since 2013, Wake Forest has hosted "Career Treks" over academic breaks that offer students a chance to travel to major metropolitan cities on industry-themed trips focusing on careers in finance, fashion or politics, for example. Over several days, students visited with organizations to engage with industry professionals, expand their networks, increase their awareness of career possibilities and scout out internship opportunities. 
This fall, however, instead of visiting one city over several days, 17 job- and internship-seeking students zoomed to three cities for three 30-minute virtual networking experiences in New York, Boston and Washington, D.C. in a marketing and advertising virtual Career Trek,
"One positive that has come out of remote working is that it has opened the doors to remote internships," said career development associate director Amy Willard. "The cost of living for jobs and internships is a nonissue right now. Students can get work experience in New York, at least for a while, without worrying about how they will pay to live there."
The advantage extends to students interested in learning about nonprofit work. "Sometimes interning at a nonprofit can be difficult due to their budgets. By working virtually, students can work from home and not have to worry about living expenses," said employer relations expert Lori Sykes. "Developing a strong network and getting work experience through virtual conversations and internships offer a competitive edge for the senior year full-time job search."
Wake Forest University was awarded the 2020 National Career Development Association's (NCDA) Exemplary Career Center Program Award. The award recognizes a career center program for their commitment to thoughtful, innovative and effective initiatives that support career development.
Categories: Personal and Career Development, Student, Top Stories
Subscribe
Sign up for weekly news highlights.
Subscribe