Main Content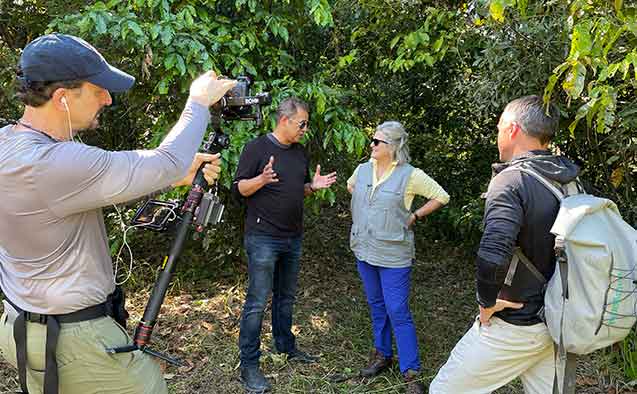 A new NBC News investigation into illegal gold mining in Peru highlights the work Wake Forest University researchers – both Peruvian and American – are doing to make trees thrive in a landscape devastated by mining.
Through Wake Forest's Center for Amazonian Scientific Innovation (CINCIA), based in the Madre de Dios region of the Peruvian Amazon, scientists like Miles Silman, Luis Fernandez and an international team of researchers are developing ways to reforest the land while protecting human health and natural systems.
The benefit of having an investigative team from NBC visit CINCIA is that its storytellers and reporters can really show how deep the damage goes, said biology professor Silman. And that, he hopes, will inspire viewers to help solve the problem.
Journalist Cynthia McFadden, senior investigative correspondent with NBC News, is featuring CINCIA in a series of reports about how small-scale gold mining has turned more than 370,000 acres of lush rainforest into barren desert in Peru. Thousands of brightly colored, abandoned mining ponds – contaminated by the mercury used to tease gold flakes out of rainforest silt – dot the landscape between the sand dunes and poison the wildlife and the people living nearby.
"It's devastating," McFadden said. "And, as we've said, it affects everything."
CINCIA was established through the University's Center for Energy, Environment & Sustainability (CEES) to develop transformative solutions to combat environmental destruction, and promote the restoration of lost biodiversity and degraded tropical landscapes.
McFadden's reports so far have appeared on NBC Nightly News, Hallie Jackson Now and The Today Show, where host Hoda Kotb expressed shock after "seeing those images of…land totally barren that was once so lush."
That's the kind of visceral reaction the scientists want to provoke – and is an important part of the storytelling that needs to be done to raise awareness about the massive scale of deforestation and biodiversity loss that illegal gold mining creates in the Amazon, said CINCIA's executive director, Luis Fernandez.
"Having a professional communications enterprise like NBC interpret and portray your work, especially in a report like this where they actually show you in the field, it is amazing how important that is for telling the story of what we do, why we do it, why it's important and how it's connected to the people that are seeing it," he said.
A longer story Paradise Lost: Inside Peru's Emergency Zone, posted on NBC News online, highlights how CINCIA is "healing the forest" and inspiring the next generation of Peruvian scientists to continue the work before it's too late. A 30-minute special documentary, Paradise Lost: The Weight of Gold, posted on NBC News Now, includes more footage from the NBC visit to Peru and takes an in-depth look at the environmental disaster.
Fernandez, a research professor in the Wake Forest's Department of Biology and CEES fellow, and Silman, Andrew Sabin Family Foundation Presidential Chair in Conservation Biology, led McFadden and her crew on a tour of CINCIA's research sites in the rainforests of Madre de Dios, and the notorious mining zone of La Pampa, where the Peruvian government ousted more than 10,000 illegal miners in 2019.
What they found was what CINCIA's researchers have known all along: The issue is much more complex than shutting down the mining. Though illegal, the practice supports tens of thousands of impoverished people in the region.
Here, Fernandez and Silman discuss the ramifications of the report and CINCIA's plans for the future.
Q&A with Luis Fernandez and Miles Silman
Q: What does a report like this do for the science CINCIA is conducting?
Fernandez: In terms of the kind of scientific enterprise we do, which requires allies, supporters and donors, it actually has a huge impact. Institutions, whether they're government or private foundations or individual donors, look to the press, especially high-visibility press, as an indicator and a validation that what they're supporting is important. If a lot of people say, "Pay attention to this," then there's a certain validation. We've seen this before with a lot of the work we do. Raising the awareness of the problem we're addressing is important. We do conservation science, and that work is applied. We're not just doing it for papers; we're doing it to change things, so we don't have the loss of ecosystems and biodiversity, or more carbon in the air.
Silman: There is something else it does for the science. It allows scientists and colleagues in other disciplines to see what we're doing and offer to bring something more to the scientific effort, to want to lend a hand. That's a big thing – bringing new talent to the project.
Fernandez: The storytelling also illuminates for a broader group of people what science actually does and what a priori evidence it offers. I don't think that scientists are really good at communicating that. News stories like the NBC report add value to the science, especially with an applied field like conservation biology.
Q: What are the most important issues that CINCIA is addressing?
Silman: We're looking at the effects of mining on landscapes, on biodiversity and on society, and then asking questions about how we can make informed decisions in those landscapes. That's a science question, but I think Luis and I and our colleagues had a bigger question stepping back, and that is, how can you address environmental crises on tropical frontiers?
Fernandez: There are a lot of questions related to mining in rainforest areas, which is happening across huge parts of the planet. People can't always picture what we're talking about. They focus more on tunneling into a mountain, like the dwarfs in "Lord of the Rings." But strip mining in tropical landscapes, like the Amazon or the Congo, has a broad effect on people, wildlife and the ecosystems that surround the mining site. If we can support an understanding that the problem is real and very complex, we can bring more resources and partners to the problem to understand it better, and hopefully solve some of the problems.
That's why I feel that projects like CINCIA have a lot of value for those that want to use science as the basis for development efforts in conflict areas. Basically, the idea is, how do you create a development model that, at its core, is a societal-scale science enterprise that protects the environment, safeguards traditional, native practices and generates economic security? These issues are usually opposed to each other in many places. I think science and innovation can bring them closer into alignment.
It's critical that these kinds of new science enterprises don't alienate the talented and impactful researchers and institutions that are there now – at the local universities, local NGOs and local government agencies. Centers like CINCIA can add value to existing efforts, serving as the mortar between a lot of important bricks that already exist, providing added strength and resilience. Together, we can create something that's stronger, that can really change things on a timescale that is closer to the speed of the damage. We need to ramp up the speed of the solutions without losing the effectiveness, fidelity and validity of those solutions.
At the end of the day, places like the Amazon are literally at the edge of a buzzsaw, and we need a system that props up a generation of young science researchers who can develop the solutions under extremely stressful conditions, because entire forests are being chopped down right now.
Q: Was the NBC crew surprised by what they saw in Madre de Dios?
Silman: The kind of human misery and the scale of the destruction, they were awestruck by it. It's hard not to be when you go into some of the areas that we work in and to see the scope and the pervasiveness of the problem and to be able to contrast that with what the forest was just a few years ago.
Fernandez: It is the jaw dropper when you're trying to impress upon someone that this is an important issue, right? If you get them in one of the motorized ATVs and then go from the forest to a desert in 20 seconds flat, and then look to the horizon to see only sand dunes like the Sahara, it's hard not to have your jaw just drop.
Q: What do you hope people will take away from watching these stories?
Silman: That it is a huge problem that cuts across many different aspects of society. We think of it as a mercury problem or we think of it as a forest problem and a reforestation problem, but it's a social problem. And that by really applying the power of knowledge, of what a university does, of thinking about what makes a society function and what moves the society ahead, we can address these problems, even in the most remote, difficult places on earth.
Fernandez: Gold mining in the Amazon is a big problem that is growing, and the solutions that are out there now are not slowing the problem enough. There are so many experts that I have talked to that have told me that illegal gold mining in the tropics is one of the hardest problems they know, because it connects the decision-making of tens of millions of people, who are generally poor and hold very little power to control their future, to the global markets of the most desirable substance on Earth: gold.
For better or worse, gold is the perfect commodity, and it will always be valuable. It's not a fad. It's a forever problem. It's something that's directly connected to the people who are viewing the NBC stories. And that has to be part of the solution.
Q: What's next for CINCIA?
Silman: This is happening in every tropical country around the world. We have been told that we need a CINCIA in every tropical country on Earth. The question is, can this model be expanded to new geographies and new cultures? Like Luis says, these problems grow exponentially. One of the things we have to ask ourselves about the future is, can our solutions be scaled as well?
How CINCIA works
Since 2016, Wake Forest has worked with the U.S. Agency for International Development (USAID) to set up CINCIA, using nearly $22 million in support from USAID and private-sector partners. From its inception, one of CINCIA's prime goals has been to prepare the next generation of Peruvian scientists to do the science and solve the problems of today … and tomorrow.
Staffed primarily by a dedicated team of Peruvian and Latin American scientists and specialists, CINCIA works as an integral part of the community, partnering to build trust with government leaders, conservation specialists, indigenous communities, miners and farmers to use the land with less environmental damage, and promote the recovery of lands already damaged.
The way that research is being done at CINCIA is serving as a model for how science can be brought to bear for development in tropical landscapes. CINCIA has brought new innovations to improve large-scale reforestation of strip-mined lands, greater biodiversity conservation in at-risk forests, and more effective remediation of soils contaminated by mercury and other heavy metals. By working through diverse partnerships, CINCIA aims to bring ideas and actions that can result in a more sustainable use of land throughout the Amazon.
Categories: Top Stories
Wake Forest in the News
Wake Forest regularly appears in media outlets around the world.