Main Content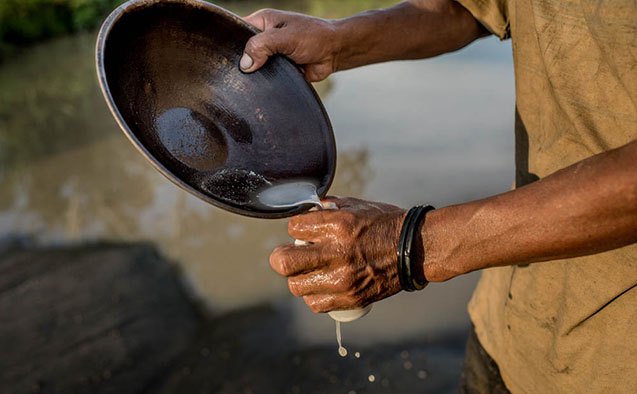 Wake Forest faculty in the University's Center for Energy, Environment and Sustainability, and its Center for Amazonian Scientific Innovation (CINCIA) are part of an award-winning research team working to provide new technology to government regulators and local communities in the Amazon that could help eliminate the environmental and human costs of illegal gold mining.
Wake Forest's Andrew Sabin Presidential Chair of Conservation Biology and CINCIA PI Miles Silman and computer science professors Paúl Pauca and Sarra Alqahtani are part of Project Inambari, an open mapping platform, initiated by the nonprofit conservation technology organization SkyTruth, that uses publicly available synthetic aperture radar satellite imagery in combination with other data sources to detect mining affected lands in tropical forests. 
The project won the Tungsten Award and a prize of $118,000 in the 2020 Artisanal Mining Grand Challenge.
CINCIA's ability to capture detailed drone imagery of specific mining operations in regions in the Peruvian Amazon will support Project Inambari in part by collaborating on a new mapping platform to identify illegal mining. CINCIA's research has become a touchstone for policymakers, businesses and residents in Peru's Madre de Dios region, where illegal artisanal-scale gold mining has ravaged the rainforest.
"Our Wake Forest research group has been focused on turning vast amounts of data available now into information," said biology professor and Director of Wake Forest's Center for Energy, Environment and Sustainability Miles Silman. "SkyTruth has a great business model and developed an impressive platform to illuminate activities in remote areas. We are excited to contribute our expertise to the project. We teamed-up to get Project Inambari across the goal line. The partnership between local knowledge, cutting edge computer science, and SkyTruth has demonstrated our ability to deliver key conservation innovations based on remote sensing that have sustainability outcomes."
The Center for Amazonian Scientific Innovation (CINCIA) was established in 2016, when Wake Forest University received nearly $10 million in support from USAID and other private sector partners. CINCIA was established through CEES and aims to develop transformative solutions to promote sustainable use of tropical landscapes, combat environmental destruction and improve human health in the Amazonian province of Madre de Dios in Peru.
Scientists studying climate change say mining is doing irreversible damage to one of the world's largest remaining pieces of tropical rainforest and threatening its survival. In the Madre de Dios region of Peru, east of the Andes Mountains, nearly 250,000 acres of rainforest, roughly the size of Dallas, Texas, have been razed or transformed into poison sand dunes and contaminated ponds by illegal gold mining since the 1980s.
Every day, artisanal gold miners in Peru use mercury to tease tiny flakes of gold out of river sediment. CINCIA scientists will be working with the Project Inambari to determine how to make mining less damaging to people and landscapes.
CINCIA's science also offers a long-term pathway to restoring the global benefits of one of the world's most biodiverse ecosystems currently in peril as a result of climate change and deforestation.
Categories: Faculty, Research, Sustainability