Main Content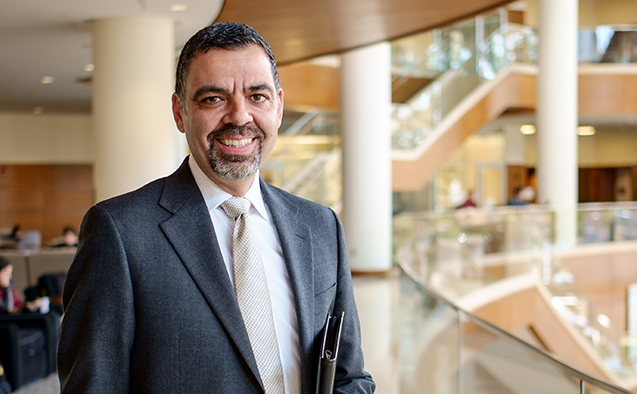 Wake Forest University's Board of Trustees has approved plans to establish a School of Professional Studies in Charlotte. Pending completion of a full market analysis and business plan, the proposed school will house innovative degree and non-degree programs, including certificates and other credentials, for working professionals. Wake Forest University president Nathan O. Hatch has tapped Charles Iacovou, Dean of the School of Business, to establish the new school, Wake Forest's first since establishing the School of Divinity, which began offering classes in 1999.
Iacovou will transition from Dean of the School of Business and begin serving as Dean of the School of Professional Studies and Vice Provost for Charlotte Programs on Jan. 4, 2021.
"Charles has a demonstrated talent for developing new, vibrant academic initiatives and for working across schools and disciplines to advance University priorities." Nathan O. Hatch, Wake Forest President
"He has brought a deep knowledge of business and professional education, a commitment to preparing students to become excellent and ethical leaders, and a lively spirit of creativity and innovation to his extraordinary tenure as the Dean of the School of Business. He is uniquely qualified to lead these efforts," Hatch said.
Iacovou will focus on developing accessible and market-relevant programs that build upon the University's current areas of strength and deliver future professional-development education that is essential to the growing economy of Charlotte. Iacovou hopes to launch the new programs in late 2021 or early 2022. He will also coordinate other Wake Forest programs in Charlotte.
"Our research indicates that the future of professional education can benefit from a combination of traditional and novel, flexible offerings that advance relevant knowledge and prepare professionals to lead impactful change in their professions and industry," said Iacovou.
"I am truly honored and excited to undertake this new role, and look forward to helping raise Wake's prominence and impact in Charlotte and beyond." Charles Iacovou, Dean of the School of Business
Iacovou joined Wake Forest in 2001 as a professor of management and has served as dean since 2014.
Under Iacovou's leadership, the School of Business has flourished and enrollment across undergraduate and graduate programs is at an all-time high. The School has launched significant new programs while shifting away from some traditional programs, such as the full-time residential MBA. During his tenure, the School established a master's program in business analytics, launched new online degree programs for working professionals, and initiated numerous non-degree and executive education programs. His global mindset and focus on inclusion and equity has shaped the School's direction. He was also instrumental in the establishment of the School's Academic Centers, across a range of disciplines, which provide the School of Business with valuable industry relationships, thought leadership that positively impacts curriculum, and opportunities for students to gain practical experience.
"Serving as the dean of the School of Business has been a rare opportunity to shape the future of business education and develop strategic partnerships with industry leaders," Iacovou said. "I am grateful to the brilliant faculty, staff, students and alumni who have earned the School an international reputation for excellence."
He will develop programming to support professionals in business and other academic areas.
"Charlotte is the ideal location for a Wake Forest School of Professional Studies given its market size, growth and demand for professional and corporate education. Also the University's new partnership with Atrium and plans for a new medical school branch provide an opportune moment for this strategic pursuit," Iacovou said.
While developing new programs in Charlotte, Wake Forest is also fully committed to its professional programs in Winston-Salem and expects continued excellence and intentional improvement in every program, Wake Forest Provost Rogan Kersh said.
Michelle Roehm, who currently serves as the School of Business Vice Dean, Peter C. Brockway Chair of Strategic Management, and Professor of Marketing, has been appointed interim Dean of the School of Business.
"Our School of Business has never been stronger, combining distinctive masters programs in four areas of business education along with a nationally recognized program in undergraduate business." Rogan Kersh, Wake Forest Provost
"And I'm delighted that we are well positioned to continue this momentum with Professor Roehm taking the reins as interim Dean," Kersh said.
Roehm, a professor at the School since 1997, has served in several leadership roles since joining the School's senior administrative team in 2008, providing strategic direction to academic centers, pre-experience programs, and faculty across all academic disciplines. She recently led the School's strategic planning process with business school faculty, staff and the School's Board of Visitors.
"The plan defines a roadmap to navigate the rapidly evolving business education landscape and to chart a path toward our continued leadership in business education globally," Roehm said. "We see opportunities for expanding market-driven professional programs across a full spectrum of competencies required to excel in today's business world. And we see transformational opportunities for students to gain knowledge and skills necessary to become impactful business leaders in the future."
Categories: School of Business, Top Stories, University Announcement