Main Content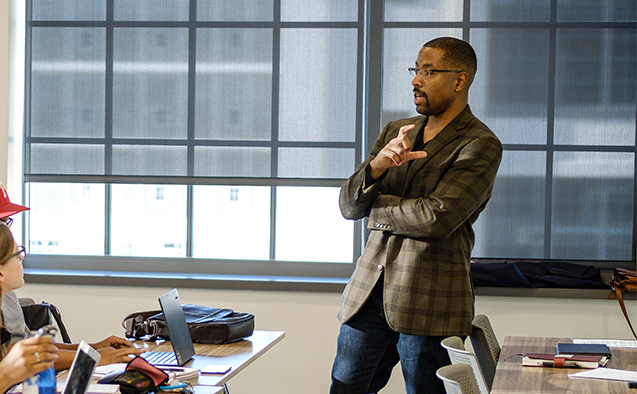 As Wake Forest prepares to launch its African American Studies Program this fall, an anonymous donor has made a $1 million gift to support the new academic initiative.
"African American Studies at Wake Forest will build on our historic liberal arts tradition and will also deepen our understanding of Pro Humanitate," said Corey D. B. Walker, Wake Forest Professor of the Humanities and inaugural director of the African American Studies Program. "We are grateful for this generous gift that will enable us to better understand the complexity of the human experience and bring to campus visionary scholars who work on questions critical to the future of the nation."
The gift will establish the Dr. Dolly A. McPherson Fund for African American Studies, named for the long-time professor of English at Wake Forest who made significant contributions to African American literary studies. McPherson, who died in 2011, was the first full-time African American female faculty member at Wake Forest when she was hired in the 1970s. She is the author of "Order Out of Chaos: The Autobiographical Works of Maya Angelou."
The Fund will help support the overall development of African American Studies including the creation of new and innovative courses, faculty research and collaboration, and a variety of programming designed to critically address pressing issues of public concern.
This investment signals that we are committed to doing something special at Wake Forest and that African American Studies is more than just a program or department," Walker said.
"African-American Studies is vitally important in this moment. It is a way in which we begin to construct and reconstruct knowledge and broaden our ideas of what it means to be human in the world." Corey D. B. Walker, Wake Forest Professor of the Humanities and inaugural director of the African American Studies Program
African American Studies is a vibrant and dynamic academic discipline that creates new knowledge about the world and human existence through the critical and comprehensive study of the peoples, cultures and ideas of Africa and the African diaspora, Walker said.
The program will be distinguished by its primary focus on the cultures, knowledge, and expressions of African descended people in the southern United States and their global reverberations. "It will look to the South as a generative place of idea creation and new ways of thinking," Walker said.
"Wake Forest is committed to creating a distinctive program in a field characterized by a long history of interdisciplinarity that will be nationally recognized for its unique focus on the U.S. South and grounded in the arts and humanities," said Dean of the College Michele Gillespie. "To accomplish our institutional mission of providing students with a holistic, relevant and critical liberal arts education, we cannot do that without African American Studies. I am thrilled that our new program will facilitate the expansion of fields of inquiry that explore the formation and intersection of race, ethnicity, class, gender, and sexuality."
Core courses, starting with Introduction to African American Studies, will be offered beginning in the fall of 2021. Existing courses from a number of departments including English, politics, history, religion and sociology will be incorporated under the African American Studies umbrella and will count toward the major. Walker and future core faculty will collaborate with students and scholars across the University and throughout the greater community.
A major and minor in African American Studies will be offered and a graduate certificate in African American Studies is planned. Majors will develop original research projects and a capstone experience for seniors will bring together students, scholars and community activists to synthesize and create new knowledge.
"We're raising the question: 'What does it mean to be human?' through this disciplinary lens that opens up new opportunities for critical examination and exploration," Walker said.
Walker joined the Wake Forest faculty in July 2020. He previously taught at the University of Virginia, Brown University, Virginia Union University, and most recently the University of Richmond. Closer to Wake Forest, he served as Winston-Salem State University's Dean of the College of Arts, Sciences, Business and Education from 2013-2017. Walker spent the 2019-2020 academic year serving as an external consultant to the Wake Forest Slavery, Race, and Memory Project, and edited the volume of essays "To Stand With and For Humanity."
Categories: Faculty, Philanthropy, Top Stories
Wake Forest in the News
Wake Forest regularly appears in media outlets around the world.