Main Content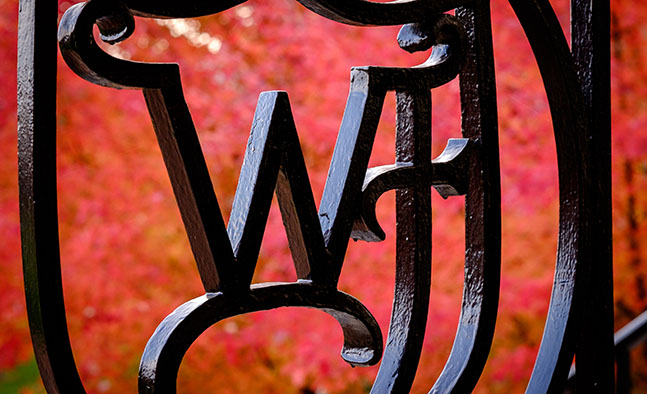 With a collection of essays as the backdrop, Wake Forest University faculty and administrators discussed some ugly truths about the institution's ties to slavery during a Nov. 19 webinar.
Moderated by Corey D.B. Walker, Wake Forest Professor of the Humanities and inaugural chair of the University's African American Studies program, the event featured the seven authors of "To Stand With And For Humanity: Essays from the Wake Forest University Slavery, Race and Memory Project." Released in June, the publication was edited by Walker and is one of the biggest undertakings of the Slavery, Race and Memory Project (SRMP) to date.
"The Wake Forest University Slavery, Race and Memory Project is an academic initiative. As a University, we have a special responsibility to contribute to the discourse of a variety of topics," said Vice Provost Kami Chavis, who co-chairs the SRMP with Tim Pyatt, dean of the Z. Smith Reynolds Library. Wake Forest launched its Slavery, Race and Memory Project in 2017 after joining Universities Studying Slavery (USS), a consortium of colleges and universities that are examining the role slavery played on their campuses.
No punches were pulled in Thursday's discussion, which included references to Thomas Dixon Jr., a Wake Forest student whose 1905 novel, "The Clansman: A Historical Romance of the Ku Klux Klan," romanticized southern white supremacy and was later adapted for the 1915 film "The Birth of a Nation." 
Topics included the original campus in the town of Wake Forest, the role enslaved people played in building the University, attempts to use the Bible to defend slavery, and President Nathan O. Hatch's apology for Wake Forest's participation in and benefit of slavery, made Feb. 20 during the annual Founders' Day Convocation.
"President Hatch set the stage for what we're trying to do here at Wake Forest…strip away the nostalgia so we can deal now with the trauma and what that history meant to us." Anthony S. Parent Jr., professor of history and American ethnic studies
Mary Tribble, senior adviser for engagement strategies in the Office of Alumni Engagement, is a Wake Forest graduate and descendant of its first President, Samuel Wait. She authored the essay, "The Waits, Women and Slavery," and acknowledged that as a Wake student in the 1980s she was taught the myth "that the Civil War was fought for state's rights and not over slavery."
In his essay, School of Divinity Professor Derek Hicks details a class trip to the original campus and a cemetery where many formerly enslaved people are buried. "There was something beautiful about being among the folks who had lived, had worshipped, who had died and whose lives could still tell these stories," he said during the webinar. 
Bill Leonard, founding dean of the School of Divinity and professor of divinity emeritus, gave a snapshot of the impact of slavery on the Southern Baptist Convention. He also discussed Dixon and how many Baptists, including pastors, tried to justify the institution of slavery.
Historian Andrew McNeill Canady, commissioned by Wake Forest to do original research and write an updated history, said many of the University's trustees and some faculty members were slave owners and many students came from families that owned slaves.
Panelists were posed a question about addressing the centuries-long injustices of enslaved people and their descendants, as well as continuing legacies of race and racial divisions on campus. 
"Our students come to us with their own sets of beliefs and knowledge, and then as an institution of higher learning we expose them to other things, thoughts and ways to interact critically with material and knowledge," Chavis said. "For every Thomas Dixon that any University might produce, we also will produce folks who contribute so wonderfully to our society."
Through faculty, staff and student research, the Slavery, Race and Memory Project is fostering an understanding of the importance of having a diverse environment with diverse viewpoints, Chavis said. Pyatt noted that future SRMP plans include holding a second faculty symposium in the spring and programming that examines the impact of Wake Forest in the Black community.
"We really want to inform people," he said. "We're very interested in engaging our students, faculty and staff with our history."
Categories: Top Stories
Subscribe
Sign up for weekly news highlights.
Subscribe