Main Content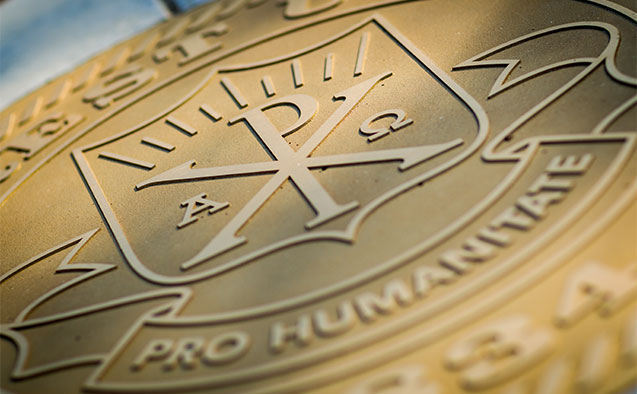 Each February, the Wake Forest University community gathers for Founders' Day Convocation to observe the founding of the University in 1834. At this year's event, Wake Forest President Nathan O. Hatch acknowledged the University's participation in the institution of slavery. He offered an apology for how Wake Forest benefitted from the labor and sale of enslaved people.
"It is important and overdue that, on behalf of Wake Forest University, I unequivocally apologize for participating in and benefitting from the institution of slavery." Wake Forest President Nathan O. Hatch, during his remarks in Wait Chapel
"I apologize for the exploitation and use of enslaved people – both those known and unknown – who helped create and build this University through no choice of their own," Hatch said. "I apologize that our founders did not recognize and support the humanity and intrinsic value of those they enslaved. And I profoundly regret that subsequent generations of this University did not affirm the humanity of the enslaved individuals who made our existence possible."
In closing, Hatch said: "This is a journey we are on together. Today, we acknowledge where our path began. And today, we pledge to one another that we will not forget our history – nor will we let the humanity of any be forgotten – as we move forward. We are committed, together, to live up to our highest ideals, lifting everyone to that standard, as one Wake Forest."
Following Hatch's remarks, Dean of the School of Divinity Jonathan L. Walton delivered a keynote address focused on both remembering history and taking responsibility for the present.
"We must also acknowledge that our history at Wake Forest is both beautiful and terrible. Noble and tragic. Honorable and despicable. We owe our very existence, in part to the exploited lives and enslaved labor of people of African descent," Walton said. "The fact that we were not present in the mid-19th century does not separate us from the social, political and economic legacies of our Founders' decisions… You and I must muster the moral courage and intellectual candor to craft a more inclusive and thus productive future."
Alumnus and Chair of the Wake Forest Board of Trustees Gerald Roach reflected on what he heard during Founders' Day Convocation. "This part of our past is painful," he said. "Wake Forest seeks to be the community we all want and deserve."
Why Now?
Some may wonder why this is being addressed after all this time, while others may wonder why it has taken so long to get to this point.
Kelly Starnes, a 1993 graduate who serves as president of the Association of Wake Forest University Black Alumni (AWFUBA), said: "An acknowledgment of the role that enslaved people played in the founding of Wake Forest University is an important and vital first step. It is our hope and expectation that this will be the start of many actions leading to not just greater diversity, but greater inclusion of black students, faculty, staff and alumni in the community and decision-making processes of the University."
"Personally, I am proud to be part of an institution that does not feel a need to look the other way," said Sara Crawford, a 1990 graduate and chair of the Alumni Council. "I am optimistic that the University will create new opportunities for dialogue about our institutional history and the different ways alumni experienced their time on campus."
Ongoing Efforts
This moment was another step in Wake Forest's ongoing efforts to confront the past. In 2017, Wake Forest joined the Universities Studying Slavery Consortium (USS) to learn alongside other institutions of higher education how best to address historical and contemporary issues dealing with race and inequality. Last May, in a moving moment of remembrance organized by sociology and divinity school students, faculty, staff and students read the names of slaves sold to benefit the University endowment in 1860. Building on related work started much earlier, Hatch officially commissioned the Slavery, Race and Memory Project in July to guide the research, preservation and communication of an accurate depiction of the University's relationship to slavery and its implications across Wake Forest's history.
Student government president Mellie Mesfin ('20) said, "It is critically important to recognize where we have come from, so that we may build a place more fair, equitable and welcoming to all those who find themselves a member of the Wake community. And, it is equally important to maintain a sense of urgency and motivation as we, collectively, continuously strive for meaningful progress."
The University has the processes and infrastructure in place to continue this work.
"President Hatch's remarks and the establishment of several groups to examine both the past and present-day implications of the University's role in the exploitation of enslaved people represent important initial steps for institutional accountability," said Kami Chavis, associate provost for academic initiatives who co-chairs the Steering Committee of the Slavery, Race and Memory Project with Tim Pyatt, dean of the Z. Smith Reynolds Library.
The Steering Committee's eventual recommendations will help guide the actions the University will take to address past and present inequities in the Wake Forest community. Corey D.B. Walker, a visiting professor of leadership studies and the humanities at the University of Richmond and a former dean at Winston-Salem State University, has served as an advisor to the committee. In a recent article, Walker said of the Project, "The commitment by the Wake Forest community to this process is admirable. To be sure, it will require a great deal of work. It cannot and will not be one thing but multiple things, and it will take time. I do fundamentally believe that Wake Forest is committed to transformational change, and this project, its priorities and its scope attest to its transformational possibilities."
Multiple classes are exploring slavery and its implications this semester. The Slavery, Race and Memory Project is funding a summer internship on the original campus. In the next few months, Wake Forest will publish the first volume in a series of collected works that capture the scope of activity taking place.
"It is important for all of us at Wake Forest to be committed to confronting our past, no matter how painful, in order to properly understand the present and the future of our university. We are embarking on a difficult, yet necessary journey," said Kyle Adams, a Wake Forest junior who serves as the student trustee on the University's Board of Trustees and is a member of the President's Commission on Race, Equity and Community.
Formed in summer 2019, the President's Commission is another key part of the institutional effort to acknowledge Wake Forest's history, address the present and reaffirm commitments for the future.
The event was livestreamed and the archived video can be found here.
Categories: Community in Progress, Events, Top Stories