Main Content
What can we learn from the past? Wake Forest University legal scholar and Associate Provost Kami Chavis explains, "If you want to have a transformative institutional change, you have to begin examining the past and the root causes of underlying issues to know what you need to do in the future." Chavis is also co-chair of the Steering Committee of Wake Forest's Slavery, Race and Memory Project.
The Slavery, Race and Memory Project evolved from Wake Forest's collaboration with the Universities Studying Slavery Consortium (USS), which it joined in 2017. The Office of the Provost formally established the Project in the spring of 2019 to provide clear structure for both understanding the past and addressing inequities in our community going forward. A website for the Slavery, Race and Memory Project was launched in the summer of 2019.
The Project's Steering Committee is in the process of making formal recommendations, which will be published later this year, but its influence can already be felt across conversations, events and activities taking place on campus this semester. The Project has co-sponsored several events that align with its vision statement, including scholarly speakers such as Vanderbilt University Professor of African American and Diaspora Studies David Ikard, and a public conversation between alumni and current students. Through campus-wide engagement grants, students are also able to design their own programs and apply for funding.
"I think it is indeed courageous for an institution like Wake Forest University to undertake this type of work," said Corey D.B. Walker, a visiting professor of leadership studies and the humanities at the University of Richmond and a former dean at Winston-Salem State University.
"Much like other institutions across the nation who've investigated their own past and are looking for ways to transform their present, Wake Forest is part of a growing trend of universities confronting their past in all of its complexity." Corey D.B. Walker
The Slavery, Race and Memory Project at Wake Forest is significant, Walker said, "because of the ways in which it involves the entire University community and raises new and profound questions about deeply held beliefs about the University and its core historical narrative."
Walker serves as a consultant to the Slavery, Race and Memory Project and gave its inaugural lecture last fall to a capacity crowd in the Porter Byrum Welcome Center. The spring lecture, being co-sponsored by The Wake Forest School of Medicine, will feature Dayna Bowen Matthew, who joined the University of Virginia faculty in 2017 and is the author of the book "Just Medicine: A Cure for Racial Inequality in American Health Care." At UVA, Matthew serves as director of The Equity Center, an initiative that seeks to build better relationships between UVA and the Charlottesville community and tangibly redress racial and socioeconomic inequality.
"The Slavery, Race and Memory Project is committed to broadening awareness regarding slavery in the United States and the role that slavery and its legacy played at Wake Forest." Kami Chavis
"The Project has funds available for course enhancement grants, and we strongly encourage faculty to submit applications for projects or programs that align with the Slavery, Race and Memory Project's mission," Chavis said. "The Project is sponsoring a Faculty Colloquium, which will be held on February 25 and is a wonderful opportunity for faculty members who are already addressing slavery and race relations in their courses or research to discuss how they approach these topics. Our hope is that these types of discussions will showcase their engaging projects and spur collaborations."
At the colloquium, Sarah Soleim, manager of community and academic learning at the Wake Forest Historical Museum in the town of Wake Forest, will highlight ways in which faculty might use the museum's collections and built history of the original campus and Town of Wake Forest to explore the histories of slavery, race, religion and education.
Tim Pyatt, dean of the Z. Smith Reynolds Library and Steering Committee co-chair, said he feels good about the progress of the Slavery, Race and Memory Project, which this year is also funding a summer internship at the original campus.
"Obviously, you always want to do more, but one of the goals is to really build momentum and have sustained activity," Pyatt said. "We want the work of the Project to continue beyond the current academic year. I feel like we're building a sustainable infrastructure to ensure we do not simply issue a report that sits on a shelf once it's published."
Last week, the President's Commission on Race, Equity and Inclusion, a parallel effort to the Slavery, Race and Memory Project, sent an "equity audit" survey to all faculty, staff and students to create a baseline against which progress can be measured over time. Offices across campus are engaged in ways to foster inclusion and build a better Wake Forest – from holding an indigenous land ceremony to bringing in an NBA player to speak about white privilege to sponsoring a student trip to Alabama, Georgia and Tennessee to visit key Civil Rights sites.
Walker agreed with Pyatt that important work like that of the Slavery, Race and Memory Project does not happen overnight.
"The commitment by the Wake Forest community to this process is admirable," Walker said. "To be sure, it will require a great deal of work. It cannot and will not be one thing but multiple things, and it will take time. I do fundamentally believe that Wake Forest is committed to transformational change and this project, its priorities and its scope attest to its transformational possibilities."
Learn more about related projects, edits and initiatives here.
Benjamin Crump Visit to WFU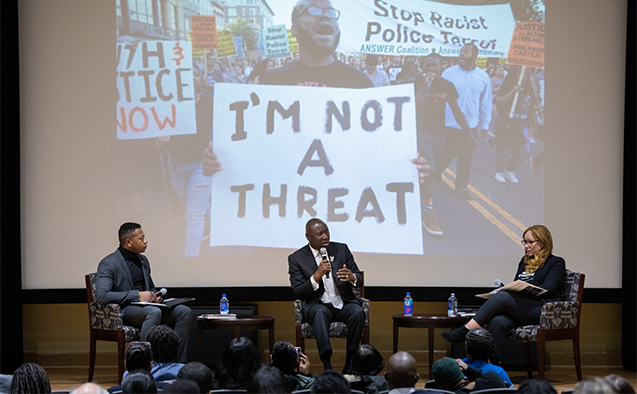 Noted civil rights attorney Benjamin Crump spoke Feb. 12 in Pugh Auditorium in Benson University Center. The conversation with Crump's speech was sponsored by the Wake Forest University Intercultural Center; however, the Slavery, Race and Memory Project helped fund it. See the full photo gallery here.
Categories: Community in Progress, Events, Speakers, Top Stories
Subscribe
Sign up for weekly news highlights.
Subscribe