Main Content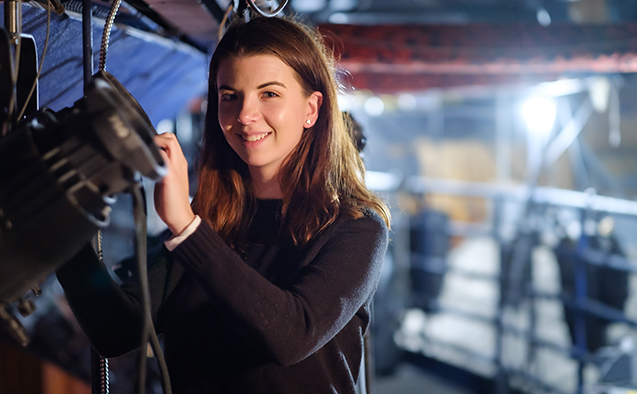 As the oldest of four siblings, Lainey Drake takes credit for leading the astronaut games they played as children – swinging into space on their tire swing and dashing around galactic obstacles in the universe. 
This summer, thanks to the Brooke Owens Fellowship, Drake will help pioneer commercial space travel as an engineering intern at Virgin Galactic. She is one of 40 women to earn the opportunity.
The Fellowship awards paid internships and executive mentorship for exceptional undergraduate women and gender-minority students in the aerospace industry where only 15% of employees in the field are female.
Drake, a physics and theatre double major from Suffolk, Virginia, is also a Presidential Scholar in theatre performance. In addition to acting, she works as a master electrician on Wake Forest's Tedford Stage, implementing the theatre lighting designer's vision through the rigging, programming and focusing of theatrical lights for productions. This semester, Drake is both performing in "Ever in the Glades" and managing the stage lighting.
"Both physics and theatre strive to answer our questions about the universe, just in different ways. Physics engages my analytical mind while theatre engages me creatively." Lainey Drake
"I thought I might be one of the only women to have interests in both science and the arts, but when I looked at the biographies of the women who won the fellowship, I was surprised that many share that combination. I'm excited and honored to be included in this group of women," said Drake.
The Brooke Owens Fellowship selects scholars not only for academic talent and practical experience but also for their dedication to service. Each Fellow earns a paid summer job at one of the most sought-after companies in aviation or space exploration. 
Drake plans to earn a master's degree in engineering and pursue a career in aerospace after graduating. 
Categories: Top Stories
Wake Forest in the News
Wake Forest regularly appears in media outlets around the world.