Main Content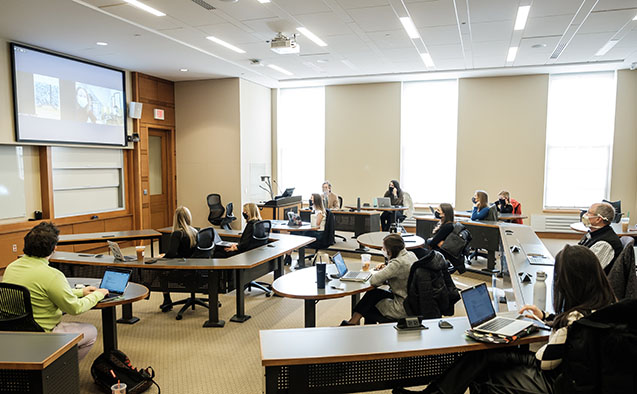 Every four years since 1963, a small group of students has traveled to New York City, with University funds, to purchase art for Wake Forest's Student Union Art Collection – works that reflect the times.
On the last trip, six students visited galleries to see in person the works they were interested in purchasing. This year was different. There was a pandemic.
April 2021 update: The WFU student art purchases are unveiled here.
The 2021 art-buying "trip" has become an art-buying "experience." 
The pandemic, while restricting travel, has inspired some positive outcomes. More than double the number of students are participating this year, and the geographic boundary has expanded. Instead of boarding a plane for the Big Apple, 13 students virtually visited 16 galleries in six cities: New York, Los Angeles, Chicago, Atlanta, Denver and Detroit.
Those students who applied to participate in this unique opportunity and were selected as ambassadors for the art purchases enrolled in the Global Contemporary Art course last fall. The course is a prerequisite for the challenge of choosing works for the University collection.
They gathered remotely in November and over winter break and have been meeting in-person weekly since late January. Students have sat masked and socially distanced while presenting hundreds of art pieces for the group's consideration. 
"Having conversations about works of art in person and having that back and forth discussion that's not mediated through Zoom boxes has been important to the students and to us as professors as well," said art professor Jay Curley who co-leads the class with art professor and studio artist David Finn and the University's Acquavella Curator of Collections Jennifer Finkel. Each brings a wide perspective on contemporary art to the students charged with making decisions about what to purchase. 
The classroom experience last fall energized and prepared students for the hard work of determining what art pieces will most mirror the dramatic cultural shifts of the past four years. 
Since the 2016 art acquisition trip, "reflecting the times" has included four years of political polarization, the pandemic and isolation, the death of George Floyd and the Black Lives Matter movement, Me Too, and gender identity and queer liberation.
Junior politics major Chrisann Timbie said the group "definitely pushed the boundaries in our conversations" to make sure they were looking at works from all angles.
"I'm excited about the opportunity to include voices who have been excluded from mainstream society, from our art collection, from the art world, and from institutions." Chrisann Timbie, Junior politics major
Over five full days of 45-minute virtual gallery visits, students asked about each artists' personal history to learn more about the lived experiences influencing their works. They also asked for close-up cell phone images and help in capturing the scale of each of the 20 works under final consideration.
The cell phone worked fairly well to get a sense of the colors and surface of the art. But in determining the feel of the artist's hand and the texture of the work, it proved lackluster. The pandemic did steal the thrill of visiting galleries in New York and the moment when students could see the works in-person together.
"When you're standing in front of a monumental piece that measures 100 x 95 inches, something happens in your physicality that doesn't happen when you're looking at a picture," said Finkel. "We couldn't replicate that experience." 
The group has had to develop other ways to explore the works.
"We have had a lot more of a responsibility to do our research, because we're not going to be able to see these works in person until way after we've signed the checks," said senior business major Mikey Mattone. 
The group's priority in selecting this year's art has been adding diversity to the collection. Research has focused heavily on exploring artists' backgrounds to help in selecting broad and inclusive works for the University community – both now and for years to come.
"Art can create community and create a sense of belonging. And if you see people that look like you or works by people like you, it's going to make you feel a lot more welcomed." Mikey Mattone, Senior business major
About the collection
The Student Union Collection of Contemporary Art is the University's premier and most recognizable collection. Included are paintings, prints, drawings, photography, and sculpture by such notable artists as Jasper Johns, Louise Nevelson, Alex Katz, Robert Colescott, Glenn Ligon, Kiki Smith, and Shirin Neshat. The Collection numbers nearly 200 artworks by more than 100 different artists. 
Works purchased during previous trips hang in public places around campus including Reynolda Hall and Benson University Center. 
"Fifty years ago, it was progressive to think about art in the environment, and there were few works in the collection. In 2021, the Student Union Collection is now a world class art collection. It's time to shift gears from a public art collection that is spread across the University to one where works can be placed together in context," said Finkel, who hopes to have an area on campus where pieces from the collection can be exhibited together for teaching purposes.
Senior art history major Lynn Huffard agrees. "With a space for the collection, students could walk in and have conversations about the works. And because art is such an amazing vehicle to learn from, you can have  many conversations around it. That's healing in and of itself."
The students plan to make final decisions and purchases in mid March – anticipating that they may be able to see the works in person together before the end of the spring semester.
Categories: Arts & Culture, Student, Top Stories
Wake Forest in the News
Wake Forest regularly appears in media outlets around the world.