Main Content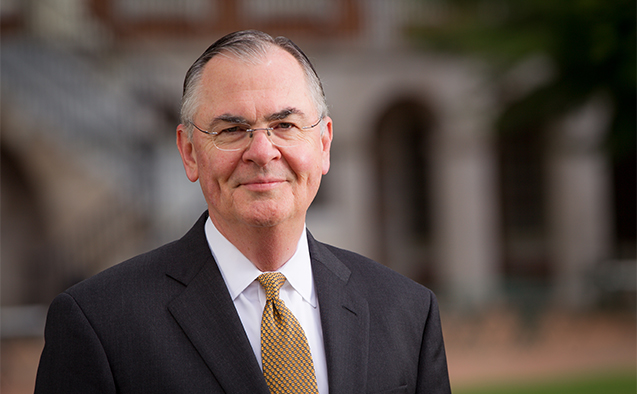 Wake Forest University President and Chair of North Carolina Independent Colleges and Universities Nathan O. Hatch has been awarded the highest honor for state service granted by the Office of the Governor for achievement and service, the Order of the Long Leaf Pine.
N.C. Governor Roy Cooper presented the award to Hatch today during North Carolina Independent Colleges and Universities' (NCICU) annual meeting of presidents.
In presenting the award, Governor Cooper recognized Hatch for his leadership.
"Dr. Hatch, when you think about what your career at Wake Forest University – what it has meant to the University, to the Winston-Salem area, to the state as a whole, to this country and to the world – you have a lot to be proud of."
Hatch has served as Wake Forest's president for nearly 16 years. He plans to retire on June 30.
"Dr. Hatch's leadership at Wake Forest University and with NCICU, including the last four years as chair of the NCICU board, has been dedicated to access and success for students, to support of faculty and expansion of academic programs, and to innovation leading to economic growth for our state and our citizens," said NCICU President Hope Williams. "He is most deserving of this award."
Since 1963, North Carolina's governors have reserved their highest honor, The Order of the Long Leaf Pine award, for persons who have made significant contributions to the state and their communities through their exemplary service and exceptional accomplishments. Persons named to The Order become North Carolina "Ambassadors" with their names and award dates recorded on a Roster maintained by The Order of the Long Leaf Pine Society.
Gerald F. Roach, chair of the Wake Forest University Board of Trustees, congratulated Hatch on the honor, "President Hatch has used every waking moment over the last 16 years to make the Triad, our state and our nation a better place – a place where character matters, leadership matters and conversations with each other matter. Congratulations on this most deserved recognition and thank you for your service, past, present and future for the betterment of North Carolina."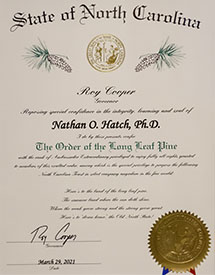 Hatch led a number of initiatives bringing about substantial economic growth in North Carolina. He was instrumental in establishing Innovation Quarter in Winston-Salem and in revitalizing former RJ Reynolds manufacturing buildings in downtown Winston-Salem to create a new home for Wake Forest School of Medicine, an undergraduate engineering program and new academic programs in the biomedical sciences. Hatch has led ongoing support for the Institute for Regenerative Medicine, which is a leading innovator internationally in regenerative tissue manufacturing.
Hatch helped develop the next generation academic health system for North Carolina with the partnership between Wake Forest University, Atrium Health and Wake Forest Baptist Health and the School of Medicine. The new collaboration will improve the delivery of healthcare to underrepresented areas and establish a branch of the Wake Forest School of Medicine in Charlotte, the largest city in the United States without a medical school.
Under his watch, the Magnolia Scholars program has provided financial support and mentoring for more than 300 first-generation Wake Forest students – many of them North Carolinians. He led the most successful fundraising effort in the University's history, which included more than $350 million to support student scholarships and financial aid. As a community leader, Hatch has served as a board member for the United Way of Forsyth County, strengthened connections with Winston-Salem State University and been a champion for a wide range of community development initiatives.
As a respected leader in college athletics in North Carolina and nationwide, he chaired the NCAA Division I board of directors and shepherded NCAA reforms designed to better support student-athletes and member schools. He played an important role in re-establishing North Carolina venues for regional and national championships. He has also been a leader in the Atlantic Coast Conference (ACC), forging relationships with conference presidents across the geographically diverse ACC and always keeping in mind the central place the state of North Carolina plays in that conference. NCAA President Mark Emmert, ACC Commissioner John Swofford and others across the country have acknowledged the key role he has played in charting a way forward for college sports.
At Wake Forest, Hatch has made leadership and character education an integral part of academic life. He established the Program for Leadership and Character to educate future leaders, many of whom will be among the thousands of Wake Forest alumni who call North Carolina home after graduation. Focused on providing opportunities to collaborate, engage in conversation and solve problems together, Hatch has spoken on campus, across the state and nationally about the importance of civil discourse. He extended that philosophy through Call to Conversation, an international movement to shape more meaningful conversations.
Hatch has chaired the NCICU's board of directors and chaired the National Association of Independent Colleges and Universities. He has also served on the board of the American Council on Education.
Categories: President, Top Stories
Subscribe
Sign up for weekly news highlights.
Subscribe