Main Content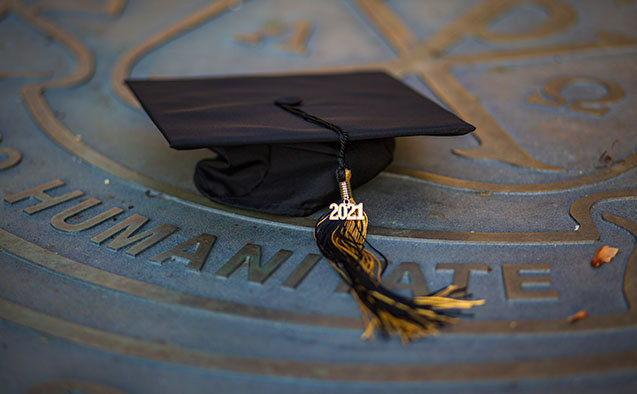 Wake Forest University will recognize the Class of 2021 on Sunday, May 16 at Truist Field. This special celebration for undergraduates will run from 8:30 to 10 p.m. The event includes three featured speakers who have prepared remarks to recognize our students' accomplishments. Their pre-recorded talks will be shared virtually at various times throughout the celebration. The speakers are Condoleezza Rice, Pete Buttigieg and Kendall Hinton. More details on speakers and the celebration are available here.
Before the Truist Field celebration on May 16, each graduate will be recognized in one of four diploma ceremonies that will take place in Joel Coliseum. These events will feature remarks from University leaders and will include individual recognition while each graduate crosses the stage. Each ceremony will last about one hour. More than 1,180 undergraduate degrees and 800 graduate degrees will be awarded.
Livestream webcasts of each of the diploma ceremonies and the celebration at Truist Field will be available at commencement.wfu.edu.
The Baccalaureate celebration will be held virtually on Saturday, May 15 at 10 a.m. Bishop Michael Curry, the 27th and current presiding bishop and primate of The Episcopal Church, will be the speaker. A livestream webcast of the event will be available at commencement.wfu.edu.
Wake Forest's diploma ceremonies and the celebration on Truist Field are ticketed events reserved for graduates and their guests. They are not open to the public.
Reporters who would like to interview students or attend either of the events mentioned below, please contact media@nullwfu.edu for assistance and for additional details regarding credentials, parking, wireless access and protocols.
Graduate interviews: In-person interviews are available on Friday, May 14 on Hearn Plaza and ahead of the celebration on Truist Field if arranged in advance with the news team. Virtual interviews are also available. Local interview options include Chloe Beatty, a Winston-Salem native and one of 43 graduates in Wake Forest's first class of engineers and Savarni Sanka, Wake Forest's 14th Rhodes Scholar from Raleigh. Student Government President and army ROTC leader Miles Middleton is also available.
Job outlook interviews are available ahead of the celebration at Truist Field between 6:30 and 7:30 p.m. Virtual interviews are also available. 
Media are invited to attend the following events:
The diploma ceremony on

May 16

from

4 to 5 p.m

. 

The celebration at Truist Field on

May 16

from

8 to 10 p.m.
Contact media@nullwfu.edu to reserve a spot and obtain credentials for the events. Members of the media are also required to have their own credentials.
Reserved media seating for reporters and still photographers is available. To comply with mass gathering orders, all Commencement events will require that attendees and media wear masks and practice social distancing with people outside their groups. Venue seating plans have been adjusted to comply with local guidelines. The commencement hashtag is #WFUGrad and the official Wake Forest Twitter account is @WakeForest, Instagram is wfuniversity and Facebook is wfuniversity.
Categories: Events
Subscribe
Sign up for weekly news highlights.
Subscribe