Main Content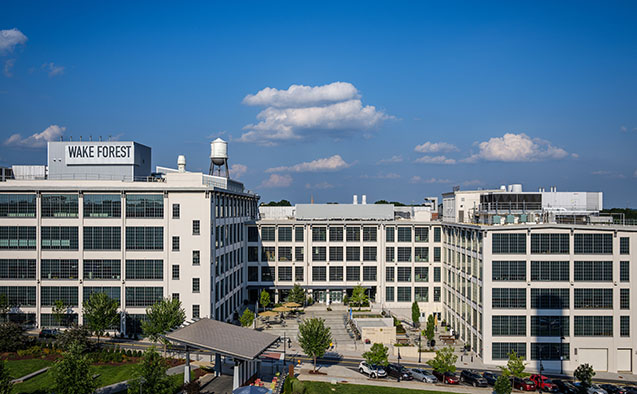 FEATURED NEWS
Innovation Quarter officials, tenants speak on how the district cultivates innovation, collaboration
By Trajan Warren | Triad Business Journal
Five academic institutions are represented at Innovation Quarter: the Wake Forest School of Medicine, Wake Downtown, Winston-Salem State University, Forsyth Technical Community College and Center for Design Innovation. "The diversity that you accomplish via education, via training, via socialization is such a powerful element in terms of creating innovation, opportunity and entrepreneurship," said Graydon Pleasants, head of real estate development with Innovation Quarter. – 7/13/2021
NATIONAL & INTERNATIONAL
Older singles have found a new way to partner up: Living apart
By Francine Russo | The New York Times
Wake Forest counseling professor Allison Forti noted that some women may feel cultural and social expectations to serve as caregivers. "I think it's important for women to know it is OK to not want to serve as a caregiver and to still hold value as women in society," she said. Full-time caregiving "takes a significant physical and emotional toll on someone." – 7/16/2021
All eyes on vaccination rates at colleges mandating COVID shots
By Elizabeth Redden | Inside Higher Ed
Wake Forest University was included in this roundup of colleges requiring students to get vaccinated against COVID-19 before returning to campus this fall. In a message to students on Wednesday the university warned that the school will begin removing students from enrolled courses and assigned housing if they do not submit proof of vaccination or an exemption request by Aug. 1. "We cannot guarantee that you will be able to re-enroll in the same courses and receive the same housing assignment once removed," the message states. – 7/16/2021
This announcement also received local and regional coverage.
9 out of 10 cases end in plea deals. Duke Law, NC prosecutor want to know how
By Virginia Bridges | Yahoo News
Law professor Ronald Wright said the plea tracker will show whether DAs are meeting campaign promises and help journalists and researchers better report and evaluate what is happening in courts. – 7/15/2021
NC takes steps on carbon cap, multi-state pollution effort
By Gary Robertson | Associated Press (Raleigh)
The multi-state initiative "is an option that is available to the state to help achieve the goals that the governor set," Commission Chairman Stan Meiburg said during the meeting. "I would like … to have the state make as much progress in carbon reductions that it practically can, as fast as possible." Meiburg is director of the Master of Arts in Sustainability Program at Wake Forest. – 7/13/2021
How to track illegal mining with open data
Medium
"If the mining is continuously dumping mercury directly into the rivers and lakes or released into the air, and it gets rained out, going back into the rivers, then you start to get a problem," said Luis E. Fernandez, executive director of Wake Forest's Center for Amazonian Scientific Innovation (CINCIA) – a research initiative that examines the impacts of artisanal gold mining, mercury contamination and deforestation on natural and human ecosystems in the Peruvian Amazon. – 7/14/2021
The science of forest biomass: Conflicting studies map the controversy
By Justin Catanoso | Mongabay
Justin Catanoso, a regular Mongabay contributor and journalism professor, addresses a major political and environmental dispute that is heating up as the forestry industry and governments promote forest biomass — cutting trees, turning them into wood pellets, and burning them to make electricity. – 7/12/2021
REGIONAL & TRADE
Editorial: A COVID vaccination shows concern and care for our communities. Do it now
WRAL-TV (Raleigh, NC)
Private institutions, such as Wake Forest and Duke, have sent a clear message to their students and faculty. Vaccines are a must for those returning for the new school year. This is not about administrators flexing their bureaucratic muscles or imposing an ideological dictate. They are directly and deeply concerned about the health and safety of their communities. – 7/19/2021
Analysis: Illegal gold mining in Peru set to continue
By Ben Heubl | Engineering & Technology (E&T) Magazine
Areas of rainforest that are cut for illegal gold mining are a key element in stabilizing the global carbon balance, said Luis E Fernandez, executive director of the Wake Forest University's Center for Amazonian Scientific Innovation (CINCIA), a research initiative examining the impacts of artisanal gold mining in the Peruvian Amazon. – 7/16/2021
Right to counsel movement gains traction
By Shelby R. King | Shelterforce
"Many landlords engage in serial eviction filing…with the intent to collect rent, control behavior, and assign fees to the tenant which increase their monthly rent amount by as much as $180," said law professor Emily Benfer. "We often see cases of tenants facing eviction solely because they reported unsanitary, unsafe, dangerous living environments." Shelterforce covers community development, affordable housing and neighborhood stabilization. – 7/16/2021
LOCAL
Art, Allegory, and Community Response" opens at Reynolda House Museum of American Art
ArtDaily Newspaper
The Voyage of Life: Art, Allegory, and Community Response opened July 16 to members, first responders, and Wake Forest faculty, staff, and students, with Weekend of Gratitude, and will open on July 20 to the public at Reynolda House Museum of American Art. The exhibition runs through Dec. 12. – 7/17/2021
Evictions continue in Winston-Salem as national moratorium nears its end
By Nicole Zelniker | Triad City Beat
Housing activist and Winston-Salem State University sociology Professor Dan Rose, who is authoring an evictions study with co-author and Wake Forest law professor Emily Benfer, has seen this play out in the courtroom day after day. – 7/15/2021
N.C. economic experts: Time to act on climate
By Bill Blancato | Winston-Salem Journal
Three Wake Forest economists have joined more than 40 professors at colleges and universities in our state to ask North Carolina's congressional delegation to support policies to slow climate change – including meeting emissions reduction targets. –7/11/2021
Categories: Faculty, Top Stories, Wake Forest in the News
Wake Forest in the News
Wake Forest regularly appears in media outlets around the world.