Main Content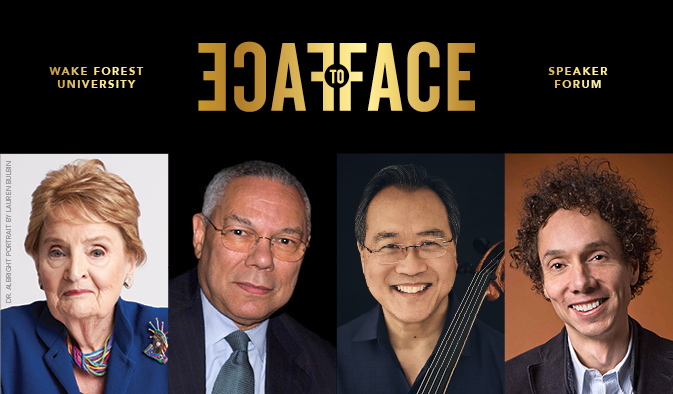 Highlights
Wake Forest launched the Face to Face Speaker Forum in March 2020.
Face to Face is announcing rescheduled in-person events that were postponed due to the pandemic.
An additional opportunity is available to hear from CNN's Dr. Sanjay Gupta in April 2022.
In March of 2020, Wake Forest University launched a signature speaker series called the Face to Face Speaker Forum. The community-facing series brings world-renowned, influential voices to Winston-Salem to discuss topics in a variety of areas including politics, arts and culture, business and social justice.
Due to the pandemic, 2020-2021 Face to Face in-person events were postponed. Below are the rescheduled dates:
September 14, 2021: Malcolm Gladwell, journalist and author of "Blink" and "Outliers"
November 9, 2021: Former Secretaries of State Madeleine Albright (1997-2001) and Colin Powell (2001-2005)
February 16, 2022: Yo-Yo Ma, cellist, cultural ambassador and U.N. Messenger of Peace
All three events will be held at the Lawrence Joel Veterans Memorial Coliseum.
In addition to the inaugural season, the Face to Face Speaker Forum is presenting a special event. Sanjay Gupta, the Emmy® award-winning chief medical correspondent for CNN, will be speaking at Wait Chapel on Wake Forest University's Reynolda campus on April 12, 2022. Subscribers to Face to Face Speaker Forum will have early access to seats at a preferred price.
Prior to each event, a special opportunity is available for Wake Forest students to engage with the speakers in a question and answer session at Wait Chapel at 5:15 p.m. Students are invited to the keynote event at the Lawrence Joel Veterans Memorial Coliseum at 7:30 p.m. Both events are free for Wake Forest students and invited students from area institutions of higher learning.
Season subscriptions to all three keynote events may be purchased online through the Face to Face Speaker Forum website. Depending on availability, single tickets will be available for purchase 45 days prior to each event.
Categories: Events, Top Stories
Wake Forest in the News
Wake Forest regularly appears in media outlets around the world.