Main Content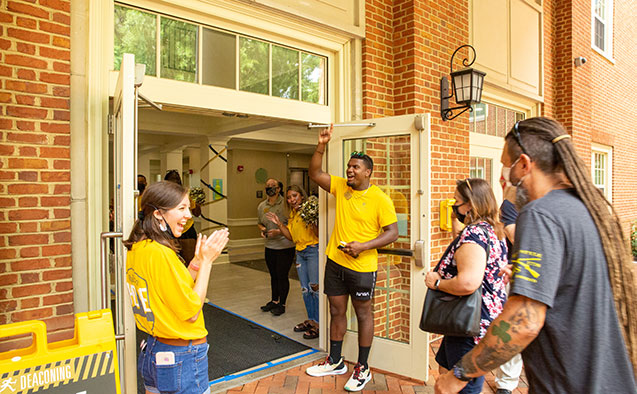 FEATURED NEWS
Wake Forest students return to campus
By Walt Unks | Winston-Salem Journal
The Winston-Salem Journal featured Wake Forest's move-in day on the front page of the newspaper's print edition and in an online photo gallery on Friday, Aug. 20. The University welcomed more than 1,400 first-year students and their families as they moved into their residence halls on Wed. and Thurs., Aug. 18 and 19. Sophomores moved in on Friday, Aug. 20, with juniors and seniors returning to campus over the weekend. Check out our Move-in Day and First Day of Classes videos –8/19/2021
WXII, WGHP and Spectrum News also covered move-in day.
Outdoor festival in downtown Winston-Salem to celebrate IdeasCityWS
By Kim McGrath | news.wfu.edu
An outdoor festival marking the culmination of a year of creative collaborations between Wake Forest University, New York City's New Museum and local community partners will be held on Saturday, Oct. 2, in Bailey Park from 11 a.m. to 9 p.m. in downtown Winston-Salem. A highlight of the event will be the Marketplace of Ideas – an "outdoor living room" with interactive exhibits from two dozen local creative organizations representing progressive contributions in art, tech, design and culture. – 8/16/2021
NATIONAL & INTERNATIONAL
Burning forests to make energy: EU and world wrestle with biomass science
By Justin Catanoso | Mongabay
A major political and environmental dispute is coming to a boil in the run-up to COP26 in Scotland this November, as the EU and the forestry industry push forest biomass (turning trees into wood pellets and burning them to make electricity), claiming the science shows biomass is sustainable and produces zero emissions. Journalism professor Justin Catanoso is a regular contributor to Mongabay. – 8/19/2021
Diet, exercise in older adults with knee OA pay off in long term
By Steve Cimino | Medscape
"These data imply that clinicians who treat people with knee osteoarthritis have a variety of nonpharmacologic options that preserve clinically important effects 3.5 years after the treatments end," wrote lead author Stephen P. Messier, PhD, professor and director of the J.B. Snow Biomechanics Laboratory at Wake Forest University. – 8/19/2021
Why did an Afghan government the US built up for decades collapse in days?
By Stephen Loiaconi | WSYX-TV
"When U.S. forces started leaving this spring, the last stable leg to the Afghan government collapsed and all parties, from government officials in Kabul to soldiers in the field and local leaders, essentially went their own way," said Will Walldorf, a professor at Wake Forest and author of "To Shape Our World For Good: Master Narratives and Forceful Regime Change in United States Foreign Policy." – 8/16/2021
REGIONAL & TRADE
These 10 law schools are the choosiest
By Debra Cassens Weiss | ABA Journal
Wake Forest University School of Law made this list of most selective law schools. The average acceptance rate last fall, among 193 ranked law schools, was 44%. The average acceptance rate for students who began in the fall of 2020 at the 10 choosiest law schools was much lower—an average of only 14.5%. – 8/16/2021
Atrium Health, Wake Forest Baptist unveil combined brand
Charlotte Business Journal
Wake Forest Baptist Health is now Atrium Health Wake Forest Baptist, representing the strategic combination that will bring a four-year medical school to Charlotte. The new brand will roll out in central and western North Carolina first through advertising and followed by signage at locations over the next year, said Denise Potter, chief communications, marketing and media officer at Atrium Health Wake Forest Baptist. – 8/18/2021
LOCAL
The essential stats on breakthrough cases
By Lucy D'agostino McGowan | Winston-Salem Journal
There are so many numbers floating around relating to breakthrough COVID-19 cases & vaccine effectiveness that it can be hard to keep them straight. Lucy D'Agostino McGowan, a statistics professor at Wake Forest, breaks it down in this guest column. – 8/20/2021
What DaBaby got wrong and why it matters: Fighting HIV stigma through a lens of love
By Allison Mathews | Winston-Salem Journal
DaBaby's inaccurate and harmful words fuel the stigma we fight every day at the Gilead COMPASS Faith Coordinating Center at Wake Forest University, writes Allison Matthews, executive director of the Center and Research Fellow in Faith and Health in the School of Divinity. – 8/20/2021
WAKE FOREST NEWS
Lam Museum of Anthropology grand reopening celebration
By Kim McGrath | news.wfu.edu
The community is invited to celebrate the grand reopening of the Timothy S.Y. Lam Museum of Anthropology at its new location on Wake Forest University's Reynolda Campus. The outdoor event will be held Saturday, Aug. 28 from 1 to 4 p.m. – 8/17/2021
Categories: Wake Forest in the News
Wake Forest in the News
Wake Forest regularly appears in media outlets around the world.