Main Content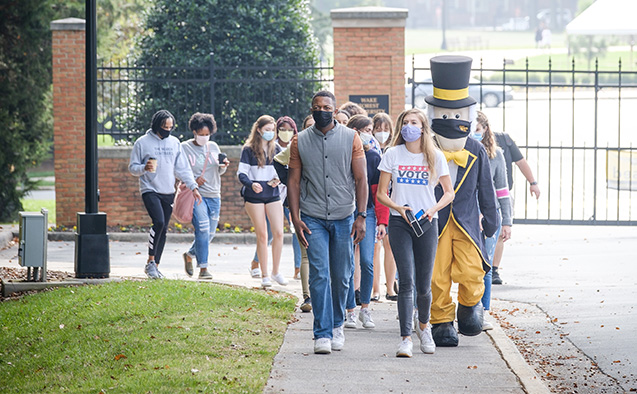 Highlights
Wake Forest named to Washington Monthly's list of Best Colleges for Student Voting
Deacs Decide is a campus-wide effort focused on election issues and voting
Wake Forest was designated for a second, consecutive year as a voter-friendly campus
After last year's Presidential election, voter registration efforts slowed a bit on college campuses nationwide. But today during National Voter Registration Day, Wake Forest students will hit the ground running to get re-energized around voting.
"Today we're gearing up to kick off the midterm elections for 2022," said Deb Marke, assistant director of advocacy and social justice education in the Office of Civic & Community Engagement (OCCE.) Marke is also co-chair of Deacs Decide, a campus-wide project focused on election issues and voting. "Right now we're getting ready to recruit new Deacs Decide fellows. Due to graduation and students studying abroad, last year we had 15 fellows and currently we have five."
Deacs Decide fellows are Wake Forest students who engage their peers in the election process by helping them with everything from registering to completing absentee ballots. They work closely with Marke and Marianne Magjuka, executive director of the OCCE and co-chair of Deacs Decide. An interest meeting for Deacs Decide will be held on Thursday.
Students can register to vote today at Tribble Courtyard, between Tribble and Benson. Light refreshments and Wake Forest swag will be provided until the event ends at 5 p.m. After today, students can register to vote by stopping by the OCCE office in Benson, room 506, to register.
Drew Skilton, who has worked with Deacs Decide since his freshman year, is excited about the chance for his colleagues to register to vote today — and in the ensuing weeks of the semester.
"I'm hoping for a big turnout," said Skilton, a junior communications major, with minors in political science and theater. "I believe everyone should have access to have their voice heard, and I think the best way to do that, besides being an advocate, is to vote."
Skilton, from Bethesda, Maryland, said he's seen an increase in student interest around voting. "Over the years, more students have become passionate about getting registered and voting in every election they can. A lot of Wake students know the importance of voting."
Katy Harriger, professor of politics and international affairs, lauded the efforts of Deacs Decide to get students involved in the voting process.
"Most of the students I teach get registered to vote, but they're confused about where they should register, especially as states have made it more complicated if you're away from home," said Harriger, faculty director of Wake Washington, a semester-long, study-away program combining internship and academic experiences in the nation's capital.
"I think the programs that Deacs Decide have put together are really helpful in terms of helping students sort things out," she said. "There are some students who weren't old enough to register to vote when they arrived on campus, so it's really important for them to have the opportunity. I think people in college are registered at a much higher rate than young people who aren't in college, and I think that's because of programs like Deacs Decide…"
Edna Ulysse, a senior politics and international affairs major from Orlando, Florida, is interning at the U.S. House of Representatives this semester and is also a Deacs Decide fellow. She hopes Wake Forest students take advantage of National Voter Registration Day today.
"It is absolutely more critical now than ever to get more students involved in voting in some capacity," Ulysse said. "Many individuals in my generation have either lost complete hope in the U.S. political system or are doing so as time goes on, given the repetitive failures of the American political system and some elected officials to think of others or advocate for justice and equality for all. Student voter registration will have to be more strategic and intentional in years to come. We will have to meet people where they are."
Voter turnout among young adults in 2020 increased 11 points over 2016, according to CIRCLE, a non-partisan, independent research organization focused on youth civic engagement in the United States. CIRCLE data says 50% of young people ages 18-29 voted in 2020, with statewide ranges from 32-65% among 41 states surveyed. North Carolina voter turnout among students in that age group was 55% in 2020, CIRCLE data shows.
"We do all we can to inform them and to make voting as easy as possible for them," Marke said.
Last year Wake students could vote at Winston-Salem First Assembly of God, which is across from the soccer field on University Drive and was added as a polling site as a result of a collaborative effort between Deacs Decide and Athletics.
The University's efforts around voting haven't gone unnoticed. For the second, consecutive year, Wake Forest has been designated a voter friendly campus by The All In Campus Democracy Challenge. This month, Wake Forest University was featured on Washington Monthly's list of America's Best Colleges for Student Voting.
To interview Skilton, Ulysse or Marke, contact media@nullwfu.edu or Laurie D. Willis at willisla@nullwfu.edu or 336.549.1994.
Categories: Student, Top Stories
Subscribe
Sign up for weekly news highlights.
Subscribe