Main Content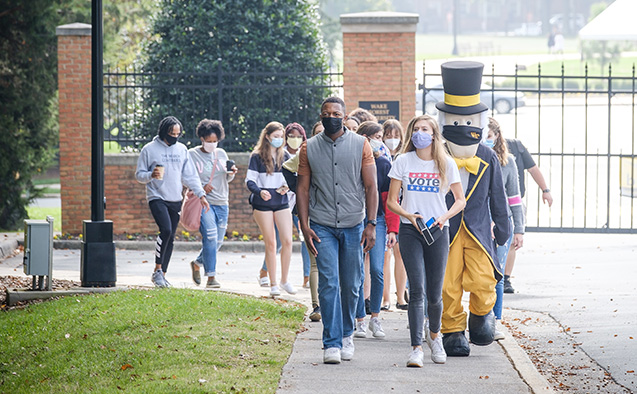 For years, leaders in Wake Forest's Office of Civic & Community Engagement (OCCE) have worked to engage students in the election process.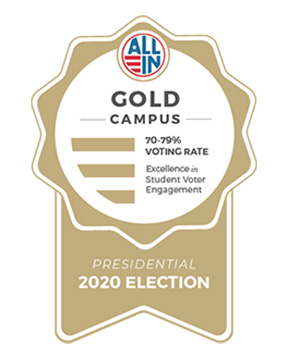 Their efforts are paying off in a big way.
In 2020, 78.2% of eligible Wake Forest students voted in the Presidential Election, surpassing the national average of 66% by more than 12 percentage points. The 78% mark far eclipsed Wake Forest's totals in the 2016 Presidential Election, when only 48.3% of eligible students cast ballots.
In recognition of their efforts, Wake Forest was given a Gold Seal for campuses with 70-79% student voter participation, during the ALL IN Campus Democracy Challenge ceremony last month.
Wake Forest was also given the Most Improved Voter Turnout Award in two categories by ALL IN: The North Carolina Campus Voting Challenge and the Athletic Conference Voting Challenge – for the most improved campus in the Atlantic Coast Conference (ACC.)
"Wake Forest has been committed to improving voter turnout across campus for several years," said Deb Marke, assistant director of advocacy and social justice education in the OCCE. Marke is also co-chair of Deacs Decide, a campus-wide project focused on election issues and voting.
"The incredible voter participation we had in 2020 illustrates how critical those efforts are," Marke continued. "One of the biggest contributors to our high student turnout in the 2020 election was implementation of an early polling location at a church near campus."
Marianne Magjuka, executive director of the OCCE and co-chair of Deacs Decide, is particularly proud of Wake students for voting at such a high rate during a pandemic.
"Wake Forest students faced additional barriers to voting during the global pandemic, which could have suppressed their vote," Magjuka said. "Instead, they voted in record numbers last year, which I think is a huge testament to tireless work from OCCE staffers and Deacs Decide volunteers.
"It's wonderful for Wake Forest to be recognized as 'Most Improved' in the ACC," Magjuka continued. "I hope our students will carry forward this voting energy into the 2022 midterm elections, as they have an important voice in shaping our collective future."
To interview Marke or Magjuka, please contact media@nullwfu.edu or Laurie D. Willis at willisla@nullwfu.edu or 336.549.1994.
Categories: Recognition, Staff, Student, Top Stories
Subscribe
Sign up for weekly news highlights.
Subscribe