Main Content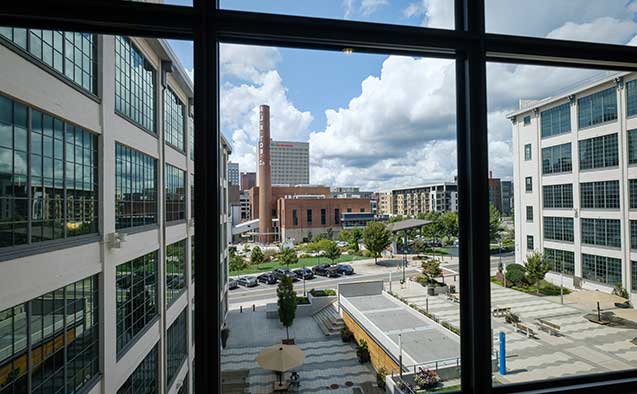 Say the word "entrepreneur" and most think of Steve Jobs or Elon Musk, Oprah Winfrey or Jeff Bezos and tales of genius dreamers who single-handedly take an idea and turn it into a billion-dollar business.
Professor Rebecca Gill, whose work integrates communication with the study of entrepreneurship, wants her students to hear a different story.
Her class challenges the traditional ideas about entrepreneurship by engaging the local Winston-Salem community to help students better understand how the stories of hero entrepreneurs can be limiting. 
"The magic of storytelling is that you can imagine yourself and what you might be able to accomplish in new ways," said Gill, the Merlo Presidential Chair in Communication and Entrepreneurship. "Stories help us figure out who we are and who we want to be. If a story is meaningful to us, we can see ourselves in a new role."
Students in her Narrative Approaches to Entrepreneurship class have spent the semester studying Winston-Salem's entrepreneurial ecosystem, which Gill describes as a "triple helix" of business and industry, government and city, and universities. "Institutions of higher learning infuse ideas and energy into the ecosystem and promote credibility."
Students met with leaders of local organizations that support startups, Wake Forest alumni who founded businesses, local entrepreneurs, and experts who could share how the city's history impacts the role of entrepreneurship in the community.
Recasting the entrepreneur
As part of the course, students interviewed local entrepreneurs with a focus on diverse voices and alternative or typically overlooked entrepreneurial ideas. They created a public-facing database designed to promote Winston-Salem entrepreneurship and entrepreneurs and to be a resource for students and scholars worldwide who are studying entrepreneurship and identity. The database will be housed in the ZSR Library at Wake Forest.
"I fell into the trap of aligning entrepreneurship with major influencers," said Lucas Masterson, a graduate student in sustainability. This class broadened my perspective of entrepreneurship and helped me see that there are many different individuals that are doing incredible things in the entrepreneurship world."
Through the interview process, students heard alternative stories about people making a difference in their community as entrepreneurs. "By unpacking dominant narratives of the entrepreneur as genius, we are better able to consider the link between entrepreneurship and empowerment for underserved communities," said Gill.  "Representing diverse entrepreneurs tells a story at the social level of unsung heroes, while creating spaces for underrepresented groups to see themselves as changemakers."
Localizing entrepreneurship
Students visited Winston Starts, a local organization dedicated to nurturing entrepreneurs as they scale their businesses, to learn more about the role of that organization and meet entrepreneurs who are working on their ventures from that space. 
Winston Starts offered students a 360° look at entrepreneurship and how the Winston-Salem environment supports startups and economic development. They also learned how Wake Forest is an important part of the story.
"When you are in an academic environment you are up on the latest business trends, software platforms, and technology," said Vice President of Winston Starts Betsy Brown. Our business founders here are focused on one thing, launching and scaling their startup businesses. When a student comes and works for the incubator they share what they are learning and have a true impact on outcomes while gaining rich experience and building valuable networks."
For junior psychology major Sofia Campos, the Winston Starts visit was a highlight. "I learned how big an impact we have on the Winston-Salem ecosystem. Winston-Salem is a rapidly growing city and Wake Forest is helping fuel that growth."
Andrew W. Mellon Foundation grant supports community-based partnerships through engaged teaching and research in the humanities. The grant has allowed Wake Forest to expand its humanities-based programming in the community with seminars, oral history projects, research and community conversations.
Categories: Faculty, Top Stories
Wake Forest in the News
Wake Forest regularly appears in media outlets around the world.