Main Content
Last year, as part of IdeasCityWS, The Winston-Salem Monuments Project showcased augmented reality monuments to local figures of historical significance during the October festival that featured live music, panel discussions and interactive exhibits from two dozen local creative organizations representing progressive contributions in art, technology, design and culture.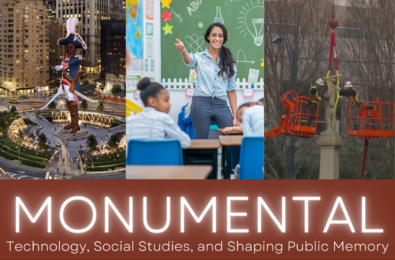 Today that work is being advanced through MONUMENTAL: Technology, Social Studies and Shaping Public Memory, which is re-engaging the creative work accomplished by Movers & Shakers, Wake Forest and local artists to explore ways in which technology is used to make diverse, historical narratives more accessible and inclusive. The monuments are featured in an app called Kinfolk AR, which can be accessed via smartphones (iPhone | Google).
On Wednesday, March 23, from 7-8:15 p.m. in a virtual event co-sponsored by Wake Forest's Office of University Collaborations, the University's Program for Leadership and Character, Movers and Shakers and MUSE Winston-Salem, a demonstration on how the app works, and a panel discussion, will be held. To register for the free event, go here.
"Last year we partnered with Movers and Shakers, an ed-tech company that designs augmented reality monuments to showcase historical figures who are often underrepresented, including Black, brown, Indigenous and queer people," said Donovan Livingston, assistant dean, Office of University Collaborations. "It's intended to extend the conversation of who's worthy of remembrance…
"The cool thing is this puts the historical figures in the palm of your hand," Livingston continued. "It's an alternative way to create more engagement around local, historical figures and to create opportunities for students to see themselves reflected in history."
This semester, Wake Forest professors Alan Brown, Brook Davis and Christina Soriano debuted a course for students that uses visual and performing arts as an innovative approach to social studies instruction. In turn, those Wake Forest students use historical figures from the app to teach social studies lessons to fourth graders at Brunson Elementary School in Winston-Salem.
Movers and Shakers partnered with local artists to design virtual monuments of Dr. Maya Angelou, Annie Brown Kennedy and Ruth Revels.
Angelou was named Wake Forest's first Reynolds Professor of American Studies in 1982 and taught at Wake Forest until her death in 2014. A residence hall is named after her, and last year it was announced she would become the first African American woman whose image would grace the U.S. quarter.
Kennedy moved to Winston-Salem in 1951 and three years later became the second African American woman licensed to practice law in the state. She's a former member of the N.C. House of Representatives and in 1976 became the first Black woman Presidential elector in North Carolina.
Revels was a Native American activist and educator who taught at Ragsdale High School in Jamestown for 14 years before helping to found the Guilford Native American Association. In the early 2000s, she spoke out against the use of American Indians as high school mascots.
On the app, historical figures can be rotated as music plays, and a 500-word bio accompanies each one. Livingston said the goal is to create 100 monuments in the next two years, with this "innovative, creative and accessible way of promoting diversity, equity and inclusion in social studies."
For more information or to interview Livingston, please contact media@wfu.edu or Laurie D. Willis at willisla@wfu.edu or 336.549.1994.
Categories: Community in Progress, Events, For Alumni, For Parents
Wake Forest in the News
Wake Forest regularly appears in media outlets around the world.